MERRILL, Iowa | Shaun Huls made an impact on Bruce Ludwig in 1995 as the Gehlen Catholic Jays of Le Mars, Iowa, marched toward a state football championship. At the time, Huls a senior, played guard on the offensive line coached by Ludwig.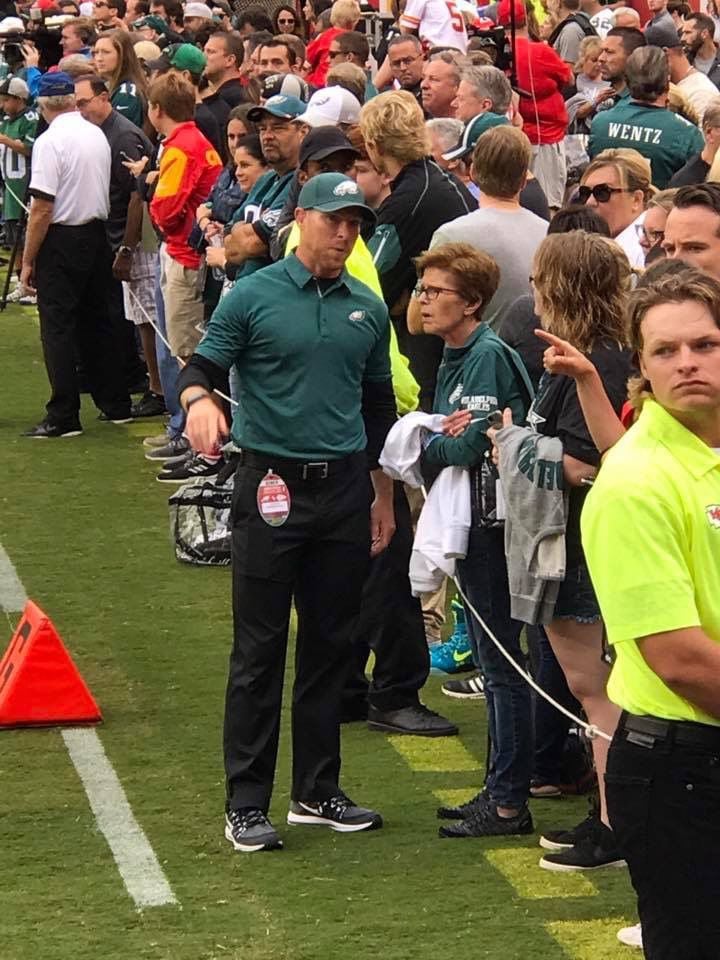 "Oh, goodness, I remember Shaun," Ludwig told me on Wednesday. "You could not miss Shaun. When we won the state title, we were big on the line in every spot except for Shaun. I remember teams playing us would look at our linemen who were all around 6-feet 2-inches tall and 200 pounds.
"And then there was Shaun," Ludwig added. "He was only 5-feet 9-inches, but people found out real fast he made up for any height and size he didn't have."
Huls worked hard. He studied schemes, finished plays. To perform on the field, he needed to be sharp and fit, traits that continue to serve him today as the athletes he directs, the Philadelphia Eagles, take the field for Super Bowl LII on Sunday against the New England Patriots.
Huls, 40, serves the organization as director of high performance. He joined the NFL team five years ago as its sports science coordinator.
"Shaun oversees the strength and conditioning, the nutrition and sports science staff for the Eagles," said Huls' mother, Dianne Huls, of Merrill, Iowa. "We're all so excited for him and the team to be in the Super Bowl."
I contacted Huls on Monday, but team rules prohibited him from speaking with the media. So, I called his mother and one of his fomer Gehlen mentors to get the skinny on how this Gehlen alum has landed in the center of preparations for the Super Bowl.
After his graduation -- and the earning of a state football championship trophy at Gehlen -- Shaun Huls headed to the University of Nebraska at Lincoln where he landed a position within the Husker Power program, which operated under Boyd Epley. Huls worked as a graduate assistant before being hired full-time to conduct strength and conditioning measures for both the Huskers baseball and football programs.
In 2002, Huls took a position at the University of Nevada, working again with football and baseball teams. He then headed to Hampton University as the school's head strength coach.
"Shaun was at Hampton for five years," his mother said. "And then he became strength and conditioning coordinator and combative coordinator for the U.S. Navy SEALS at Virginia Beach, Virginia."
Working with the Navy SEAL Teams at Naval Special Warfare, said Dianne Huls, represented a dream job for her younger of two sons. "Shaun was always interested in the military," she said.
He would stay until 2013, as that's when former Oregon coach Chip Kelly was hired to coach the Eagles. Kelly's Nebraska connections led to a contact and then an interview with Huls, who landed the job as sports science coordinator, which he did for three years until being made director of high performance two seasons ago.
Huls, who resides with his family in nearby New Jersey, has an office in the team complex and travels with the team when it goes on the road. That, of course, means he's in the Twin Cities this week as the Eagles prepare for their third Super Bowl in club history.
Huls' wife, Minisa, and their two children will attend the game, as will his mother, his brother, Paul Huls, and Paul's family, of Sioux City. Many of them have been guests of Shaun at past games.
"A couple of months ago, Shaun said, 'Mom, keep this in the back of your mind: The Super Bowl will be in Minneapolis.'"
Dianne, who works for the Le Mars Insurance Company, said this will be her fifth game of the NFL season. She enjoyed previous Eagles games against the Chiefs, Redskins, Raiders and Cowboys.
"I'm an Eagles fan," she said. "Shaun's brother, Paul, is an Eagles fan, as are our families. The team has had quite a season."
Dianne said the family will likely think of her husband and Shaun's father, Dale Huls, on this special Super Bowl Sunday. Dale Huls, a Cornhuskers and Eagles fan, died last June, ending a nine-year battle against cancer. The owner/operator of a sheet metal fabrication company, Dale Huls was 68.
"Dale would be so proud of Shaun," Dianne said.
Bruce Ludwig recalled Dale's influence on the Jays program in the mid-1990s when Shaun played as the undersized lineman with the oversized work ethic. Dale Huls put his skills to work to benefit the team during a couple of chilly post-season playoff runs.
"Dale took some barrels he welded and cut holes in them," Ludwig said. "He painted it Gehlen colors and put a big heater at the end of it. That heating unit was pretty big stuff for us back then."
It was his way of making sure his team reached its potential. In many ways, it's what his son, Shaun, does today.