OKOBOJI, Iowa |  For more than 3 1/2 decades, Georgia Sheley, of Milford, Iowa, served as the official chairperson in charge of weather at the University of Okoboji Winter Games.
Think it's odd that a winter festival has an official chair overseeing the weather?
Maybe. But, consider, the games are named for a university that doesn't have a school.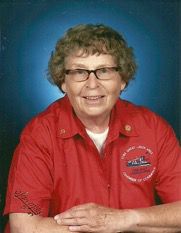 Sheley, sister of Herman Richter, who famously founded the fun-but-fictitious University of Okoboji, hit her knees every winter at St. Joseph Catholic Church in Milford, praying for snow and ice to bless the U of O Winter Games that attract tens of thousands to the Iowa Great Lakes on the last weekend of January.
This year, however, is the first they'll celebrate the Games without Sheley, who was 82 when she died on May 26, 2017. Her faithful service to the celebration took a prominent place in her obituary, and during the eulogy in a funeral Mass on June 1. (We sang "Georgia On My Mind" and "Somewhere Over the Rainbow" at her funeral. It was, um, chilling. In the best way possible.)
The Winter Games, of course, march on. And, as fate or coincidence, or Georgia Sheley, would have it, Old Man Winter marches on, this year in lockstep.
"Just after Georgia died last May, Ryan Davelaar (chairman for the 2018 Okoboji Winter Games) approached me and asked, 'Matt, what will we do about the weather for Winter Games?'" said Matt Richter, Georgia's nephew and a member of the Arnolds Park City Council. "I told Ryan to rest assured, Georgia would take care of us."
The recent cold snap added several inches to the ice at Smith's Bay, an epicenter for this week's 38th edition of the University of Okoboji Winter Games. And, on Monday, the Iowa Great Lakes, received a foot of snow, more than enough to paint smiles on the faces of all the winter enthusiasts in and around Dickinson County.
"We've got some of the best ice we've ever had," said Richter. "And (Monday), we got around 12 inches of snow. Georgia could not have done better."
"Everything is in perfect condition for the Winter Games," said Kara Matheson, director of events for the Iowa Great Lakes Area Chamber of Commerce: "We've got our ice that froze a little late, but we have the ice and now it's been topped off with a covering of snow that will help bring in all the snowmobilers because they absolutely love these conditions."
Jantina Carney, a member of the Dickinson County SnowHawks, the snowmobiling club that helps plan events for hundreds to thousands of snowmobilers who will converge on the region this weekend, called the storm, "a million dollar snow."
"The timing of this storm is perfect!" she said.
"A week ago Wednesday, we had a little snow and then got into the 40s and it all melted away," Matheson said. "We saw the green grass again. And we were worried about the predictions for this blizzard, because if it had gone a little south of us, we maybe only would have gotten rain. We were so happy to get the snow we wanted."
Interestingly, the same thing happened last year, in Georgia Sheley's swan song as weather chair. The Iowa Great Lakes, which hadn't had ample snow for snowmobilers at Winter Games since 2011, received 12 inches of snow just a day prior to the 37th annual festival.