LE MARS, Iowa -- Did you know that Le Mars was once called St. Paul Junction? And that the name Le Mars came from a group of women riding a passenger train, passengers who used the initials of their first names to come up with L-E-M-A-R-S?
Those are the bits and bytes you'll get while poking and prodding your way through downtown Le Mars, participating in a self-guided Downtown Historical Scavenger Hunt, part of the Ice Cream Days celebration that begins Wednesday and runs through Saturday in the home to Wells Dairy and its Blue Bunny Ice Cream, which makes it the "Ice Cream Capital of the World."
Rich Ziettlow, a retired computer programmer, is at the heart of the hunt, now in its third year.
"The idea is to get people moving through downtown and learn interesting facts about our past," said Ziettlow, who grew up in the Plymouth County seat, moved away, then returned home in retirement.
His involvement with Ice Cream Days and much more led to his being named Citizen of the Year at the Le Mars Area Chamber of Commerce annual banquet in January. With that title comes the honor of serving as parade marshal for the Ice Cream Days parade on Saturday.
Ziettlow, 69, was graduated from Le Mars Community High School in 1967. He then studied math at Westmar College and emerged from the school as a computer programmer. He spent 34 years as a programmer with American Airlines before retiring in 2011.
"I graduated from college and could not get out of town fast enough," he said with a laugh.
He and his wife, Jean Ziettlow, returned to their hometown to help care for their aging parents. Jean Ziettlow is now pastor at St. John's Lutheran Church in Le Mars.
"My parents were in Bella Vista, Arkansas, when I retired, and Jean's mother was here in Le Mars," Rich Ziettlow said. "We were living in Baton Rouge, Louisiana, but wanted to get everyone closer."
Rich and Jean decided to move Rich's parents back to Le Mars as they relocated here as well. Rich had but one demand: A home on Willow Creek Golf Course. The couple had one built and have enjoyed their time on one of Northwest Iowa's finest courses for the past six years.
"Both of my parents died in January, 12 days apart," said Rich, noting that his father, the Rev. Carryl Ziettlow, was 97 at the time of his death, while his mother, MaryAnn Ziettlow, was 96.
"I would have said moving back was a long shot several years ago," Rich continued. "But, for us, it made sense to have everyone here."
Soon after moving "home," the Ziettlows attended a neighborhood Christmas party and Rich found himself asking a few questions of Mayor Dick Kirchoff. Specifically, Rich wanted to know how it was that downtown  still had so much activity, diversity, vibrancy.
"It had been my experience while living in Oklahoma and then Baton Rouge that small-town downtown areas were disappearing," he said, citing the Walmart effect among other factors that seemed to be forcing mom-and-pop franchises to either close or relocate outside the downtown hub.
That wasn't the case in Le Mars, he noticed. He wondered if this were accidental or intentional.
"The mayor said you have to meet Mary Reynolds," Rich Ziettlow remembered. He soon found himself at the Le Mars Area Chamber of Commerce office, speaking with Reynolds, manager of the Main Street Program, and learning of the many ways her organization participated with active partners in the Le Mars City Council, the City of Le Mars, the Le Mars Area Chamber of Commerce, the Le Mars Historic Preservation Commission and more.
"I saw that it was intentional," Ziettlow said. "The downtown looked good. It looked clean. And there were a variety of stores that all seemed to be doing well."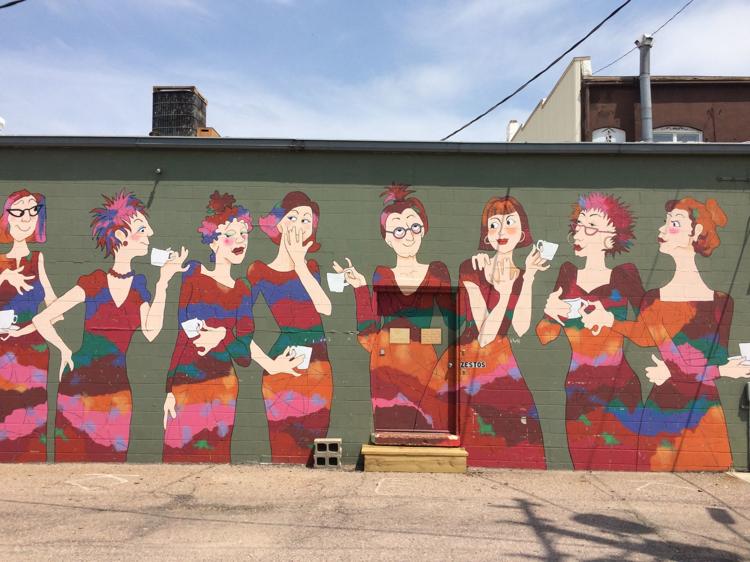 Ziettlow jumped in and began helping. Soon, he was participating on the Design Team (part of the Historic Preservation Commission) to do things to enhance downtown Le Mars. Four years ago, a handful of people elicited the support of six artists who were willing to apply their creative talent and lots of house paint to the concrete, stucco and mounted boards that lined the back of downtown businesses. The result? There are now 115 people, including 38 professional artists, who have decorated portions of 42 downtown dwellings, creating a visual treat for walkers and busloads who converge on Le Mars for more than Blue Bunny Ice Cream.
"Yes, tourists come here to see our alley art," said Ziettlow, who spoke as dozens of residents and visitors alike filed into the Blue Bunny Ice Cream Parlor on Monday.
Additionally, this volunteer extraordinaire has helped tap into the energy exhibited by high school students in preserving the history of Le Mars through the Youth on Main Street program. Juniors at both Le Mars Community High School and Gehlen Catholic High School may earn school credit or community service hours by chronicling various points of history in the town's formative years and the decades that followed. The Ice Cream Days Downtown Scavenger Hunt is an outgrowth of this effort, one that's been a hit across generations.
"Three years ago, our students decided to add stories to points of interest on the architectural tour," Ziettlow said. "They went through old newspapers and added the stories. The following year, our students started the scavenger hunt which, at the time, featured 15 of their favorite buildings."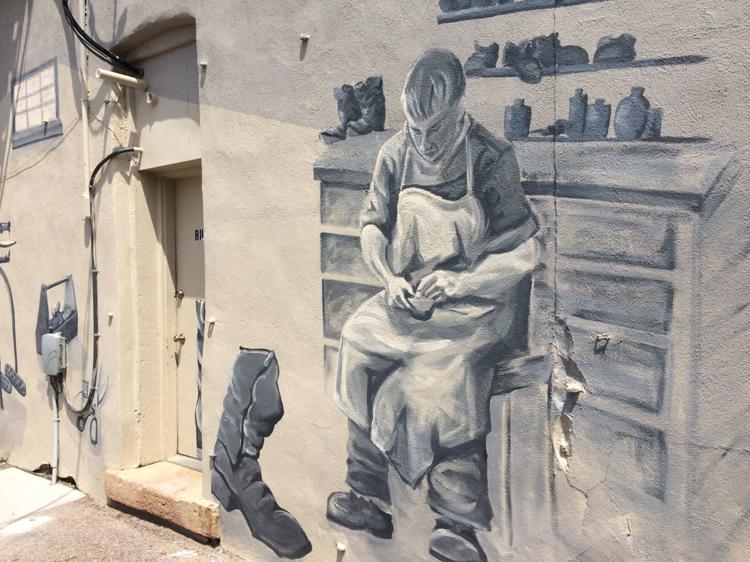 Now, the hunt showcases 30 different stores and the Blue Bunny Ice Cream Parlor.
Additionally, the Youth on Main Street group has a related entity, Seniors on Main Street, a six-week program that meets weekly. Seniors on Main recently wrapped up its spring session, just in time to join thousands this week in another sweet Ice Cream Days celebration.