MAPLETON, Iowa | With there being no school at MVAOCOU High School in Mapleton on Friday, one would think Ben Kovarna could sleep in.
Kovarna rose early and reported to school, joining peers at practice for "High School Musical," the school's spring show. Once that was done, Kovarna headed to the band room, where his father, David Kovarna, conducted practice for the jazz band, which competes Monday in the Northwest Iowa District Jazz Festival at Le Mars Community High School in Le Mars, Iowa. (Admission is free.)
On Saturday, Kovarna joined the school's jazz choir in heading to Spirit Lake (Iowa) High School for a competition and daylong clinic.
"I greatly enjoy being involved," said Kovarna, a sophomore featured on trumpet in jazz band. "It's a lot of fun making music in many forms."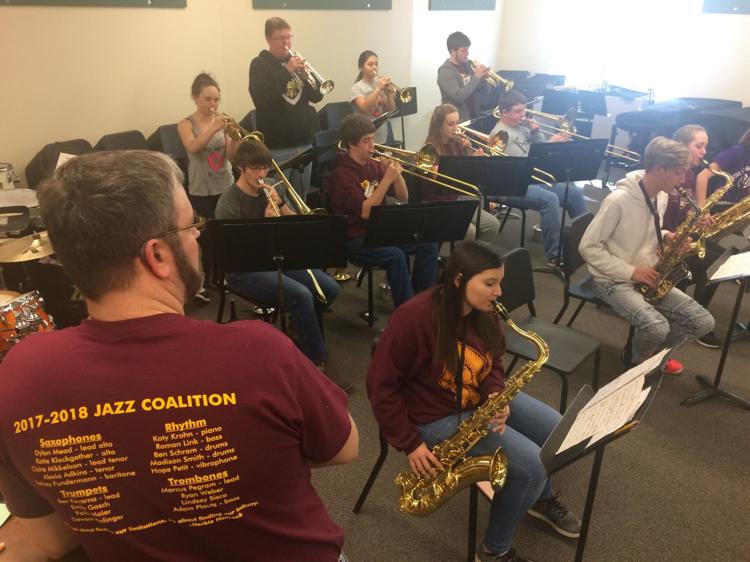 Jazz takes center stage on three stages, actually, come Monday, when 47 middle school and high school units from West Lyon High School to Kuemper Catholic (Carroll, Iowa) perform, high schoolers seeking a berth in the Iowa Jazz Championships set for the first week in April in Des Moines. To earn an automatic bid, a jazz band must finish in the top two in its respective enrollment class. A third-place finish may allow a jazz band to earn an IJC berth via the wildcard route.
It's been a few years since players from MVAO (Maple Valley/Anthon-Oto) or COU (Charter Oak-Ute) have graced the stage at the Iowa Jazz Championships. The players from MVAO finished fourth one year ago in Class 1A at the District Jazz Festival. Ben Kovarna, an all-stater in jazz as a freshman, remembers how that finish accompanied the sting of disappointment, of not earning a state bid.
"We got fourth at Districts last year and I remember how it felt," he said.
While claiming a berth in the prestigious Iowa Jazz Championships would be wonderful, neither Kovarna, the son, nor Kovarna, the father, want that achievement to be their sole barometer of success.
"I'm aiming to have fun playing music with my friends," Ben Kovarna said. "I like the camaraderie and listening to other bands."
In Class 2A, where MVAOCOU finds itself this year during the first year of a whole-grade sharing pact brought on by declining enrollment, the band competes against established programs such as Okoboji, West Lyon, Sibley-Ocheyedan and Alta-Aurelia. Musicians from Rock Valley, Hinton, Boyden-Hull, East Sac County, Sioux Central, Kuemper Catholic and Hinton may also have their say in the 2A derby.
"We do have fun," said David Kovarna, a member of the Maple Valley High School jazz band that qualified for the Iowa Jazz Championships in 1989, 1990 and 1992. "That's what I preach to the kids: Having fun and learning are the most important things."
The jazz band, he said, has helped bring two high schools together as one, as have sports and other extracurricular activities. Katie Klockgether, a sophomore who came from Charter Oak-Ute High School, is a key figure in this MVAOCOU jazz band. The chair for this saxophonist remained empty on Friday, however, as she attended an FFA event for the school.
Fifty-five miles north in Alta, Iowa, the Warriors kept busy fine-tuning their three-song show in preparation for Monday. The season began with the band rolling through a four-song set, a game plan soon abandoned when the timer blew the whistle to stop the group at the 20-minute mark, thus closing its first appearance of the season.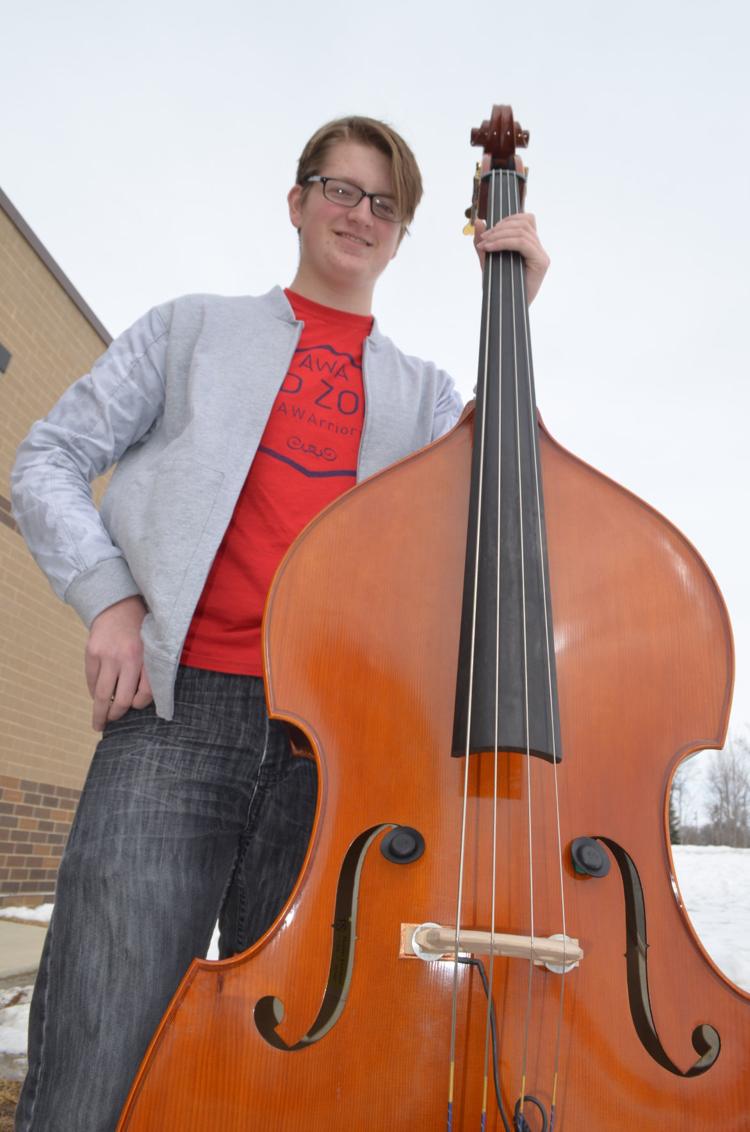 Director Corbet Butler, who guided the band to state championships in 2013 and 2014, tried to sing pianist Alicia Turnquist through the final few seconds of that performance. He laughed at the memory, making light of an effort that came in vain.
"We came to a logical end to a phrase and Alicia saw the timer, so she did what was right, she stopped playing," Butler said with a smile. "I tried to keep it going by singing her part and we got stopped. Yes, we definitely needed to cut that last song," he said.
Butler's band may feature the most movement of any in Class 2A as three soloists trade chairs and instruments prior to Alta-Aurelia's finale. Turnquist goes from piano to flute; Elizabeth Gustafson moves from drums to piano to claves; and Matthew Edwards hops off his upright bass and into the trap set.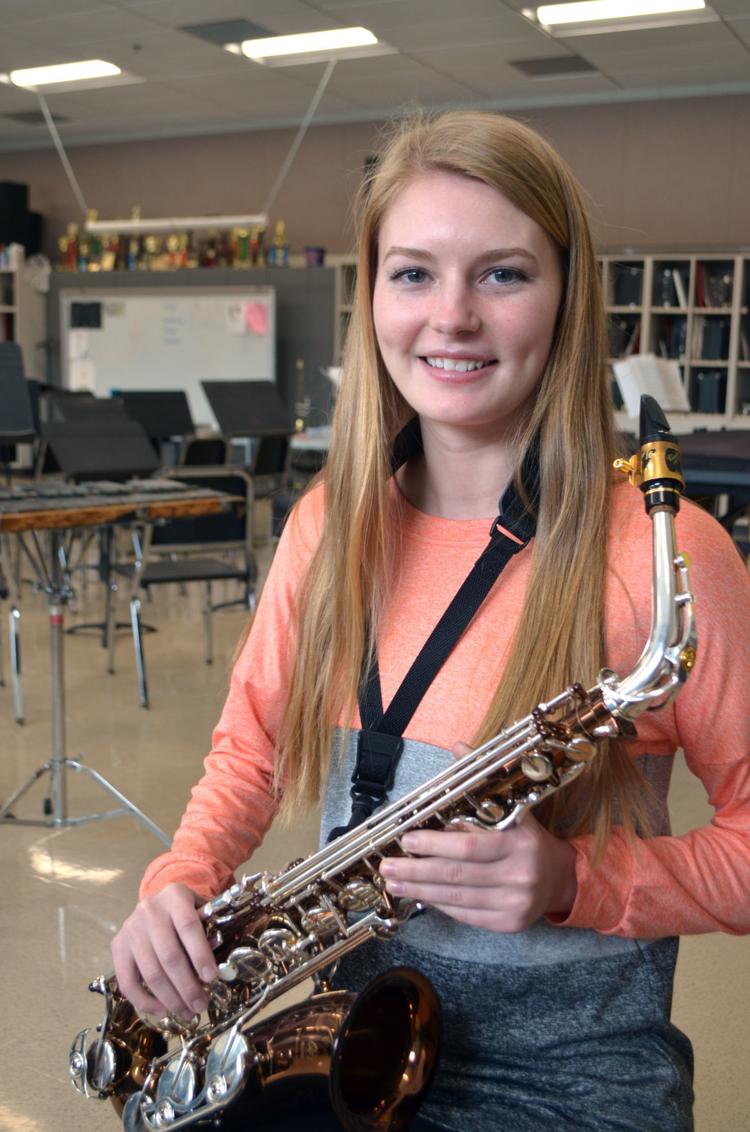 Carly Drenth, a junior who plays alto sax at Alta-Aurelia, said her weekend would feature lots of individual practice and a few group sessions to put the final touches on the program. The alto sax performer who landed the principal clarinet position with the all-state band during the fall, echoed the Kovarnas when it came to summing up what jazz band means to her.
"It's fun," she said. "I like coming together, working on the music and having fun."
In any high school extracurricular pursuit, that should be the measurement.