LE MARS, Iowa | Andrea Korthals stepped up during a pair of solos on Wednesday at the Northwest Iowa District Jazz Festival at Le Mars Community High School in Le Mars.
Korthals, a senior, helped play her Central Lyon High School jazz band into a second-place finish among Class 1A bands at the festival. It's what she -- and her band -- needed for a berth in the Iowa Jazz Championships set for the first week of April in Des Moines.
"I think Andrea is the only 4-time state qualifier in jazz band with this senior class," said Sherwin Langholdt, a Schleswig, Iowa, native who began teaching at Central Lyon 16 years ago. "Andrea's very talented and she works hard at it."
Northwest Iowa jazz band units from Inwood to Carroll converged on Le Mars on Wednesday for the event, which was postponed from Monday due to a winter storm. The festival promised automatic berths in the Iowa Jazz Championships for each of the top two bands in four enrollment classes. Third-place finishers may still qualify for the Iowa Jazz Championships via a wildcard route.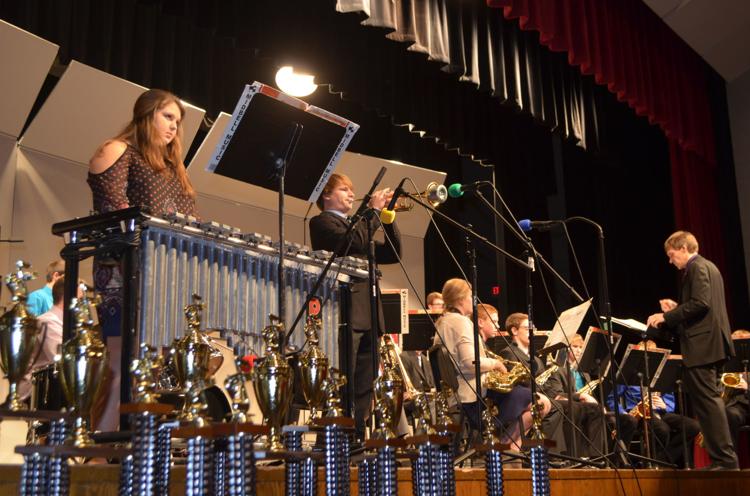 In Class 4A, Sioux City North I and Sioux City East I captured first and second place. MOC-Floyd Valley and Spencer finished first and second, respectively, in Class 3A. The Class 2A derby was won by perennial power Okoboji, which topped another former state champion, West Lyon.
Central Lyon finished second to Director Seth Snakenberg and his jazz band from Kinglsey-Pierson in Class 1A. The two bands finished first and second, although in the opposite order, last week at the Morningside College Jazz Festival.
"There are many, many good jazz programs throughout Northwest Iowa," Langholdt said. "It's so competitive. We beat Kingsley-Pierson at Morningside, but they came back and finished on top at Le Mars. You never know what you might get on a certain day."
Korthals, for one, tries to make sure she delivers each day for her band. The senior from Rock Rapids, Iowa, credits jazz band for helping her see music as a career possibility.
"Jazz band made me realize this is what I truly love," she said. "If I could play trumpet the rest of my life, I would."
As it is, Korthals plans to study elementary education and music at Minnesota State University in Marshall, Minnesota, next year.
Was she nervous in stepping up to the microphone for her solo work on Wednesday? Not really.
"I try not to think about making it to state (the Iowa Jazz Championships) because that will make me nervous," she said.
Instead, she relies on what she's learned through hundreds of hours of rehearsals for this four-song set.
"I've played trumpet since fourth or fifth grade," she said. "I also play piano, which has helped me with the trumpet. I felt pretty confident about my solos."
Fellow senior Emily Vande Kop, a tenor sax soloist from Rock Rapids, said she thought the performance for Central Lyon went well. The future Mt. Marty College nursing major hoped it would be enough to convince three judges.
"Making it to state was our main goal," Vande Kop said.
The trip to the Iowa Jazz Championships will be the 14th for Central Lyon in Langholdt's tenure. The band has finished as high as third in the state.
Placing in Des Moines would be great, according to these musicians. Then again, for at least one soloist, that might just be the start.
"Jazz band is the school activity I focus on most," said Korthals, who also sings in the school choirs, plays volleyball and softball and more. "It's because of our past success and the fact I've begun to think about maybe pursuing music as a career."
The key to fulfillment, for many, involves finding a career that matches one's passion. Andrea Korthals, an outstanding soloist from Central Lyon, believes she's found it, literally tooting her own horn.