SIOUX CITY -- Sixty-five Morningside College football players joined their coaches, student athletic trainers, a student radio broadcaster and dozens of parents and family members in flying to Daytona Beach, Florida, on Tuesday, in advance of the NAIA National Championship to be played at Daytona Stadium on Saturday.
A few students are flying there once they finish semester final exams, which conclude Thursday.
And then there are others, like a Mustang volleyball foursome, gearing up for a 1,527-mile excursion from Sioux City to Daytona Beach to watch Morningside face Benedictine College of Kansas.
"We're driving," said Krista Zenk as she stood with teammates Brittni Olson and Kayla Harris. They'll be joined by Rylie Muhlbauer as well, all piling into Zenk's "Mustang Maroon" Saturn and heading south and east on Thursday afternoon, just after Harris completes her last final of the semester.
Zenk's calculus has this trip taking 21 hours and 8 minutes.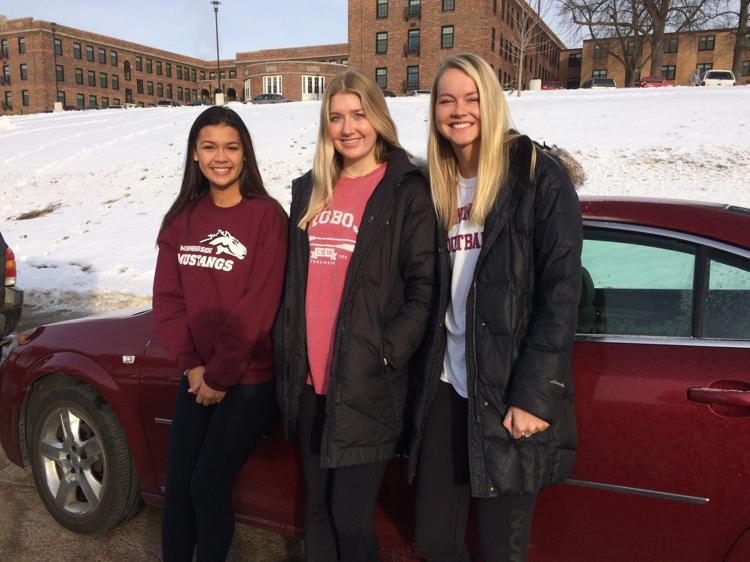 "We're driving straight through," Olson said.
It's a daunting task, but a fun one, and maybe a study in human behavior, this out-of-class lab, if you will, for Zenk and Olson, psychology majors both.
"We might be yelling at each other at some point," Olson said with a laugh.
Rather than fork over $400 each for a seat on the charter flight, Zenk put pencil to paper and determined it would cost her and three teammates around $200 to make the trip via interstate. The foursome will spend Saturday evening in a motel room in Daytona Beach and then begin their trek home. Of course, they hope to enjoy some fun in the sun.
You have free articles remaining.
"You just love the sound of it, 'Daytona Beach,'" said Harris. "We're barely into winter here and I'm already tired of it."
The predicted high for game day in Daytona Beach: 70 degrees.
Sunshine and sand offer a stark contrast the national semifinal held Dec. 1 at Elwood Olsen Stadium on the Morningside College campus. The Mustangs and their visitors, the University of Saint Francis, staged an epic overtime saga in the snow, wind and ice. Harris watched her team's winning touchdown from the warmth of her room at Dimmitt Hall.
Olson and Zenk joined a few thousand other fans in streaming the national semifinal as a winter storm pummeled Sioux City. "I froze during the other two playoff games (both in Sioux City), so I watched the last one online," Olson said.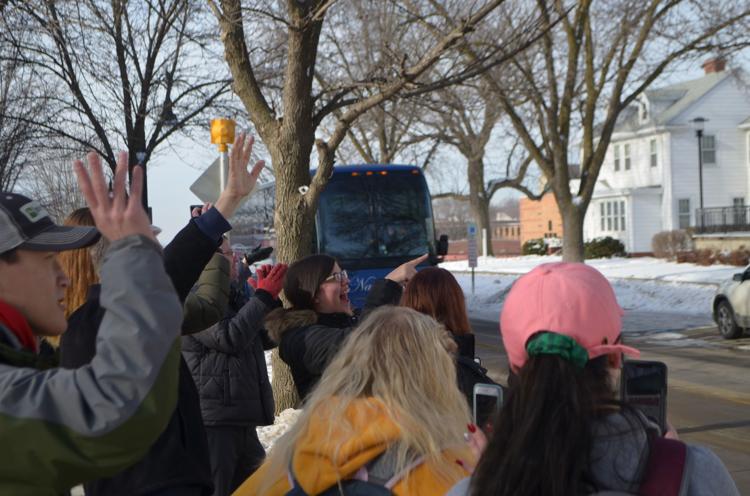 As volleyball players with a fall sports commitment, these Morningside students don't often get the chance to be football spectators. This year, in fact, they probably watched one other game in addition to the playoff contests. With a national crown up for grabs, they decided to buckle down for final exams then buckle up for a long drive south.
"This is a once-in-a-lifetime trip for us," Olson said. "It'll be a good girls' trip."
Not only does it celebrate the end of a semester for these students, it's also a way friends can celebrate the conclusion of their volleyball season, one that ended with a victory in pool play at the NAIA National Volleyball Championship at the Tyson Events Center two weeks ago.
In addition to cheering for a Mustang victory on the field, Harris is hoping for a ride without hiccups. She remembers her last cross-country venture for one of the wrong reasons. "We went to California and we had no air conditioning," she said with a laugh. "It was July and it was miserable."
This trip promises to be better. Daytona Beach, as she said, sounds so pleasing, especially to one living where the constants this month have been snow-cover and below-normal temperatures.
Well, there's at least one other constant here this fall: Morningside football victories. Fourteen in a row. With a 15th win on Saturday -- and that's possible -- this road-weary quartet will celebrate two words whose union also elicits positive thoughts and feelings: National champion.
Copyright 2018 The Sioux City Journal. All rights reserved. This material may not be published, broadcast, rewritten or redistributed.