HOLSTEIN, Iowa -- On one of the shortest days of the year we bring you the tale of a Siouxland giant, a young pro who thinks big, acts bigger.
Taylor Nees, 27, of Holstein, owns three homes, all of which he's renovated. He currently rents two of them and has one for sale.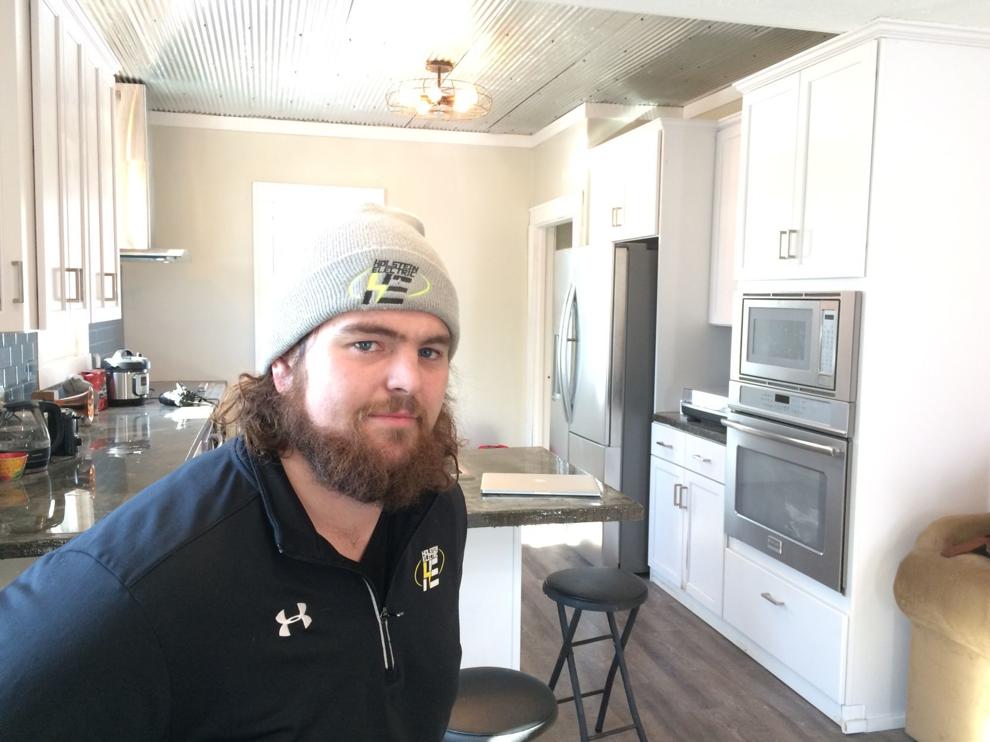 Nees stands 6 feet 5 inches and weighs 290 pounds. (He's smaller than the high school senior from Holstein we featured in the Sports section Thursday. That's Ezra Miller, a future Hawkeye offensive lineman who stands 6 feet 7 inches and tips the scales at 310 pounds.)
A project manager for the family firm, Holstein Electric, Taylor Nees goes back and forth from his hometown to Eagle Grove, Iowa, where he's working with RP Constructors to get power going at the Prestage Farms plant being built in that Wright County community.
Oh, and then there's this sideline for Nees: He's hatching a dream called Muff Waders. In short (there's nothing short about this guy), they're overalls designed to quench big thirsts that hunters, football fans, workers and outdoor enthusiasts often possess.
"We put a video on our Facebook site for Muff Waders and in seven days we've gotten 101,000 views," he says.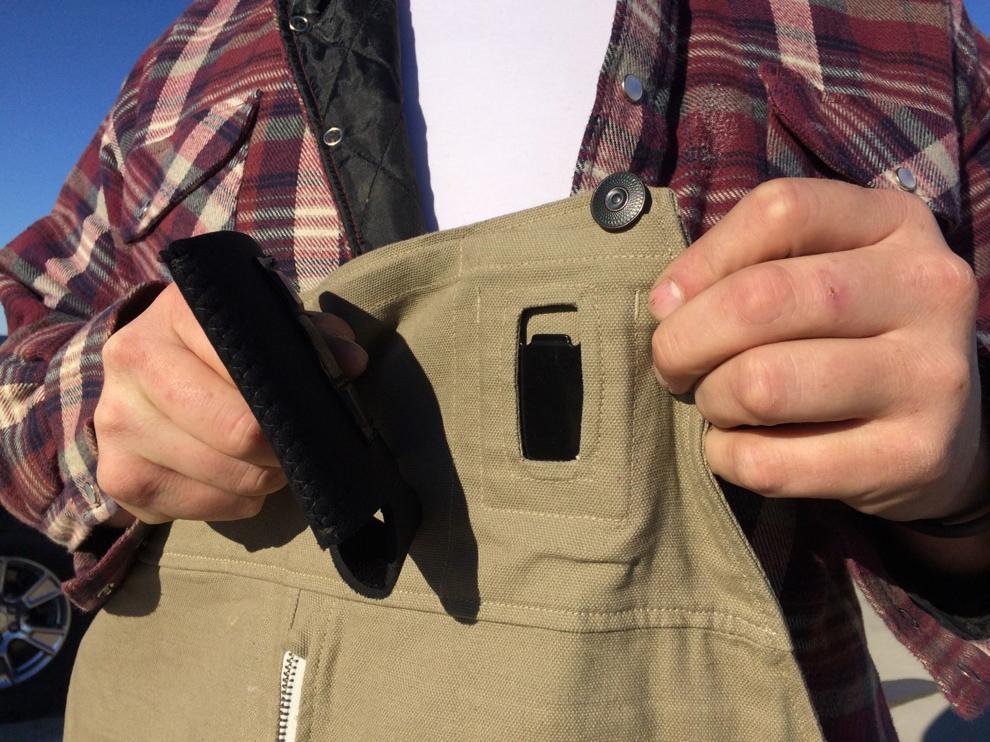 Nees works with fellow Muff Wader creator Garrett Lamp in seeing through these bibs built for work and play. The overalls are designed with an insulated cooler pouch sewn into the chest area, one large enough for a six-pack of beer, soda, water or energy drink. On each leg there's also an insulated pocket for a bottle of beer or water. There's even a koozie with a magnet on the back, which sticks to a piece of metal at the chest, a piece that doubles as bottle opener.
"Multiple times, I've worn this on a job site and filled the pockets with bottles of water," Nees says.
Nees and Lamp pitched their brainchild to 80 designers and manufacturing firms until a company in the Twin Cities bit. The company made a prototype as Lamp and Nees made progress on a pair of patents, which are pending. Patents, he muses, take quite a bit of money. So does manufacturing.
Which brings us to Saturday's launch of a Kickstarter campaign to raise money for the Muff Waders dream. Nees says he and Lamp, through Kickstarter, must raise $135,000 in 60 days in order to have 3,400 pairs made. The bibs sell for $85.
"If we get to $135,000, you'll get a pair of the Muff Waders with a care package that we'll include," Nees says. "I know for sure that every care package we send will have a personal note in it."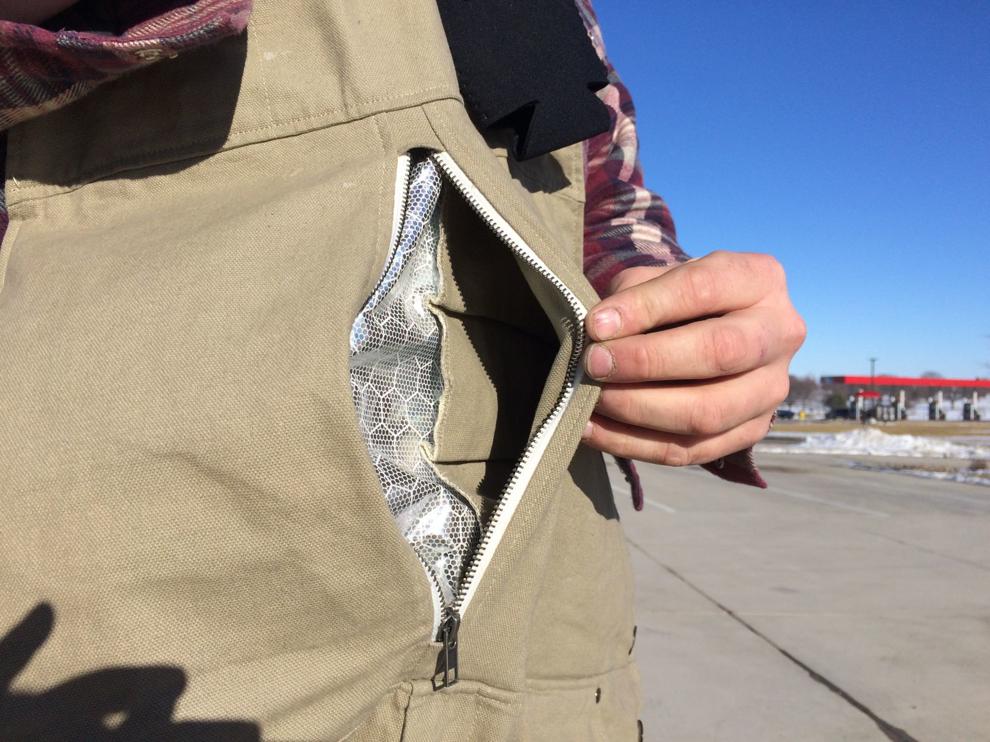 If the effort falls shy of $135,000, Nees says, Kickstarter will send folks their money back. Those interested can find information by going to www.muffwaders.com and clicking on the Kickstarter button.
Nees says they're not expecting investors to ante up hundreds or thousands of dollars. Rather, he sees this as an effort where most contributors will order a pair, maybe two, of their Muff Waders. "This is totally grassroots," he says.
"We've had some hunting shows contact us, but we've not had any help yet in advertising," Nees says. "We've gotten good feedback, but I'm really pretty nervous. Just because someone watches a video doesn't mean they'll buy."
To get his overalls a running start, Nees planned to make the requisite watering-hole stops on Saturday evening (Dec. 22) in Holstein, the Kickstarter campaign's first day. The project manager/contractor/inventor believes he owes something to his hometown pubs. After all, that's where Nees & Co. hatched this concept.
"The idea hit me one year ago," Nees says. "We were at a bar with some buddies. We drew it up on a napkin."
Copyright 2018 The Sioux City Journal. All rights reserved. This material may not be published, broadcast, rewritten or redistributed.