ARNOLDS PARK, Iowa | One year ago this week, I sat in the Arnolds Park City Council chambers and listened as Charley Whittenburg, CEO of Historic Arnolds Park Inc., announced preliminary plans to expand a parking lot, renovate the Majestic Pavilion and Roof Garden while expanding the Iowa Great Lakes Maritime Museum and the Iowa Rock-n-Roll Museum.
Fifty-two weeks later, I stood and watched as construction workers finished a roofing project, started an office rebuild and addressed an area where the former fun house slide from Boji Bay will be attached to a new second-story window area at the Maritime Museum.
"The slide will be functional," said Paul Plumb, marketing manager at Arnolds Park Amusement Park. "Boji Bay gave us the (fun house) slide, the Barrel and the Sugar Bowl. We can't use the Barrel or the Sugar Bowl because of insurance purposes, but we can use the (fun house) slide."
Yup, as early as this summer, young and old may go through the Maritime Museum, walk to the new second level and swoosh down a Boji Bay slide.
All these efforts are part of a herculean $12-million upgrade at the venerable park on the shores of West Lake Okoboji.
It's all a far cry from two decades ago when, in 1998, the park was closed for the summer. One year later, tens of thousands of people came together to "Save the Park." Five years after that, residents across the region pitched in to "Sustain the Park."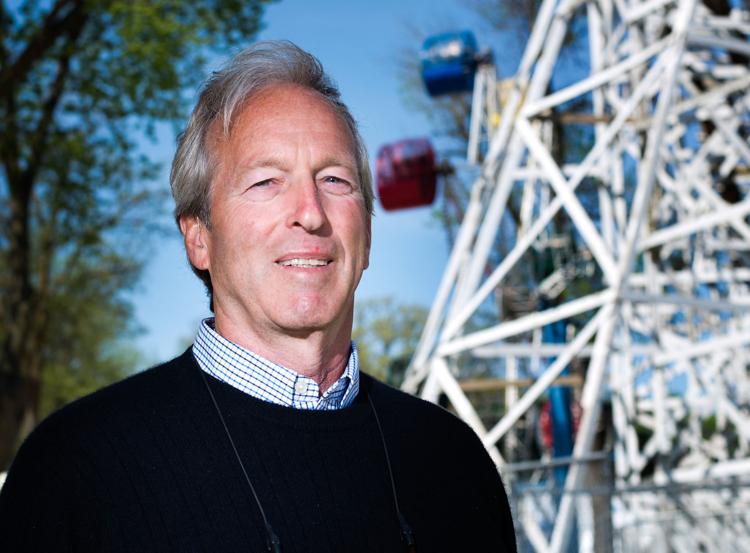 Since his hiring seven years ago this week, Whittenburg has helped preside over steady growth at the complex. After detailing those plans on a bone-chilling night last December, Whittenburg and other key leaders commenced fundraising. By the time he called a press conference in May to detail the phases of this effort, $6 million, or half of the total cost of construction, had been committed by an anonymous group of donors. An additional $2 million had been contributed by boards serving Historic Parks Inc. and The Park Foundation.
One month ago, the Enhance Iowa Board awarded the effort a $935,000 Community Attraction and Tourism grant.
Phases II and III appeared to be progressing on Friday under blue skies and temperatures in the upper 40s. Plumb said that while rains during September and October hampered initial building efforts, a dry fall has allowed for workers to catch up.
"The last I heard was that the Pavilion was five to six days behind schedule, but we allowed for that by building in a couple of weeks of leeway," Plumb said. "So we're relatively on target."
A June 2 wedding has been booked for the new and improved Majestic Pavilion immediately north of what will be a new Roof Garden ballroom able to host events year-round.
While taking out layers of the old hard maple flooring at the Majestic Pavilion, officials were moved to save many pieces and are now offering 2-foot by 2-foot sections engraved with the Arnolds Park logo for $500 apiece, keepsakes for those who recall roller-skating on that wood up into the 1980s.
"We've sold some of the pieces already," Plumb said.
The Majestic Pavilion's new floor will be a light maple to match what was once inside the old facility. That area will be addressed this winter, once workers are able to frame the structure and then focus on interior efforts.
Framing has been accomplished across the street at the Maritime Museum as the expansion continues to progress. Workers appeared to wrap up the new roof on Friday as other pros worked inside. A larger museum will allow officials to provide green room facilities for guest bands, while offering office space for the Okoboji Foundation, the Iowa Great Lakes Chamber of Commerce, Okoboji Tourism and a new home for the Iowa Rock-n-Roll Hall of Fame, which will more than double in space.
An earlier version of this story contained information that a water slide would be attached to the Iowa Great Lakes Maritime Museum. Rather, story should have read that the old slide from the fun house would be used as part of the improvement project.