SHELDON, Iowa | Kory Roos bounced into the wrestling room at Sheldon High School on Monday afternoon, a bull in a sweat-shop of young bulls. He grabbed a wrestler and shoved the top of his head into the boy's cheek and chin, eliciting a chorus of laughs and shrieks.
Roos' head is clean-shaven for the first time, maybe ever, a prize his team earned at the conclusion of the Sheldon Invitational Wrestling Meet on Saturday, which the Orabs won in dominating, emotional fashion. To the victors went the spoils, and not just the chance to clip Coach Roos' hair. The Orabs also laid claim to a new traveling trophy, presented by members of the Sheldon High School Class of 2017, the graduates' way of honoring and remembering their late classmate, Jake Roos, who died in a truck accident on Oct. 27, 2017.
Kory and Julie Roos, Jake's father and mother, accepted the trophy to a rousing standing ovation, another step in a journey which has seen them bury and lift their son while raising the spirits of many others.
"I need these boys as much as they need me," Kory Roos said prior to Monday's practice.
There's a healing effect, a fountain of youth, that nourishes adults who devote afternoons and nights to high school teams. Kory Roos is now in his second year as head coach for the wrestling team, a cooperative venture featuring grapplers from Sheldon and nearby South O'Brien High School. Julie Roos, meantime, coaches the Orabs wrestling cheerleaders. While her husband spends each afternoon teaching pinning combinations and escapes, Julie toils in the commons at Sheldon High, covering the finer points of pyramids and chants.
"Wrestling is such a big part of our lives," Julie said.
It's been like this since their firstborn, "Big Jake," took to the mat as a first-grader in the Little Orabs wrestling program. Kory began volunteering with young wrestlers then. He went on to serve school's junior high wrestling coach for seven seasons before ascending to the varsity's top spot in 2016.
Jake Roos was a senior at that time, competing at 170 pounds until a shoulder injury ended his final campaign around Christmas. Jake Roos fell just shy of 100 victories as a prep. He also failed to reach his goal: Wrestling under the bright lights of the state meet at Wells Fargo Arena in Des Moines.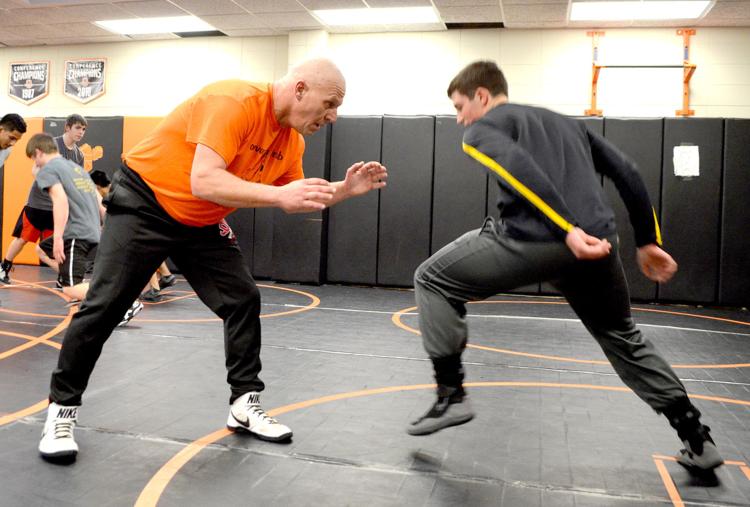 Rather than submit to another surgical procedure -- something Jake and his parents new he needed to compete for a junior college -- Jake decided it was time to place his wrestling shoes on the mat and walk away from the competitive rigors. He immediately began life's next phase, that of a truck driver hauling livestock for Northwest Iowa farmers.
Jake was on his way to Stockton, Kansas on Oct. 27, 2017, when he apparently fell asleep at the wheel and crashed along Highway 36, four miles east of Phillipsburg, Kansas. His parents assume he died immediately. He left no skid marks.
After learning Jake hadn't shown up to get a load of cattle a day earlier, Kory Roos had flown with three friends to Kansas to survey from the air the route Jake would have taken. He spotted Jake's truck in a deep ravine. The plane landed at Phillipsburg and Kory and his crew were the first to reach the wreckage.
A convoy more than 100 trucks strong participated in Jake's funeral on Saturday, Nov. 4. The Rev. Dave Van Kley and Kory Roos performed eulogies for Jake in a service at First Reformed Church in Sheldon.
"My message was based around wrestling," Kory said, noting that Jake, ultimately, got the chance to raise his arm in victory following a brief life devoted in large part to the Golden Rule: Do unto others as you'd have done to you. For example, the young truck driver arranged for a load of bottled water to be transported to Sheldon, Texas, after it flooded last June.
Even Kory's choice of donning a suit at the funeral had in mind the sport this family shared. High school wrestling coaches traditionally save their Sunday attire for the Saturday night finals at the state meet. Kory Roos, clad in his suit, waited as the lights in the church went low on this heart-wrenching Saturday, leaving a spotlight upon Jake's casket. Then, he retired his son's wrestling shoes by draping them over his coffin.
"He's done competing," Kory said.
While Kory and Julie returned to life in and around their residence at Ashton, Iowa, Jake's words reverberated. He had exhorted his father to keep his coaching whistle as Jake's younger brothers, Jarrett, 12, and Kolton, 10, would need their Kory's presence as they matured in this sport. Jake, too, planned to one day obtain his coaching certificate to lend his brain and brawn to the team's daily workout regimen.
In death, though, Jake Roos prompted dozens of other Orabs wrestlers to fill his void, both on the mat and off. Jarrett and Kolton have no shortage of "older brothers" in the wake of this tragedy.
"Jake had said to me, 'Dad, you've got to keep this going,'" Kory said.
And so he and Julie keep working with young people, serving a wrestling program that has outgrown one bus. The season commenced with 46 wrestlers at Sheldon/South O'Brien, an almost unheard of excess in participation.
"When we travel to meets, we have to take a bus and a Suburban," Julie said. "And sometimes that's probably not enough."
The team defeated Sioux Central, Estherville, Sioux Center and Lenox, South Dakota on Saturday, en route to a title at the Sheldon Invitational. The trophy, which features a picture of Jake Roos, his arm raised in victory, has a gold plate that awaits the name of the winning team for each of the next nine annual invitationals.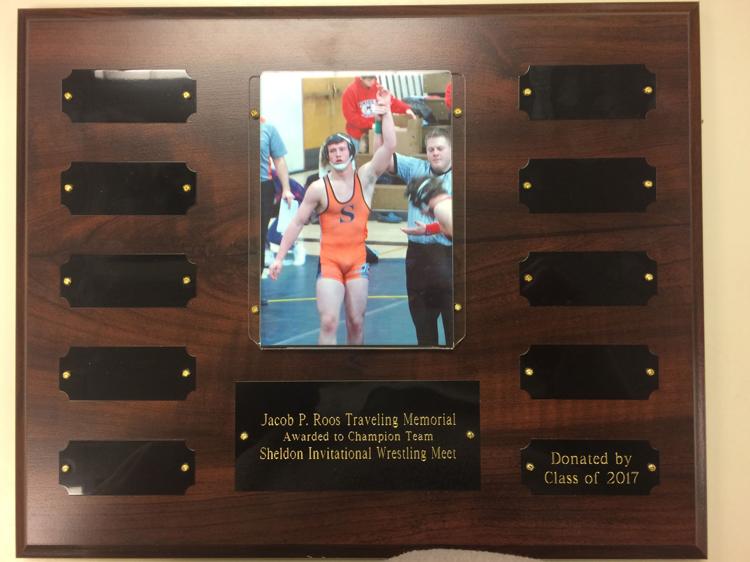 Why nine? That number coincides with the years little Kolton Roos has left in school. After his senior year, the family said, this special trophy will return to Sheldon High School, at which time, like Jake Roos' wrestling shoes, it will be retired, a good fight fought, a race finished, as Paul's letter in 2 Timothy reads.
Or, in the case of Jake Roos and his family, a match well-wrestled.