STORM LAKE, Iowa -- Standing before gorgeous stained glass windows of O'Shaughnessy Library on the University of St. Thomas campus in St. Paul, Minnesota, Art Cullen asked if anyone wanted him to read from his new book, "Storm Lake."
"Page 47," a listener requested.
"I turned to page 47 and thought it was odd," Cullen said. "The page has a story about a short-lived underground newspaper I helped start in seventh-grade at St. Mary's (in Storm Lake)."
He read aloud about pushing the reach of the First Amendment in a Catholic junior high school, a 12-year-old joining classmates Dan Statz, Charlie Dick and Guy Colvin.
"I'm Charlie Dick," the listener interjected.
Cullen's spirit soared. "I hadn't seen Charlie since 1975," he said.
Anecdotes, goosebumps and friends, old and new, emerge as Art Cullen traverses the Midwest, a Pulitzer Prize-winning editorial writer reading from "Storm Lake: A Chronicle of Change, Resilience, and Hope from a Heartland Newspaper," his 317-page memoir released one week ago by industry giant Viking, of Penguin Random House.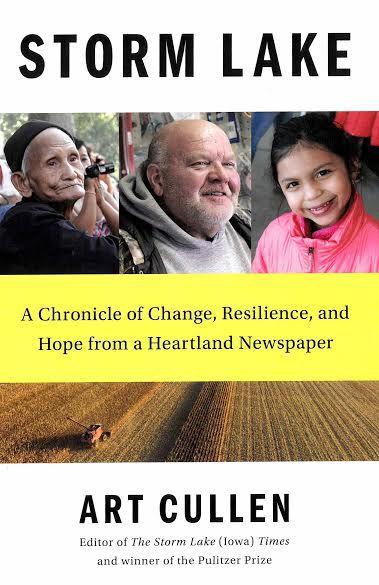 Cullen first read from the book's bound galley (a working edition before its final run) during a June program at Sioux City's Betty Strong Encounter Center featuring yours truly as host. My old boss has since appeared in settings from Sioux Falls to Des Moines to Algona to Cedar Rapids, Iowa City, St. Paul and more. This weekend, he's off to Madison, Wisconsin, for the Wisconsin Book Festival, then south to Dubuque.
"It's weird reading something and having the crowd applaud," said Cullen, 61. "I'm not used to that."
He's not fibbing. For seven years I sat next to him, a dogged, critical thinker and writer who could endear himself to thousands of readers while annoying thousands more. I have friends who swear by him, swear about him, and, on occasion, swear at him.
I recall being on the phone doing an interview for the Journal in April 2017 when coworker Tim Hynds tapped me on the shoulder and said, "Art Cullen just won the Pulitzer Prize."
I later told Art that Hynds could have said, "Art Cullen just got popped on the nose by an angry reader." It would not have shocked me.
That he won the Pulitzer, did. An award like that doesn't fall on a little-engine-that-could business springing forth in a cluttered machine shed constructed in a town miles from nowhere. The award didn't fall, of course; he earned it, "For editorials fueled by tenacious reporting, impressive expertise and engaging writing that successfully challenged powerful corporate agricultural interests in Iowa," judges wrote.
The Minneapolis Star-Tribune, Publishers Weekly, Booklist, Kirkus Reviews and more have published reviews of "Storm Lake" in recent weeks.  In the past 17 months, Cullen's maverick streak and his newspaper work have been featured by the New York Times, Los Angeles Times, Wall Street Journal and by producers and broadcasters from Japan, Ireland and elsewhere.
The award brought about this book deal, too, a proposition Cullen, who makes his sausage in 10 to 12 paragraphs at a time, declined initially. When his older brother, John Cullen, Storm Lake Times publisher, asked him to call the good folks at Viking back, Art agreed.
While John and other staff members, including Art's wife, Dolores Cullen, and their son, Tom Cullen, whose reporting helped lead to the Pulitzer, took on additional duties at the office over the past year, Art went to work, making innumerable calls while researching his newspaper's back issues. His scribbling filled stacks of legal pads as he ruminated, exalted and doubted himself, having never tackled hundreds of pages in one assignment.
"Cullen knows Iowa and a lot more," wrote Dan Balz, chief correspondent of the Washington Post. "This book will delight you and inform you and surprise you. It will also give you hope."
My take? I thoroughly enjoyed "Storm Lake." Then again, I'm biased, appearing in its text a few times, the result of being one-half of a 2-person news crew from 1990 to 1997, as Editor Art comprised the other half. The good ol' days, they weren't.
The result is a fascinating read that details his family life, the up-and-down times at his newspaper, his pride in his hometown as Storm Lakers work to welcome immigrants and the poorest among us. He also shares unvarnished fears about a pair of topics running afoul: Cash-driven politics and Iowa's land and water.
I stopped at The Times on Monday to get his reaction, this whirlwind at his back. I also wanted to know how his "Storm Lake" is selling.
"We ran out of signed copies here at the office last week," said John, noting several members of the Storm Lake High School Class of 1968 stopped in during a 50-year reunion while Art was out of town on his speaking circuit.
"We sold out at my appearance in St. Paul and my cousin, Patty Murray, couldn't buy one," Art said. "I said we'd be sure to get her one."
"We're in the window display at Iowa Book and Matt Lage (the manager) said it was the best read of the year," he added, while mentioning it's available through Amazon, Barnes & Noble, all the biggies, as well as retail outlets like Prairie Lights Bookstore.
He laughed about being locked out of a Cedar Rapids' KGAN TV station at 5:30 a.m. recently, nervously awaiting his appearance on a morning show. When half the crowd in Iowa City last Saturday signaled a connection to extended family in Storm Lake, he gushed. It had taken decades of reading, writing and listening, but the once-underground scribe arrived, standing before a full house in the college library where he used to smoke cigarettes and read newspapers, the extent of his "cramming" as a less-than-stellar post-secondary student.
Exposing the source of "dark money" to fund the defense of a public lawsuit in Buena Vista County might have landed him a top honor in journalism; ultimately -- and just as noteworthy -- the work also reconnected him to a childhood pal, Charlie Dick.
With all that, there's also vindication for a reporter-turned-editor-turned-author who chipped away with a chip on his shoulder for 40 years, unearthing stories in courthouse documents and on county blacktops back home. He'd been turned away by higher-ups serving metro dailies in Minneapolis and Des Moines.
He sighed and observed this about his place in rural Northwest Iowa, "You wonder if you're good enough."
He is. He always was. A Pulitzer Prize proves as much. And so does his book.