ORANGE CITY, Iowa | For as long as Colton Kooima can remember, he's had a basketball in his hands, dribbling, shooting, pretending to drill a game-winning shot before a loud crowd.
It still works that way, sounds and images bouncing between his ears as he listens for the swish and the imaginary roar around 11 o'clock on a July night at the Bultman Center on the campus of Northwestern College in Orange City.
Kooima, player of the year in the Great Plains Athletic Conference, chose campus living over going home last summer, a plan that involved lots of late-night solitary shots to get his game -- and his team -- to be the best they could be.
The reward? The 22-year-old son of Preston and Sue Kooima goes home this week as the Red Raiders join Morningside College and Briar Cliff University in representing Northwest Iowa in the NAIA Division II Men's National Basketball Championship at the Sanford Pentagon, just up the road in Sioux Falls, South Dakota.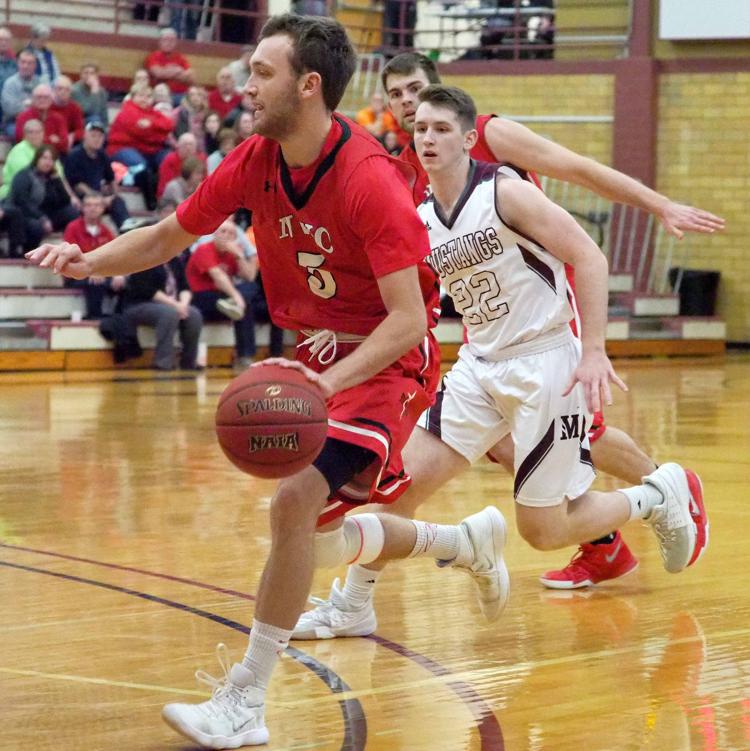 The Kooimas moved to Sioux Falls when Colton was in elementary school. So, he's ending a wonderful basketball career at "home."
Preston Kooima, assistant high school principal at Sioux Falls Washington, has fielded approximately 60 ticket requests from friends and family members for the Red Raiders' first-round game against Bellevue at 8 p.m. Wednesday. And while the Red Raiders often had crowds beyond 200 or so fans at previous national tournaments in Point Lookout, Missouri, Colton Kooima expects that number to swell way beyond that while competing in a national classic just an hour's drive from the Sioux County seat.
Sioux Falls is 40 minutes from Rock Valley, Iowa, where Colton was introduced to hoops, often following his dad to practice as the Rock Valley High School girls' team, directed by Preston Kooima, won back-to-back-to-back state championships.
"I remember my dad's intensity at practice," the younger Kooima says on a Friday afternoon, one of two people in the spacious Bultman Center gym. "I remember him watching VHS tapes of other teams, too. We still have a lot of the Rock Valley games on tape."
Colton Kooima's film study transitioned in college. He takes a seat with NWC Coach Kris Korver, often spending three sessions per week with the 2-time national championship head coach in poring over an opponent on tape. There are times Kooima examines the film himself, trying to zero in on a foe's tendencies.
His work on and off the court continues this drive for excellence, a pursuit rooted in the results of a pair of .500 campaigns during Kooima's first two years on campus. The Red Raiders finished 14-14 his freshman year, 15-15 his sophomore year.
"I remember thinking after my sophomore year that this isn't what I signed up for," says Kooima, a 2014 graduate of Sioux Falls Roosevelt. "I was upset."
A big change in Kooima's preseason routine involved golf. The two-time GPAC all-league golfer gave up the autumn half of the links season as a junior and senior, a sacrifice he made to help him focus on Red Raider basketball.
The 6-foot, 3-inch scorer translated that focus into production, averaging 24 points and earning First Team All-America honors for a 27-7 club last year, one that reached the second round of the national tournament. Kooima hit the game-winning shot, a tough fade-away jumper to upend Washington Adventist in the opening round.
This year? Kooima, a four-time all-conference honoree, is likely a First Team All-American following a 25-6 campaign, one in which his Red Raiders tied for second place during the regular season and finished runner-up in the GPAC Tournament, both of which were won by Morningside, which opens the national meet at 1:45 p.m. Thursday against Trinity International of Illinois.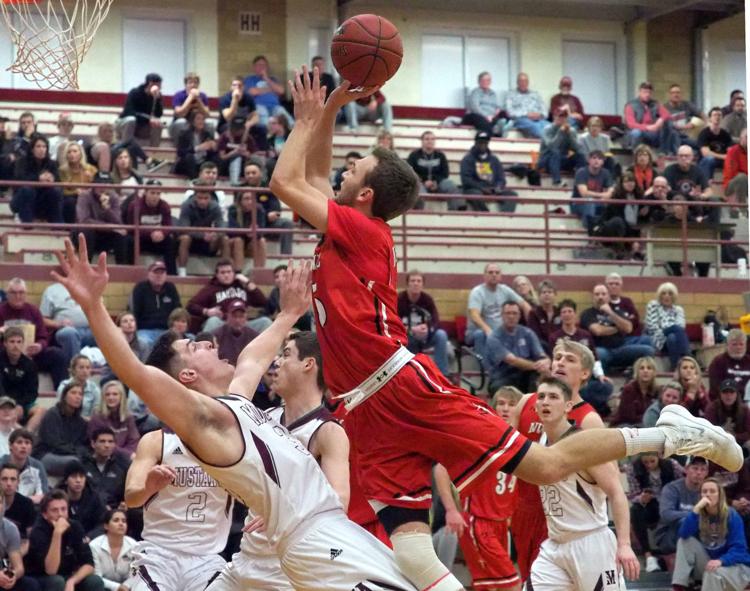 "It was disappointing to lose the conference tournament title game, but the GPAC is so tough," he says. "Give credit to Morningside; they made the plays down the stretch."
Kooima rode back to Orange City with Coach Korver that night, mulling strategy and results, sharing the discussion with Korver's sons, Christian, a Red Raider teammate, and Luke. The talk, he says, will help serve players and coach this week.
"Playing in the GPAC is special," Kooima reiterates. "It's such a grind. Playing those tough games every week prepares us for what we face in March."
Basketball, he continues, will help Kooima take aim at life's future challenges. This owner of a 3.3 grade-point average switched from a math major as a sophomore to a business administration major with an emphasis in finance. Before practice at the Pentagon one night last week, Kooima drove to Sioux Falls and distributed resumes at a job fair, recalling a brief meeting with representatives of the FDIC, who work out of Washington, D.C.
His toughest class in an 18-hour semester load this spring? It's advanced corporate finance, a course where students sometimes spend up to two weeks preparing then presenting case studies on business approaches taken by conglomerates such as AT&T and Coca-Cola. Kooima says he's hopeful the regimen has prepared him for what awaits in business. A dream job, he says, centers on one day becoming chief financial officer for a company.
The prolific shooter who always seeks to make one more (don't all shooters?) shares more than basketball on a day given to collegiate recap. His words, not the ball this time, bounce through an empty gymnasium.
"Northwestern is a faith-based institution and the college helped me expand my faith," he says. "And, Northwestern brought a whole new group of friends to me, relationships that will last a lifetime. I'll miss competing with guys who've become brothers to me. This has been a very special place, a place where I think I've matured and realized all that life has to offer."
Somewhere, an imaginary crowd roars its approval, as THAT is what this student-athlete signed up for when he left Sioux Falls to come here four years ago.