AKRON, Iowa -- Nick Jacobs walks down the hall at Akron-Westfield on Tuesday as "Remember the Titans" scenes race through my mind. This high school senior has the flowing blond hair, shoulder-length, as that of Ronnie "Sunshine" Bass, a quarterback depicted in the film.
"My dad sometimes calls me 'Sunshine,'" Jacobs says with a laugh. "That's my favorite football movie."
Football season bursts upon us this week as Siouxland high schools begin the season Friday night. For more more than three decades, I've been in the bleachers, press box and/or sidelines following prep football, a season that, in some ways, helps set a tone for the school year.
The Journal's football preview, 80 pages strong, comes out in Friday's paper.
Jacobs and his Akron-Westfield Westerners open the slate in Akron against the Westwood Rebels, a tough non-district Class A foe directed by Cass Burkhart. Jacobs will play quarterback and safety for Coach Eric Walkingstick's Westerners.
The son of Scott and Carissa Jacobs sports No. 14 in honor of his father, who donned the same jersey number for Akron-Westfield in the early- and mid-1980s. The younger Jacobs shows me how serious he is about football by detailing hydration efforts, a plan that began six days in advance of Friday night's kick-off.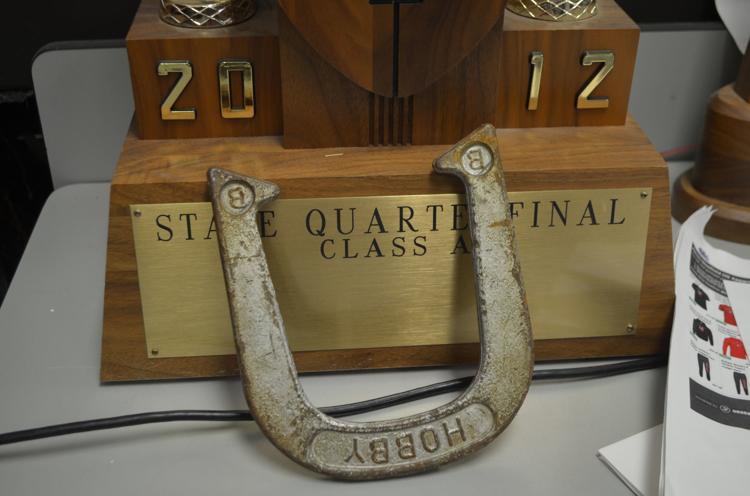 He shares an example: "On Monday, I had two bottles of vitamin water after practice and plenty of water and Powerade before practice," he says, noting how he'll keep pushing fluids.
He also eats pasta, protein shakes and plenty of fresh fruit. One of his favorite treats is a shake his mother blends, a concoction featuring orange juice, bananas, apples, strawberries, grapes, pineapple and yogurt.
What's got Jacobs, one of 18 A-W seniors, fired up for the season?
"Playing under the lights on Friday nights," he says. "It means a lot playing for your teammates (he calls them his 'brothers'), the coaches and the fans."
Jacobs, like thousands of young people across Siouxland, recalls attending games at his community's high school one decade ago and playing sandlot games just yards from the actual field. "We'd play a game of tackle football as third- and fourth-graders until it was broken up by a teacher," he says.
Finally, about that hair, Sunshine? "I got a haircut a little over a year ago," Jacobs says. "I let it grow throughout my junior football season and I'll keep it through my senior season. I plan to cut it after the season."
Jacobs, who also plays basketball and baseball for his school, hopes that senior season this fall lasts as long as possible.
You have free articles remaining.
One of my favorite Friday night tales involves Head Coach Jeff Van Den Hul of Dakota Valley High School. I stood there taking notes in August 2005 when Van Den Hul, then an assistant coach, raced from the parking lot to the sideline at halftime. He and his wife Lorynda Van Den Hul welcomed the birth of a son that evening at 8:12 p.m. The boy, who was yet to be named, weighed 8 pounds 12 ounces.
Coach Van Den Hul left Unity Point Health-St. Luke's in time to help coach the second half of Dakota Valley's victory over Akron-Westfield. Son Josh Van Den Hul, a senior for the Panthers at the time, scored his first varsity touchdown on a punt return in the first half. Jeff heard about one son's touchdown as he held another son for the first time.
Lorynda told her husband to get to the game at that point.
That baby boy, Grant Van Den Hul, this month begins his junior high football career at Dakota Valley Middle School. And, he's yet again serving as the ball-boy for his dad's No. 1 ranked Panthers who open the season on Friday at Dell Rapids, South Dakota.
Josh Van Den Hul is also back on the sidelines, serving as an assistant coach for the Panthers, who finished second in the state last fall.
Speaking of family matters...Ezra Miller, a senior at Ridge View High School, is featured in the cover story for the Journal's football preview section. Miller, who stands 6-feet 7-inches and weighs 310 pounds, anchors the offensive and defensive lines for the Raptors, who play for the Jerry Reynolds Trophy on Friday against neighboring OABCIG in Ida Grove.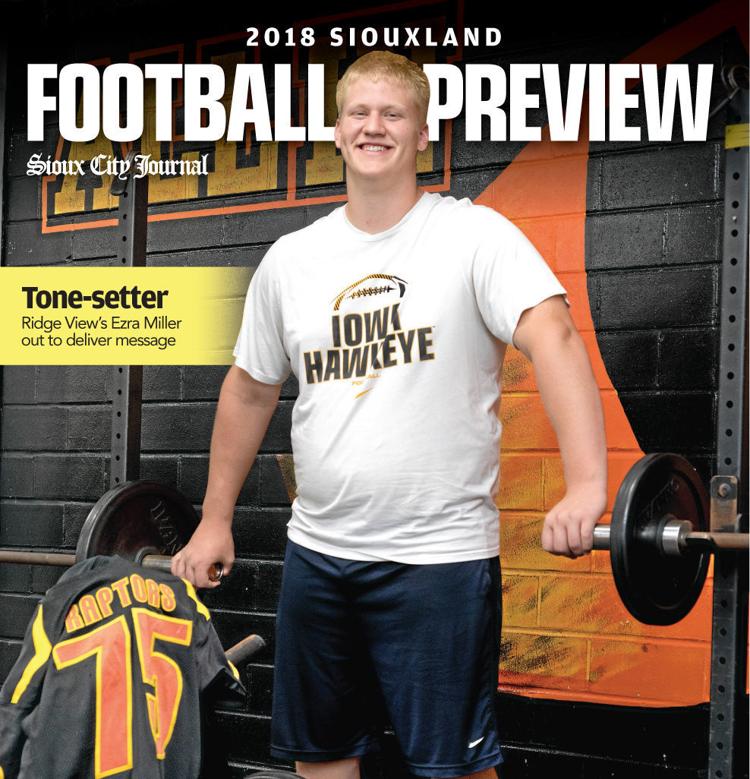 OABCIG consists of Odebolt, Arthur, Battle Creek and Ida Grove. Ridge View includes Galva, Holstein, Schaller, Early and Nemaha.
Miller, the son of Pat and Mary Miller, will compete against student-athletes his father knows well. Pat Miller, you see, just started his 19th year as principal at OABCIG High School. Seeing his son compete against the Falcons isn't new for Pat Miller, who had older sons who starred in a multitude of sports for the high school in Holstein.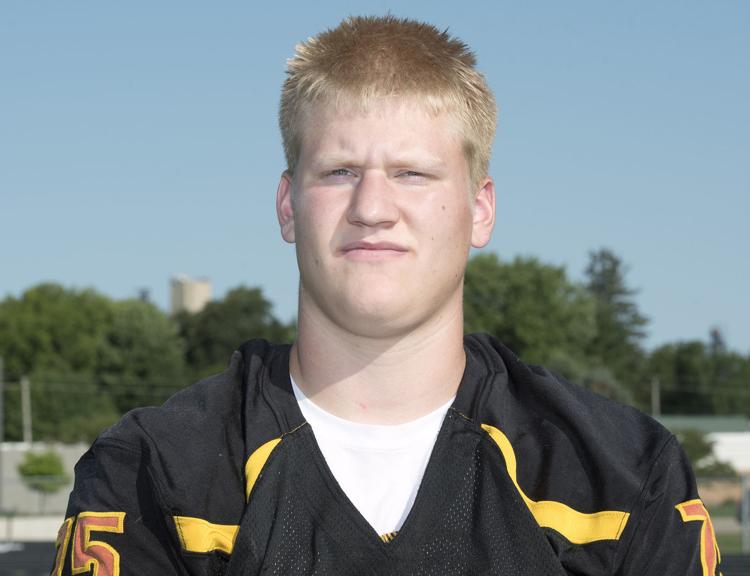 "This is the 12th year I've seen one of my kids play against my students here (at OABCIG)," says Miller, a state champion girls' basketball coach. "I really enjoy watching kids compete; it's always a treat to watch kids grow and compete. I want everyone to be as successful as they can be."