STORM LAKE, Iowa | On March 29, Dr. Joshua Merchant, incoming president at Buena Vista University, talked about being the first in his family to attend college in Albion, a diverse city in rural Michigan.
The parallel wasn't lost on those present for his press conference. We pressed Merchant on enrollment issues dogging the private university on the lakeshore, asking if he could somehow get the first-generation college students enrolled at BVU, an institution whose undergraduate enrollment has dropped from around 1,200 students in the early 2000s to about 780 on campus today.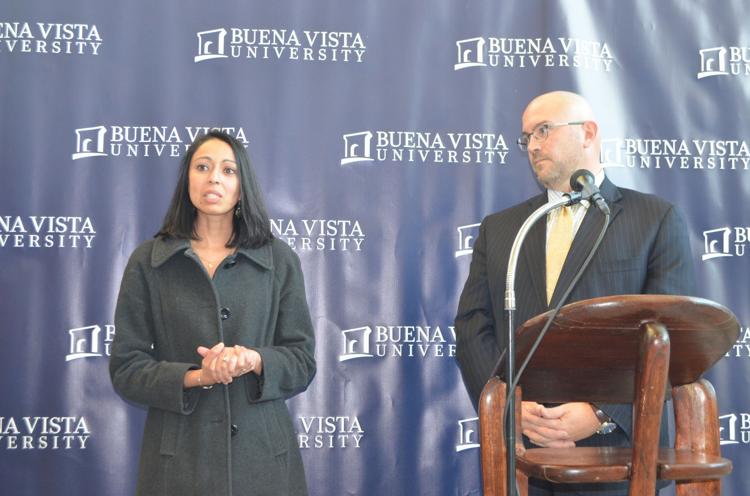 Back in March, Merchant asked for patience. On Thursday, he announced an Education for Service Scholarship program for students of high schools within Buena Vista County. Ten full-tuition annual scholarships, amounting to $34,000 each, will be awarded, beginning in April 2018.
A student must be a first-generation college student;
A student must be a graduate of a high school within Buena Vista County;
A student must have earned a minimum 3.0 cumulative grade-point average while completing a college preparatory curriculum; and
The student must be eligible to receive the federal Pell Grant or the Iowa Tuition Grant.
Up to six scholarships will be designated for students attending Storm Lake High School and St. Mary's High School, while up to four scholarships will be for students who attend Sioux Central, Newell-Fonda or Alta-Aurelia high schools. State and federal financial aid may be used to pay for room and board.
In return for their full-tuition award, students will serve as Iowa College AmeriCorps volunteers in Buena Vista County communities as a means to boost those communities while strengthening the students' leadership and service skills.
The program, which represents a BVU investment of $5.5 million over four years, aims to address enrollment issues on one hand while forging a bond between the university and its home county.
Merchant spoke more about the latter than the former on Thursday.
"To be creating a pathway for local students to be successful in their education and to return to our community, stay in Iowa and be leaders in their communities is really important to me," Merchant said.
Merchant wondered aloud about the prospect of 40 BVU scholarship students working in a variety of service areas across the county four years from now. That kind of work, and success, should only bring about more.
Nyajuok Lam, a BVU junior who earned a full-tuition multi-cultural scholarship upon her arrival last year, addressed the service component already at work. Lam, who came to Iowa from South Sudan, said she spent her freshman year at Storm Lake High School with the notion that college wouldn't be feasible for her. Lam said her father died years ago, leaving her mother to provide for the family.
"I wanted to be the first person in my family to attend college, but we could not afford it," she said.
Thanks to the multi-cultural scholarship, Lam has been able to make ends meet while majoring in psychology and communication. She also plays softball for the Beavers, helps with a Habitat for Humanity project in Storm Lake, visits a Storm Lake Middle School class at least once per month and mentors a student at the school.
Officials said they believe Lam is but one example of how the BVU Education for Service Scholarship program will work, albeit on a grander scale.
"When I came here (last March), I was asked if a college education was within reach for many of our first-generation college students," Merchant said. "We wanted to build a scholarship program that supports local first-generation college students who have the potential to be successful in college, but also may have that extra need for the financial support in order to do so."
Looking around the Estelle Siebens Science Center to a crowd of high school students, administrators and teachers, Merchant, paused, now just six months into his presidency.
"What better place to build upon that promise than here in BV County?" he said.