SIOUX CITY -- East High School 11th grader Eric Bowman struggled while drawing a backwards "N" in red marker on the outside of the window.
"I don't usually make backward letters," he said, while filling in the apple-red "N.""It's tougher than you think."
Lincoln Colling, an East 10th grader, was critiquing his classmate's artistry as well as the intent behind the lettering.
"Nah, I won't make a (University of Nebraska) Cornhuskers 'N,'" the University of Iowa Hawkeyes diehard, explained. "That's not gonna happen."
Lincoln and Eric were among East High School's student council members who were decorating windows, apparently outside of the room of a Husker fan, at Bickford Retirement Community.
The kids began corresponding with Bickford senior residents with written letters more than five weeks ago, shortly after schools were closed due to COVID-19 concerns. They were, now, meeting their newly-acquired pen-pals in person. Or, at least, within social distancing guidelines.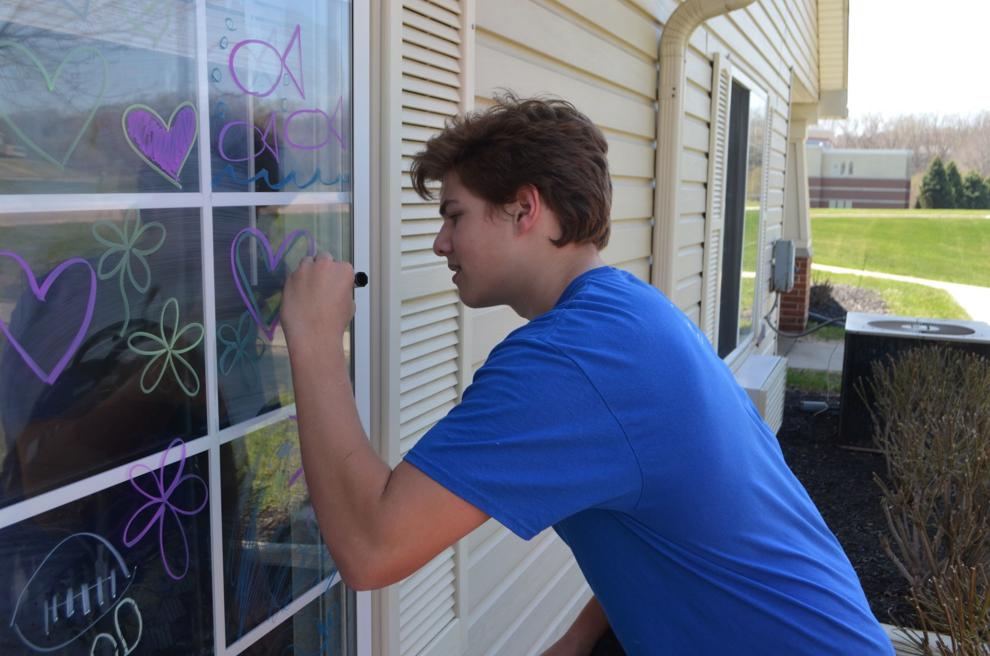 "We talk to the residents outside of their windows," 10th grader Ella Jepsen said. "They asked about our lives while they told us about themselves."
Michelle Pick, an East teacher and student council adviser, said the students came up with the idea for this unique program.
"Our student council is made up of some high-achieving kids," she said. "When the schools had to close, all of the students' extracurricular activities were also discontinued. Our kids suddenly needed a new project."
That's when Bickford Retirement Community director Jill Colling was approached.
"The students couldn't go to school due to self-quarantining and my residents, literally, couldn't leave their rooms because of COVID-19 concerns," she explained. "More out of a need to battle isolation, the students reached to our residents at a time when it was mutually beneficial."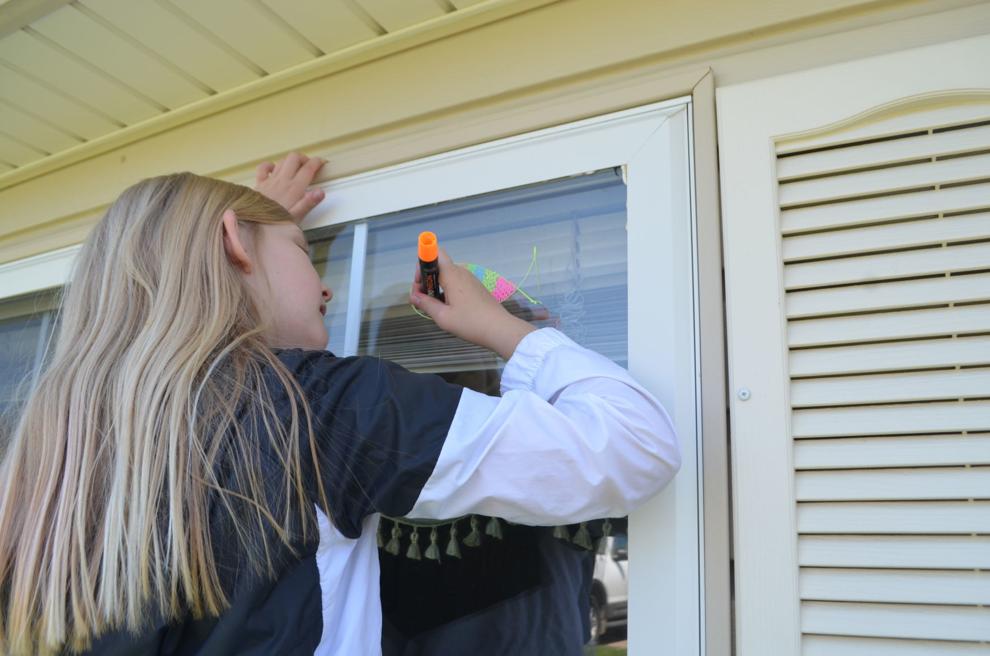 The student-to-senior-citizens pen pal program even caught national attention when the New York Times ran a feature story on April 10.
"Isn't that crazy?" Pick asked with a laugh. "They had seen something posted on Facebook and got in contact with us. Still can't believe it actually happened."
For Pick's 10th grader daughter Mazzy, befriending Bickford residents has been eye-opening.
"You feel like you're making a difference in their lives," she said, while attempting some window art. "Then, you realize it is a lot of fun."
In addition to window art, students planted flowers outside the residents' rooms as well as made some colorful sidewalk renderings.
"I'm drawing a red barn with a rooster on it," Cal Jepsen, an East Middle School-turned-sidewalk artist. explained.
With Cal's chalk-drawn rooster was doing sentry duty on his cement masterpiece, Remi Hinrichsen, 4, was guarding everybody else.
"Remi plans to wear a different 'Star Wars' character every time he comes to visit the residents," Cal said, explaining his friend's space-age Storm Trooper attire. "That's his thing."
Pick can't help but admire how committed her students have been towards their new senior citizen friends.
"You can be sociable while keeping your distance," she said.