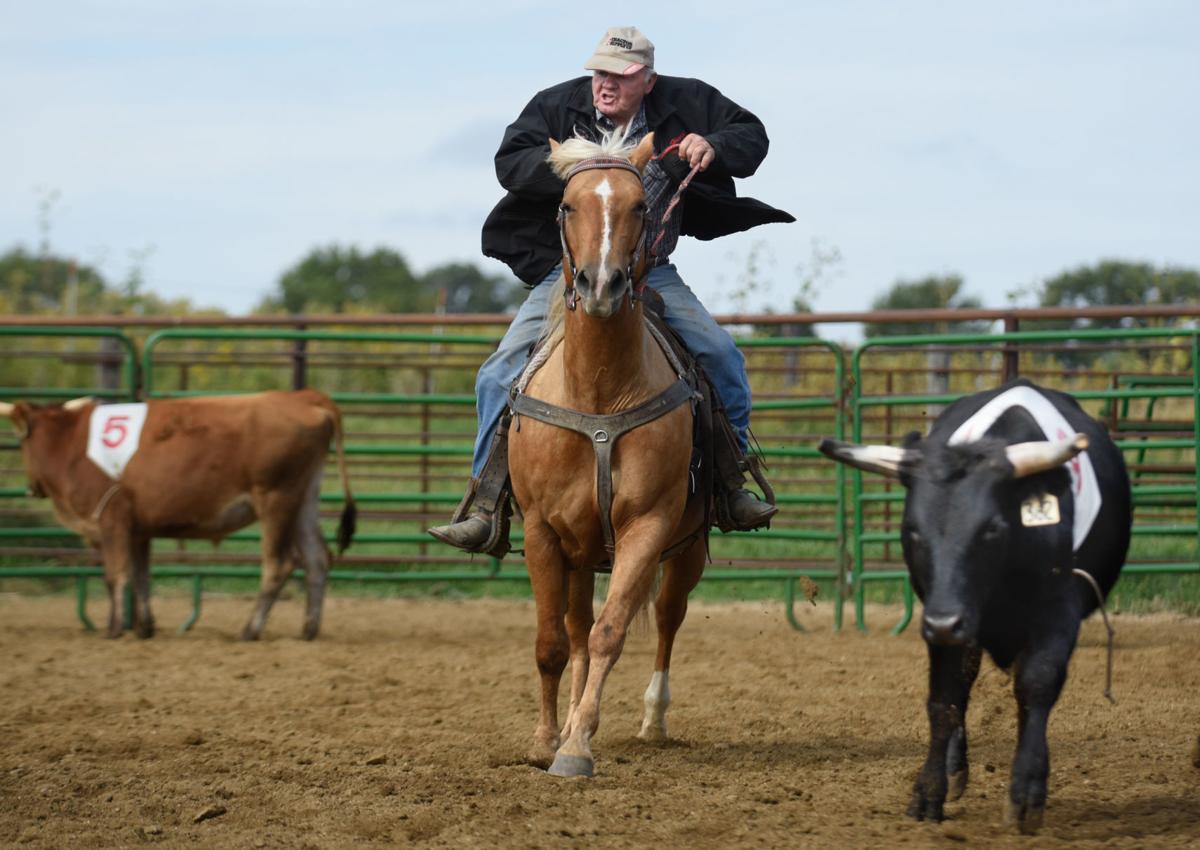 LAWTON, Iowa -- Harold Fischer will tell you that nowhere in the Bible is there any mention of retirement.
That's as good a reason as any for him to stay in the saddle and travel across the region, chasing cattle on horseback and competing against people less than half his age.
Just because he's 82 doesn't mean he or the horses he rides will be slowing down anytime soon.
"They keep asking me when I'm going to quit. I say 'I'm not dead yet,'" Fischer says, chuckling heartily while sitting atop his quarter horse, Chic.
Fischer probably chuckles and laughs more than he rides horses -- and that's saying a lot.
Nearly every weekend, he and his riding partner, Teresa Mead, load their horses into a trailer at Fischer's rural Vermillion, South Dakota, farm and head to a team sorting competition somewhere in South Dakota, Nebraska or Iowa.
When Mead met Fischer six years ago, she finally found someone who wanted to hit the road as much as she did, even if Fischer was in his 70s.
"We both wanted to go all of the time," Mead said. "We go somewhere almost every weekend."
When he's not on the road to another competition, Fischer keeps plenty busy at home.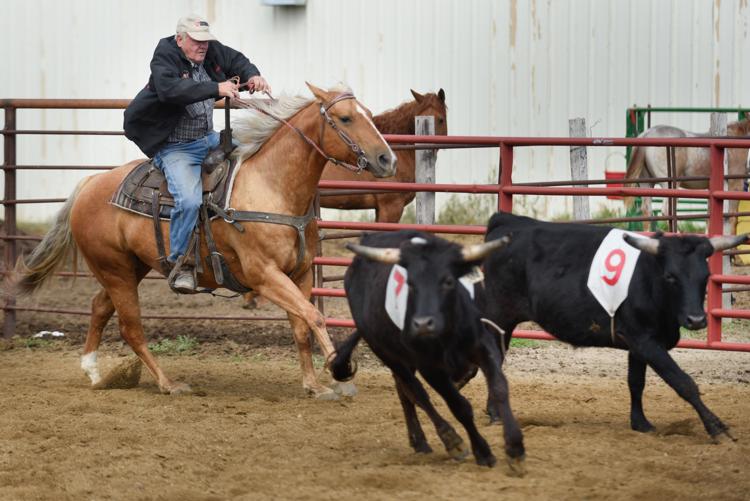 He may have handed off his garbage hauling business to his sons, but still helps out often. When he's not doing that, he's working on his farm or practicing for upcoming rodeos.
If he actually retired, it would probably be bad for his health, he reasons.
"You've got to stay active and got to keep your brain working," he said.
Working with horses is ingrained in him by now. Growing up on a farm in the Menno and Freeman area in South Dakota, Fischer's father used horses to perform farm work long after many farmers had converted to mechanical horse power.
You have free articles remaining.
"My dad was probably the last guy in the U.S. to have a tractor," Fischer said.
He remembers as a 5-year-old jumping off of straw piles onto the broad backs of the work horses, sending them off on a trot before he could get in trouble with his dad, who needed the horses well-rested for farm work, not joyrides.
"I used to get my butt spanked for riding the work horses," Fischer said, laughing again.
Riding horses never got old, even if Fischer did.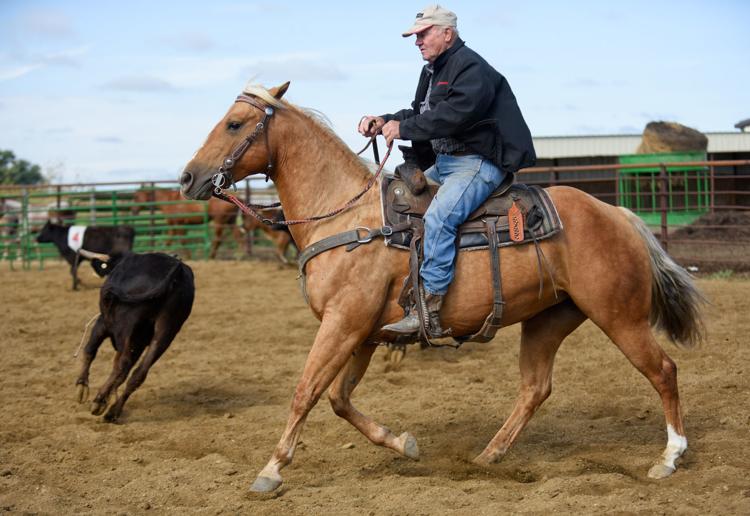 "I just loved horses. I loved animals."
He's trained horses and shown quarter horses. He's been competing in rodeos since the 1970s. Almost weekly he's at the Sorta Heaven ranch in rural Lawton, where a group of sorting and penning enthusiasts practice and compete regularly at owner Brian Berkenpas' arena.
"He can have the worst day in the world, put him on a horse and he'll have a smile on his face," Berkenpas said. "He's just a nice guy that every one of us hopes we are at that age."
They also hope they're still as skilled as Fischer at that age. When grouped with various partners during a recent practice, Fischer's three-person teams sorted three cattle from a small herd and into a smaller pen under the 60-second time limit each time.
Experience in this sport goes a long way, Mead said, and Fischer has more than any of them. The fact he's still winning competitions is an inspiration to the rest of the group -- not just for sorting, but for life.
"The coolest thing about him is it gives people hope they're not too old to do something," Mead said.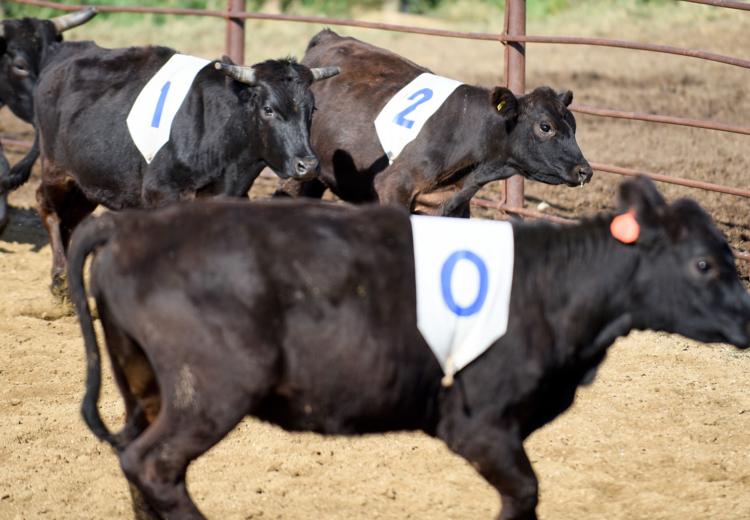 Fischer has no plans to quit anytime soon. The sport has been good to him, he said, helping him cope with the loss of three family members this year.
We only have a limited amount of time in this world, he said, and it's a waste to sit around in retirement instead of getting out and enjoying yourself.
"To me, I've always wanted to be one of those who wanted to have fun," he said. "Life is what you make of it. You've got to enjoy it."
It's hard to imagine few people enjoying life more than Fischer, especially if he's sitting on a horse.