WAYNE, Neb. -- Some entrepreneurs spend years looking for the perfect idea for a new business.
Then there are folks like Adam and Amy Manoucheri, who hit upon a great idea almost by accident.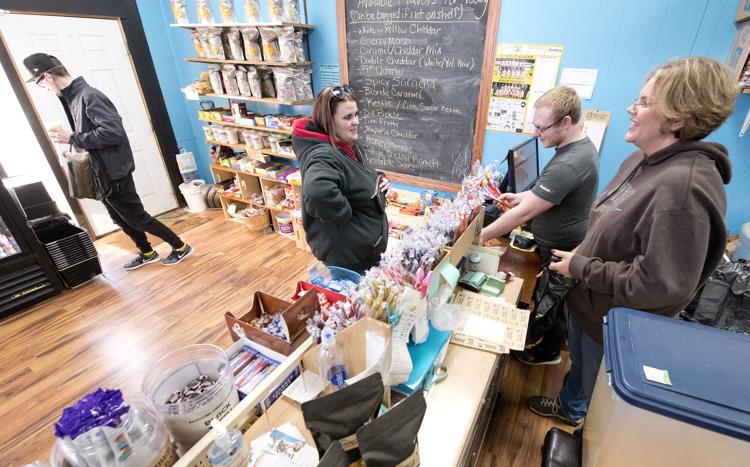 To use a terrible pun, things are really popping at AquaPop, where the Manoucheris sell flavored popcorn, retro candy and craft sodas. Classic arcade video games, pinball machines and a Super Shot basketball game fill the front room of the business at 200 Main St.
When they bought their first popper, the Manoucheris didn't plan to sell popcorn.
Amy, a photographer who also works at Farm Bureau Financial Services in nearby Wakefield, had decided to use the promise of popcorn to convince children to cooperate while having their pictures taken in her studio. Amy soon was trying recipes for kettle corn and cheese-flavored varieties.
"She added flavors just for fun, and it kind of snowballed," Adam Manoucheri said.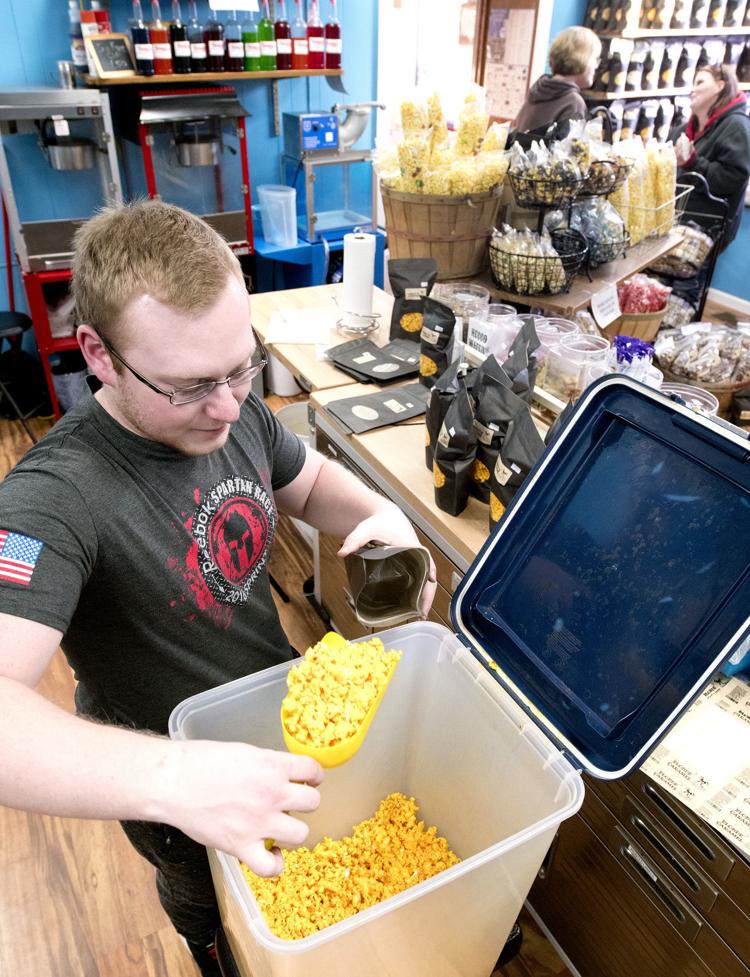 Couples getting their engagement pictures taken would sample the popcorn and ask Amy to pop some for their wedding reception. Initially, it was something she did just for friends, but wedding guests liked it. Word of mouth spread and she began getting more requests.
It made the Manoucheris think. Amy's studio and storefront took up half of their Main Street building, but the other side wasn't being used for much.
"We had enough interest and thought maybe we should use this side to try the popcorn thing," Adam said.
They invested in equipment that would enable them to make caramel corn and other coated flavors and renovated the business space, opening during the annual Wayne Chicken Show celebration in July 2017.
Adam said they had good traffic inside the business that first weekend.
You have free articles remaining.
"In the weeks after that is when we noticed it taking off a little bit," he said.
A little bit grew into a lot. As the holiday season approached, more customers entered the store, buying bags of popcorn as gifts.
"That fall, we realized it was starting to pick up and become a monster -- a good one. We really didn't expect it," said Adam, who's also a pharmacist who works in O'Neill, Nebraska.
During the holidays, they were popping popcorn until 2 a.m. every day to keep up with the demand. Friends and family were enlisted to help.
Once the holidays passed, the Manoucheris had time to regroup as sales dropped to a more manageable level. They pop and flavor 12 50-pound cases of Jolly Time popcorn every two weeks, but now have one full-time and one part-time employee to help with popping, wait on customers, keep the shelves stocked and fill specialized orders from customers.
The secret to success? Well, Adam said, there aren't many people who don't like popcorn. The Manoucheris have developed more than 100 flavors and they continue to experiment with new recipes, so there's something for everyone here. They have 12 varieties always in stock -- including top sellers blonde caramel, jalapeno cheddar and dill pickle -- and rotate in seasonal flavors, weekly cheddar varieties and other favorites.
"You can't just have three types of popcorn and expect people to keep coming back," Adam said.
The candy counter also brings back memories for many customers. Where else can you get 1960s, '70s and '80s favorites such as candy cigarettes, Necco wafers, Chick-O-Stick and Marathon candy bars (now called Curly Wurly because they're made in the United Kingdom by Cadbury)? Adam said when he and Amy discussed opening their store, they wanted the classic candies.
"I have a lot of nostalgia for places like that," Adam said.
He's also nostalgic for pinball and video games, which explains the front of the store, where the old pinball machines and arcade games, including a tabletop console that has classic video games such as Pac-Man and Donkey Kong on it, can be found. The games have been a hit with customers of all ages, Adam said.
AquaPop is gearing up for another holiday season, after which Adam and Amy will launch their website, www.aquapoppopcorn.com, and begin taking online orders. They're not sure exactly what to expect, kind of like when they opened the store.
Their growth may have come as somewhat of a surprise and it's been a lot of work, but they think they got into the right business. Adam said they can't help but be happy when selling something that so many customers enjoy.
"I think it's just kind of a fun deal," he said.
Copyright 2018 The Sioux City Journal. All rights reserved. This material may not be published, broadcast, rewritten or redistributed.