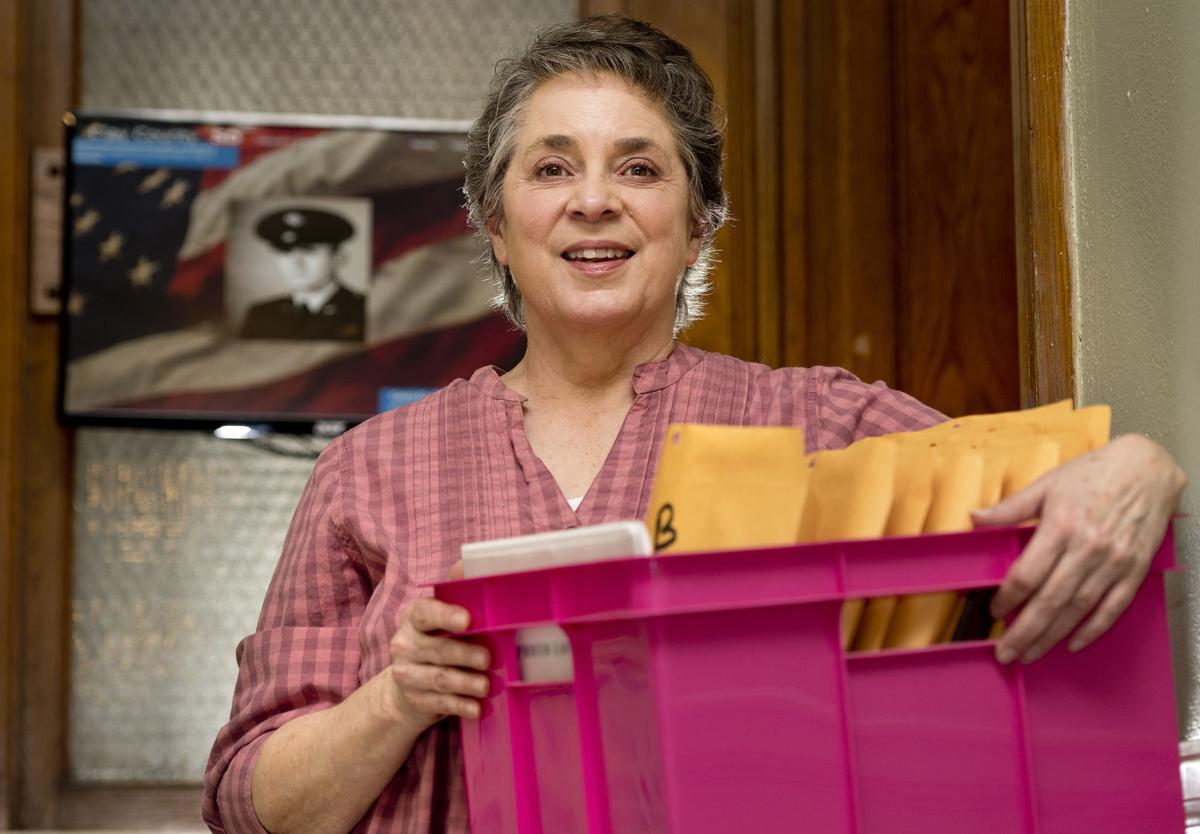 VERMILLION, S.D. -- Anyone who's ever moved to a new home or just to a different office knows that it's a good occasion to get rid of stuff that's accumulated over time.
When facing a move to a smaller office last fall, Clay County Veterans Service officer Cindy Aden had to decide what to do with the 774 photos of veterans that hung in the room adjoining her office on the second floor of the Clay County Courthouse. The framed photos of Clay County residents who had served their country weren't going to fit in her new space.
And discontinuing the display was not an option.
"It was a point of pride for us. There's nothing like this anywhere else in the state," Aden said.
For nearly 20 years, Aden and her predecessor, David Wherry, have accepted photos of military veterans and displayed them in the Veterans Service office. Over the years, the display became a popular attraction as visitors could browse the walls of Aden's office to seek familiar names.
But courthouse space was at a premium, and county leaders decided to move the state's attorney's office into Aden's two-room office. She would take up a smaller office next door.
As the move approached in November, Aden sought solutions to ensure the display would continue.
"Everything I came up with involved a ton of work and storage that I didn't have room for," she said.
As hired help came to take down the photos and put them in boxes, the workers overheard Aden wondering aloud about how to keep the display going.
"One of the guys said make a slide show," Aden said.
That possibility hadn't occurred to her. Nor had it occurred to Clay County Commissioner Leo Powell, himself a veteran, who was in Aden's office at the time, heard the suggestion and liked it.
"Leo just kind of ran with it," Aden said.
You have free articles remaining.
The county teamed with Erickson Solutions, an IT support and web design firm, to develop a data base and host the display on a computer server. Aden spent hours over the next three months scanning the pictures to make digital images of them.
The new slideshow display went live in March on a television monitor mounted to the wall outside Aden's office. The images of men and women who have served in all branches of the military as far back as the Civil War now are displayed on a continuous loop. A keyboard enables viewers to search for veterans by name, gender, branch of service and the conflict in which they served.
It's been a change, Aden said, but for the better. She had wall space for only five more pictures in her former office.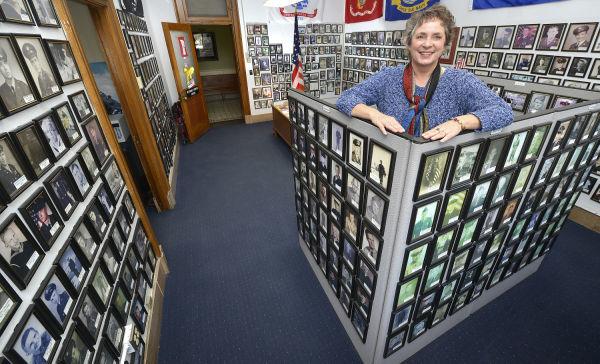 "Now it's unlimited. I have space for thousands of photos now," she said.
She also has room to provide much more information about the veterans in the new display format. The framed photos had labels affixed to them listing each veteran's name, rank and branch of service. There wasn't room for much else. Now, Aden can include stories and any other information the family wishes to include about their veteran.
Many of the photos are official military portraits, but others show the veteran out in the field. Aden said she always wanted to know the story behind those kinds of photos.
"You'd have these interesting photos and didn't know what they meant," she said. "I would love to have more information."
Moving her office was a bit of a hassle. It turns out, the move was a blessing of sorts.
"In a way it is. I have no more limits, and I can get the stories out to people," Aden said.
"Anyone can see it any time of day," Aden said.
The move resulted in not tossing things out, but rather enhancing them. In this case, it gives the public more chances to appreciate those who have served their country.
Copyright 2019 The Sioux City Journal. All rights reserved. This material may not be published, broadcast, rewritten or redistributed.