VERMILLION, S.D. -- Mike Burgeson is a hands-on learner, someone who grasps new concepts by doing them rather than reading or being told about them.
When Burgeson was developing the syllabus for the Essentials of Policing class he would be teaching at the University of South Dakota, he realized he didn't want to just stand in front of his students during each class session and talk or show pictures of police work.
He needed some kind of hands-on activity for his students, especially if he was going to teach them about how to process a crime scene.
It only made sense, then, to set up a homicide scene and turn the students loose.
"What better way of doing this than getting them involved and doing a real crime scene. It's brainstorming from what we do in the real world brought into the classroom here, just on a different scale," said Burgeson, an adjunct instructor who is also a Yankton Police Department lieutenant.
In the front office of the Farber House on the USD campus, a mannequin lies face down on the floor in a small pool of blood. There's a gun and two bullet casings on the floor and two bullet wounds visible in the back of the "victim," who's still clutching a small bag of what's portrayed as a controlled substance. Empty beer cans litter the floor. On the desk is a suicide note that students will determine is not in the victim's handwriting.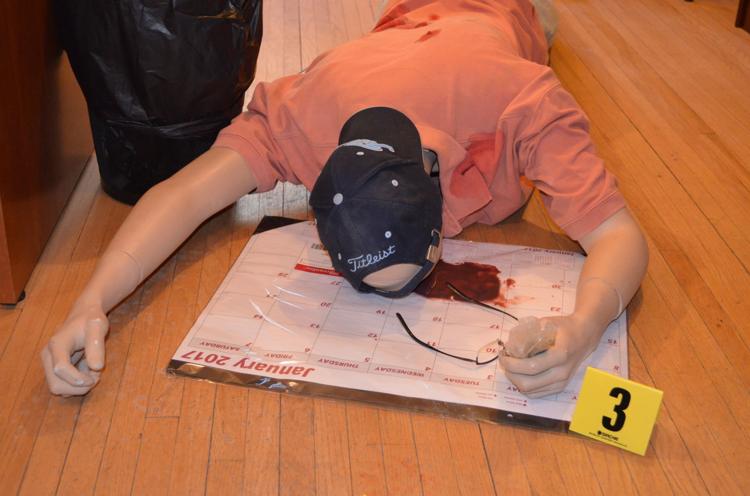 "Obviously there were two people here. He was drinking with somebody, we don't know who, and a fight breaks out," Burgeson said. "It's meant to look like a suicide, but we know it's a homicide."
When the students return from spring break next week, they'll enter the room on their own time and process the scene as Burgeson has discussed with them during their once-weekly class.
Students will dust for fingerprints, collect DNA evidence, take photographs of the scene and process the information. They can't remove any of the evidence, but they'll be able to test duplicates in a lab at the Farber House, the former home of the late USD professor William O. "Doc" Farber, the longtime chairman of the political science department who willed the house to the department for use for faculty, student research and temporary quarters for visiting academics.
The students' job isn't necessarily to solve the crime, but to learn how to work at a crime scene and collect evidence. They'll submit their photos and write a case report. At the conclusion of the class, two or three will be called to testify at a mock trial about their collection methods and findings.
"They walk out of there with the knowledge of this is what it's all about. It's not gun fights and car chases every day. This is where crimes are solved," Burgeson said.
There are many aspects of a real crime scene investigation Burgeson said he isn't able to duplicate, but the exercise teaches students the basic concepts. For many of them, it will be the first time they've touched fingerprint powder or handled DNA.
Burgeson figures the experience, no matter how basic, gives his students a leg up on the competition when it comes time to apply for real jobs. Most new law enforcement officers are hired without ever having seen a crime scene, real or staged. Burgeson said new officers often don't get that training until attending a law enforcement academy.
But with hands-on experience like they're getting at USD, Burgeson said students will be better job candidates.
"We're making better officers to start with," he said.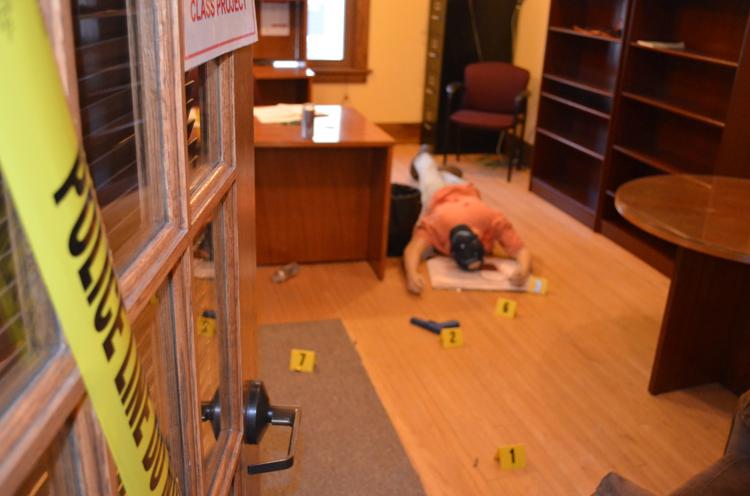 Burgeson taught the class for the first time last year and set up a crime scene with a different scenario. The lesson kept the students interested, and it seemed to help topics discussed in the classroom sink in.
"The kids really like the hands-on piece," Burgeson said. "It's better than sitting in a classroom."