SIOUX CENTER, Iowa -- The search for the perfect pumpkin in Sioux County continues.
The destination might have changed, but two Sioux Center couples decided that area families need a place to find a pumpkin, or several, for fall and Halloween decorations while also getting a chance to appreciate nature.
Fields of Fun opened Sept. 3 just east of Sioux Center. Janelle and Mark Volkers and Jackie and Ted Altena aim to carry on the family atmosphere that many families had enjoyed at Pumpkinland in nearby Orange City.
"We had this vision, and Ted and Jackie had the land," Janelle Volkers said on a recent sunny morning at the Altena farm at 3273 400th St.
Volkers had worked at Pumpkinland, which for 29 years offered pumpkins and family fun. When owner Helen Huitink announced in March that Pumpkinland would not reopen this year, Volkers said that tradition couldn't go away.
"They built a great tradition of family fun. We decided if she was closing, we were going to do something," Volkers said.
The Volkers and Altenas brainstormed. Janelle's daughter Lauren Kleyer suggested the name, and the two families moved ahead with their idea.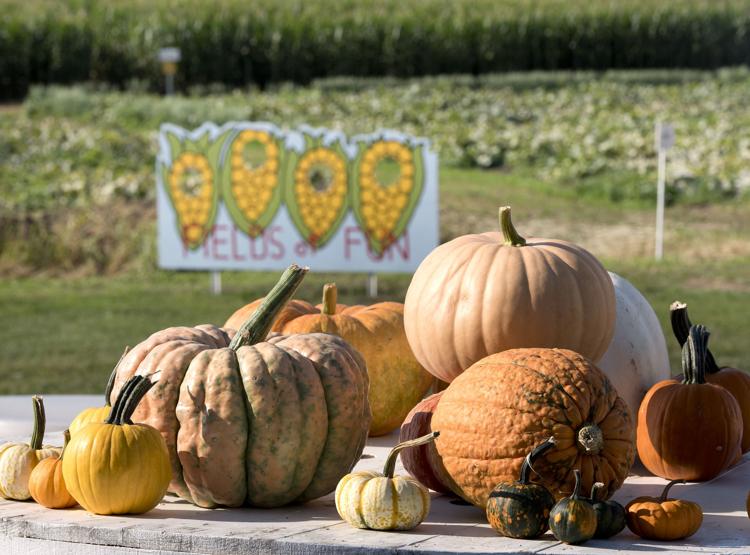 They planted 3.5 acres of pumpkins in May and began planning the corn maze and other attractions. Volkers' past work at Pumpkinland meant they wouldn't start the venture as green as the pumpkins and corn taking root in the fields.
"I knew what we were doing," Volkers said.
What they sought to establish is a place where families can not only pick out pumpkins of all sizes and find their way through the tall corn maze, but also get an appreciation for nature and the handiwork of others.
You have free articles remaining.
"We like people to come and see God's creation and see what he made," Volkers said. "We thought it's a wonderful place for families to come, get the kids away from their screens, away from their phones."
Fields of Fun hosts 26 food and craft vendors, a playground and a coffee trailer on Friday nights and Saturdays that will include iced drinks and smoothies. The farm boasts a petting zoo with animals from A to Z -- alpacas to a zonkey -- with sheep, calves, bunnies, chickens and miniature horses filling up other letters of the alphabet.
Teachers can reserve time in "Pumpkin School," where children can learn how seeds grow and plants develop. There are bouncy houses on Saturdays, and families can rent fire pits. Later this month, hayrides will be offered.
If it sounds like a lot of work, it is. But it's a job that has a lot of great benefits, Volkers said.
"It's been a ton of work, but it's really fun," she said. "We all enjoy the hands-on working and growing."
It's a good thing benches are placed throughout the farm, giving visitors a chance to take a break from the action or just sit down and take it all in.
The early returns are positive, Volkers said. On opening day, 51 visitors navigated the corn maze. The city's bike path passes by the farm, making it easy for older kids to come out on their bicycles.
"The community is very, very supportive," Volkers said. "We're just praying that this will be a blessing to many people."