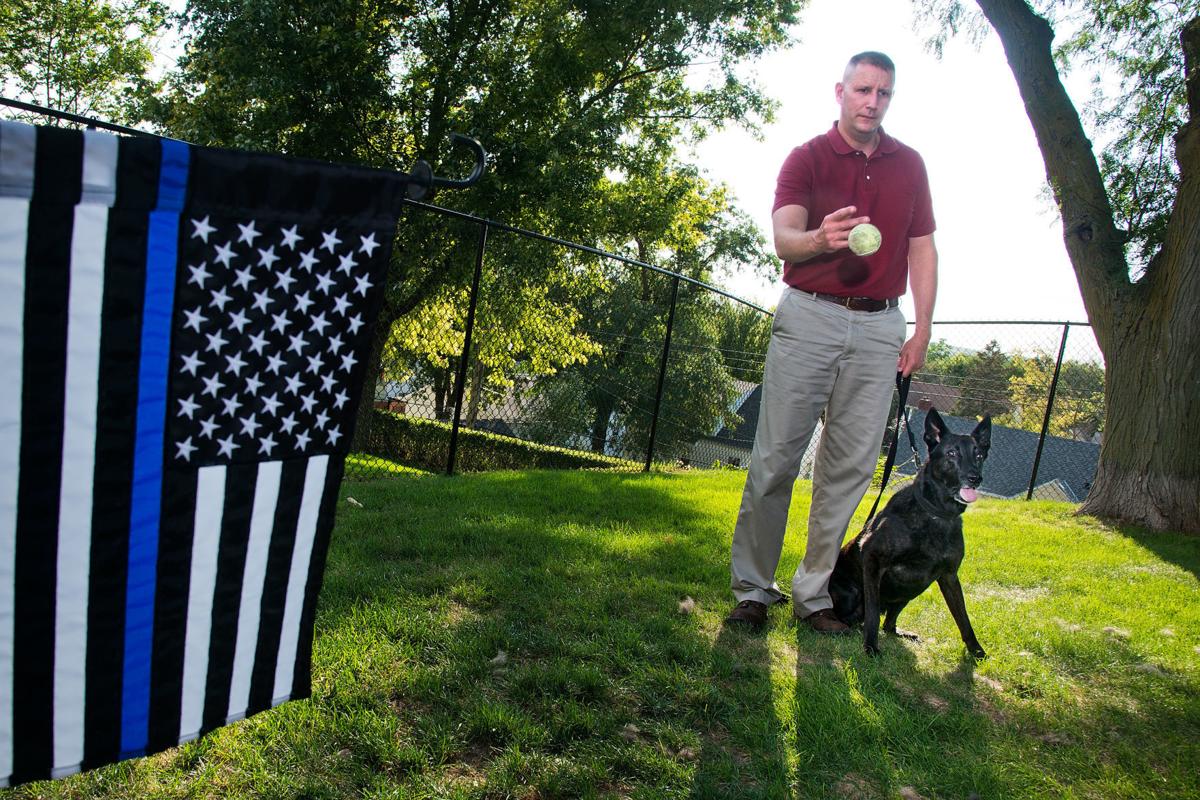 SIOUX CITY -- Ryan Moritz says it's hard to say who took his nine-year partner's retirement harder.
For Moritz, cruising alone in his Sioux City Police Department vehicle was a big adjustment.
At the same time, his former partner was stationed by Moritz's basement door, a look on his face seemingly asking, "Why didn't you take me to work with you?"
"I think he took it a littler harder than I did," Moritz said of his longtime partner Dax, a Dutch shepherd who was retired as a Sioux City police dog in July.
Like many new retirees, Dax has gone through an adjustment period. After years spent riding along with Moritz throughout the city, Dax's days now are spent at home, getting out in the back yard each morning and going to a nearby hill to play ball later in the day. Other than that, he spends all day in the house.
"It's got to be boring here for him," Moritz said.
We've all seen police dogs out in public. Ears perked up and alert, they're used to action: sniffing out drugs, tracking crime suspects, searching buildings, and seeking weapons and other items suspects toss aside in an attempt to cover their tracks.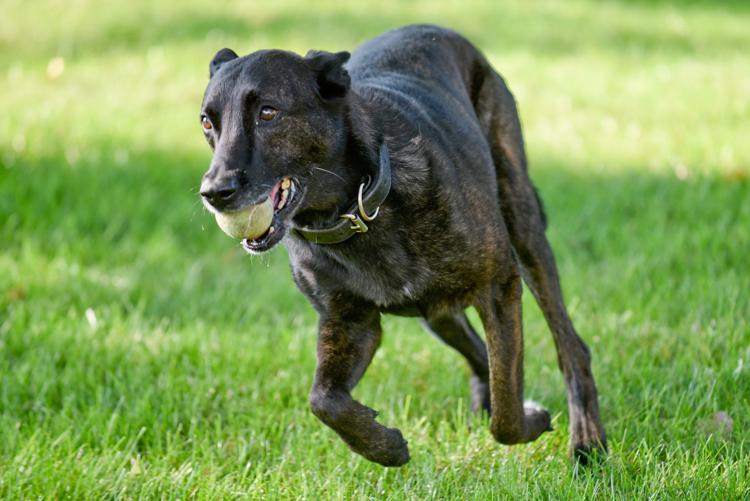 As humans, we understand that some day our careers will end. We can prepare.
But for service animals like Dax, there's no preparation, no way to help them understand that their working days are done.
It's also tough on their handlers, who often must make the difficult decision that their loyal partner isn't quite up to the task anymore.
In Dax's case, it was a combination of age and health, Moritz said. He's 11 years old and had begun having trouble with one of his hind legs.
It wasn't hindering him at work -- yet. But Moritz began to wonder what might happen if Dax was unable to complete his tasks while on duty. If a police canine isn't able to perform, it can put officers' lives at risk.
Knowing all that, Moritz said, didn't make the decision any easier.
You have free articles remaining.
"It was a hard decision," Moritz said. "In the end, I know it was the right decision. It was the right time."
Dax worked his final shift in July, wrapping up a career in which he was deployed thousands of times to find drugs and crime suspects and, with a few loud barks, warn crowds of unruly people that they needed to shape up before he had to get involved.
"He misses it," Moritz said. "He loved doing it. The mentality is still there, the body doesn't support it."
Don't try to tell Dax that. He's nearly as rambunctious as he was when Moritz got him as a 4-month-old puppy in 2008 and began training him for police work. After about two years of training, Moritz and Dax hit the streets together in July 2010.
Some nights were uneventful, and Dax never left the vehicle. Other nights he might be following the trail of a robbery suspect from a convenience store or searching a warehouse to find a burglar. There were countless drug searches. His all-out behavior gradually took a toll on his body. Moritz said Dax will jump through or over anything, not even hesitating to jump off a 20-foot retaining wall to the ground below.
"He doesn't have any self-preservation," Moritz said, shaking is head while recollecting his dog's gung-ho character. "In his mind, he's still 2. His body is 11 and a half."
So you can understand how a dog used to the high-strung world of police work would have a hard time adjusting. Just after Dax retired, Moritz left for two weeks of military training. When he returned home, Dax was ready to go at night when he'd see Moritz put on his police uniform. Moritz had to push him away from the door just to get out of the house.
Since then, Dax has adjusted. Moritz, an 18-year Sioux City police veteran, is no longer with the K9 Unit and now works a daytime patrol shift. The schedule change has helped Dax get used to a new routine, eased his transition from police dog to house pet.
His leg bothers him a little more now, forcing him to slow down some, unless he's competing with the family's 4-year-old boxer in pursuit of toys and tennis balls. He'll fall asleep on his back, hanging off the couch.
"We just hang out now," Moritz said. "He's pretty much a house pet now."
A house pet with a special set of skills.
In the back yard, Moritz tosses a tennis ball and puts Dax through a basic set of training drills, barking out commands in Dutch and Czech for Dax to stay, approach the ball, leave it alone and, finally, to pick it up. Dax performs flawlessly.
"He's still got it in him," Moritz said.
Raised to be a police dog, Dax will retain those instincts forever.
It's just that from now on, he'll be taking down tennis balls instead of bad guys.