STORM LAKE, Iowa -- For Storm Lake St. Mary's basketball fans over the years, watching the Drey brothers shooting hoops while wearing the number 44 jersey was a common sight.
First it was Kirby, then Kyle. As a freshman, Kennedy Drey had to wait because a senior was wearing the number. He switched to 44 as a sophomore.
"I wore it because Kyle wore it," Kennedy Drey said.
Of course, other players have worn the number since Kennedy graduated in 2013, but once the current St. Mary's basketball season ends, no boys basketball player will wear number 44 again. (The Panthers open district play tonight.)
Kyle and Kennedy Drey were to co-coach the boys team this season, a plan that tragically ended on June 13, when Kyle was killed after a train struck the agricultural sprayer he was driving at a railroad crossing near Newell.
On Jan. 25, during hall of fame night and homecoming festivities at St. Mary's, the school retired Kyle's number 44. The jersey will hang in the gym, likely on the wall across from the home team's bench, easily visible to Kennedy and future players and coaches.
It's a fitting tribute to a man who loved basketball and St. Mary's school. Kyle farmed and operated K&J Spraying and coached the junior high boys teams and several youth teams over the years. He'd open the gym so kids could come in to shoot and spend extra time helping them hone their skills.
He also was a willing volunteer at the school, said Ryan Berg, St. Mary's middle and high school principal, who was Kyle's junior high basketball coach.
"He was someone who always just had a love for the school and was such a kind-hearted person," Berg said.
Many of Kyle's former class of 2003 classmates returned to Storm Lake for his funeral, and while reminiscing about Kyle and looking through photos from their high school days, they agreed something needed to be done in his memory, said Ashley Hoff, formerly Ashley Hammen. They kicked around a few ideas and concluded that the best way to keep Kyle's memory alive would be to retire his jersey -- a big honor for any athlete -- and display it in the gym, a spot that meant so much to him.
"It just came about fairly obviously because basketball was such a big thing for him," said Hoff, who works for a television production company in Los Angeles.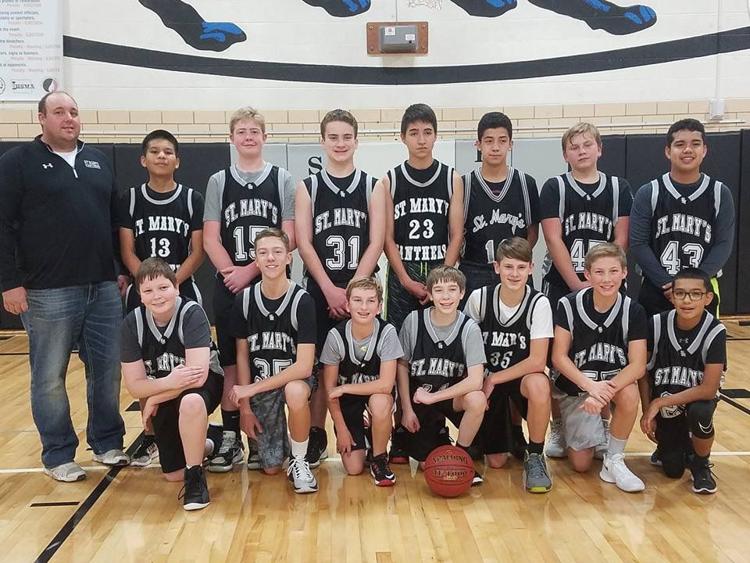 They ran it by Berg, who asked other school leaders what they thought. There were no objections, least of all from the family.
"It was kind of a special moment. I know how much basketball meant to him," said Kennedy, who's wrapping up his first season as the Panthers' coach. It also would have been Kyle's first season coaching the high school team.
The jersey retirement also was special for the current number 44, freshman Tanner Fiorendino. Kyle had coached Tanner since fifth grade, and the freshman said he had wanted to wear number 44 this season because of his coach. He'll need a new number next season, but that's OK with him.
"I was appreciative of it. I think it was a great honor to retire it," Tanner said. "He really always cared about us and wanted us to do the best we could."
Throughout the season, the boys and girls basketball teams and cheerleaders have worn patches with the initials K.D. on their uniforms. That season-long honor peaked the night of the jersey retirement.
In front of a packed gym, Kyle's wife, Jacquie, their children and other family members were honored on the court.
"It was extremely emotional to watch his two little girls carry that jersey out," Hoff said.
There were few dry eyes left in the building by the end of the ceremony, which included the kickoff of a fundraiser for two new adjustable side baskets in the gym, an upgrade Kyle had wanted so that youth teams could practice and play on hoops with lower heights.
"You felt him smiling at that moment," said Hoff, one of about a dozen of Kyle's classmates who attended the ceremony. "It's special that now he will always be part of that space. He'll still be there shining down on everyone."
Countless times during games this season, Kennedy said, he has asked himself what Kyle would do in certain situations. In future seasons, he won't have to look far for an answer.
"Having his jersey hanging up in the gym so our family and friends can see it, it will just feel like he's there with me," Kennedy said.
And now, he'll be with the school and basketball program for as long as his number hangs in the gym, a constant reminder to future generations of his love for the school and the sport.