VERMILLION, S.D. -- On a pleasant, sunny morning recently, Julia Hellwege and Nabila Parijat provided a glimpse of what Vermillion leaders hope their downtown will become.
The two sat at a small table outside The Bean coffee shop for their weekly meeting. Aside from the noise from an excavator tearing up the sidewalk behind them, it was a perfect setting to meet and work.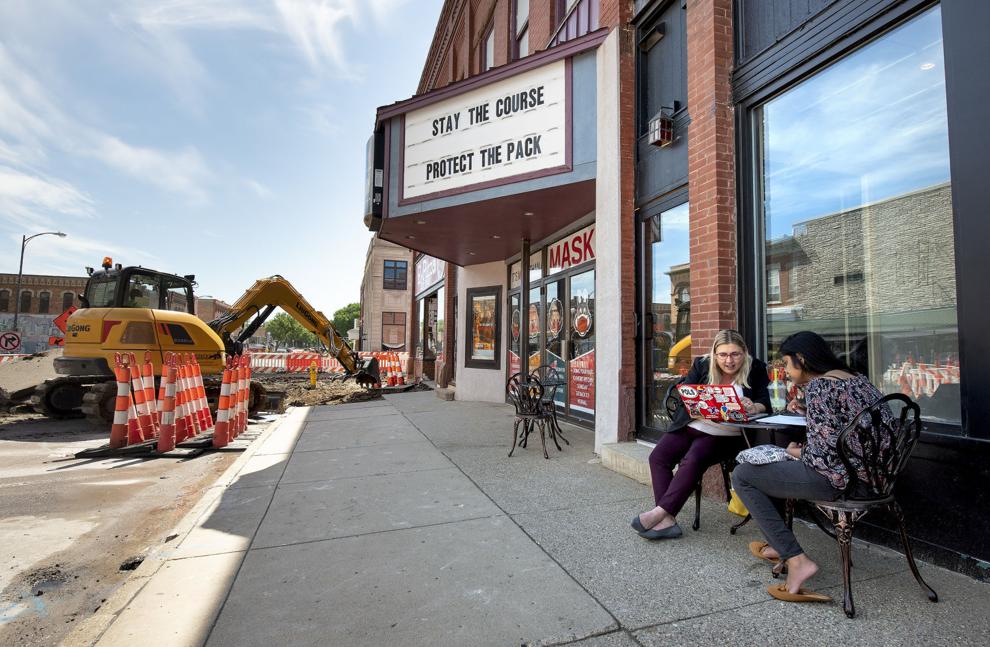 The excavator is key to what Hellwege, a Vermillion city councilwoman and University of South Dakota political science professor, envisions for downtown Vermillion. Workers are in the midst of the $3.5 million Main Street Streetscape Project, which aims to make a four-block area of Main Street between Dakota and Market streets safer for pedestrians and bicycles, more accessible and more attractive for public events.
In short, Vermillion is searching for the same solution as other cities large and small: How to make downtown a destination. Here, leaders and business owners believe wider sidewalks, improved lighting, more bike racks and benches, and new trees and landscaping are the answer.
When it's done, what does Hellwege hope to see?
"More of this," she said, motioning toward her outdoor table. "What I hope to see is a really nice combination of something that looks updated and modern while also keeping intact some of our historic features."
But before that comes the mess. During the 11-phase construction plan, work will proceed up and down Main Street, one side of the street at a time, then to five side streets. Construction is expected to be finished by the end of October.
In the meantime, business owners and their patrons will dodge construction equipment and barriers while driving and walking downtown. The short-term hassle should be worth it in the long term, said James Waters, co-owner of Cafe Brule and Dakota Brickhouse, two Main Street establishments.
"Whenever there's progress, there's always some inconveniences to get there. It's really going to dress up the downtown area," said Waters, chairman of the Business Improvement District Board, which helped develop an assessment program through which Main Street property owners will fund a portion of the improvements. Other funding sources include city funds, sales tax revenues and federal COVID relief money.
A downtown overhaul wasn't in the city's initial plans, but when a 2013 inspection determined that 60% of the sidewalks in the downtown area warranted replacement, some began to see a bigger picture. If improvements were needed, why not go a little further?
"It kind of morphed out of that," city engineer Jose Dominguez said.
Consultants developed a plan to make it easier to get around downtown. Sidewalk bump outs into the street reduce the time it takes to cross the street, adding room for more sidewalk tables or even street performers. It will hopefully encourage residents and visitors to park their cars, walk around and enjoy just hanging out.
A more vibrant, attractive downtown sends a message to entrepreneurs pondering opening a new business, Waters said.
"See, we're progressive, we're on the move and care about our community," he said.
A couple phases of construction are near completion, providing an early look at the street's future appearance. Colored, patterned concrete and smooth walking surfaces with wide sidewalk cuts accommodate wheelchairs and invite pedestrian traffic.
"Overall, it looks really nice," Dominguez said. "I've heard a lot of positive comments from the public."
Getting a glimpse of the finished project should help win over those who thought it wasn't necessary, Waters said.
"I think once all is said and done, everyone will be happy with it," he said.
Weather won't always be as accommodating for outdoor seating as it was the morning Hellwege sat at a sidewalk table enjoying her beverage and conversation. But when you see the changes taking place, it's easy to envision how inviting the downtown atmosphere could become, regardless of the conditions.