ORANGE CITY, Iowa | Rather than "wait for a seat at the table," members of Orange City's LGBTQ community and their allies decided to invite themselves to dinner and then some.
This weekend, the conservative Sioux County county seat of about 6,200 will play host to OC Pride 2017.
Pride is the general term members and supporters of the lesbian, gay, bisexual, transgender and questioning community use to denote events that openly celebrate their culture.
OC Pride will be the first festival of its kind in Orange City, traditionally a Dutch Reformed community. Founded by settlers from Pella, Iowa, in 1870, the community annually celebrates its Dutch heritage with a large Tulip Festival in May.
OC Pride was arranged by four Orange City men: Cody Bauer, Steve Mahr. David Klennert and Mike Goll.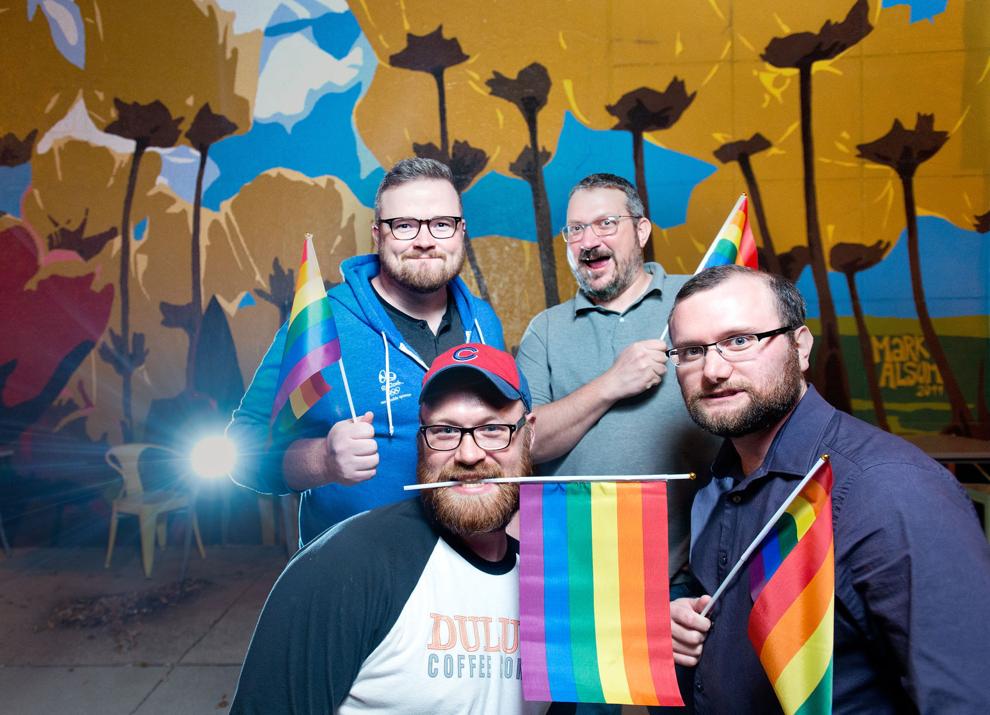 Bauer and Mahr are straight married men who consider themselves LGBTQ allies and Klennert and Goll are newlyweds.
"We've all wanted to do a pride in Orange City for a really long time," Bauer said.
None of the four men are Orange City natives; however, three of them attended Northwestern College, a Christian liberal arts school in the city, where the foundations of OC Pride were developed.
"It's been like a pipe dream I suppose," Goll said.
Earlier this year, Goll asked Mahr, who owns Town Square CoffeeHouse + Kitchen in the city's downtown and its predecessor, The Old Factory, how to plan a community event.
From time-to-time at The Old Factory, Mahr hosted events he called "Community Conversations."
Typically at these gathering, Mahr invited the community to come and listen to stories and interact with people who didn't always fit into the white, Reformed church bubble a majority of Orange Cityans fall under.
Mahr offered to host OC Pride at Town Square. It was Klennert's idea to host the festival later in the year rather than in June, which is Pride Month, so it wouldn't detract from other pride events held around the country.
"I was talking to friends in Chicago and they were saying the last pride of the year is in Atlanta, but I think we might be one of the last prides of the year," Goll said. "I mean, that's pretty exciting."
Rainbow flags and stickers featuring the OC Pride logo created by Goll, a graphic designer by trade, have arrived and T-shirts should arrive before festivities begin Friday.
Organizers initially projected maybe 50 people coming out to celebrate, but based on feedback they've received through social media, they think up to 200 may attend.
They've also heard directly from members of the LGBTQ communities of Omaha, Sioux City and Sioux Falls who plan to attend and have received supportive messages from other pride associations across the country.
While Goll and company are excited about the festival, the men knew there would be some questions and negativity surrounding the event taking place in a deeply red area such as Sioux County.
One of the more vocal critics has been the Sioux County Conservatives, a political organization aimed at supporting conservative politicians at all levels of government to further the conservative cause.
The group expressed concern on its Facebook page shortly after the event was announced and provided the Journal with a statement that offers its views on the event:
"We believe the Bible is clear on homosexuality throughout scripture. God's plan for man is revealed right away in Genesis as the proper partner for Adam was not another man, but a woman. God's first command to man and woman was to "be fruitful and multiply." From Sodom and Gomorrah to Leviticus, the Old Testament reveals homosexuality to be a sin. In the New Testament, we see the same in Romans, 1 Corinthians, Jude and 1 Timothy.
"All that said, we believe that these private businesses have the right to hold this event. It's not that we think the event shouldn't be allowed or should not happen — it's just sad that it is. It is imperative for us to be loving as Christians. We cannot be loving if we are celebrating sin. And we cannot be loving if we are encouraging sin. Rather than celebrating sin, we hope and pray people repent for their sins. None of us are perfect and we're all born into sin, which is why we must be born again."
Bauer and the others pointed out they have not received much other opposition to the festival.
"I expected a lot more negativity than we have received, to be honest," Bauer said. "I think I expected it on the regular, every day and from a lot of people. Really, it's just been a handful of people — maybe five people — who have been outspoken enough to say this doesn't belong in our town.
We've been able to say, 'OK, we respect your opinion, but this really does belong in your town."
Goll added: "So we are going to chug on and do it. It will be fascinating."
OC Pride organizers point out that Orange City has events that recognize the city's historic Dutch culture and growing Hispanic population, so why not add gay culture to the mix as well?
"There will always be a reason not to because there is always going to be somebody that doesn't want this here. That just shouldn't be and that's not a good enough reason," Mahr said. "Somebody messaged us and said, 'If there was an event like this in my town growing up, I probably wouldn't have tried to commit suicide.'
"That hit to the core of why we want to have something like this in this town; it's small," he continued. "There's not a lot of spaces (for) queer kids and we want to be an event that says we love you, we don't just tolerate you, we accept you, we want you here and we think who you are is beautiful. If that helps one kid or if that helps 50 kids, it's a message that has to continue to get out regardless of who's on board with us."
Organizers are excited to see how this year's event turns out and plans are already being made for next year.
Goll and the others hope naysayers can look past their own views and see that OC Pride is like any other community event but probably slightly more colorful.
"The overwhelming message we keep hearing from the opposition standpoint is 'We're celebrating sin.'" Goll said. "(It's) an event that's literally about family and community, I don't know how that ... shouts anything (about) sin; it's about bringing people together."