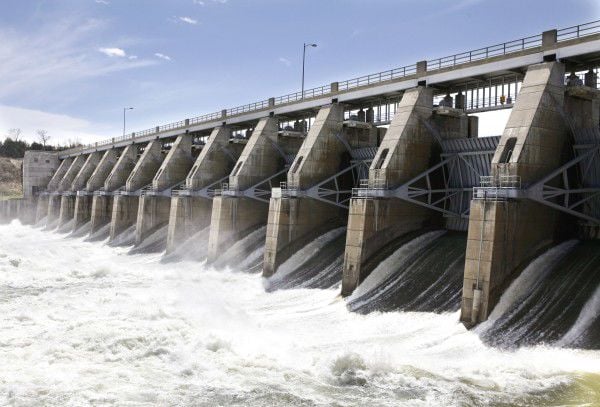 OMAHA -- The U.S. Army Corps of Engineers has delayed a planned decrease in water releases from Gavins Point Dam until less water is flowing into Lewis and Clark Lake.
The corps had planned on dropping releases from 24,000 cubic feet per second to 20,000 cfs on Thursday. But water inflows continue to match releases, and the dam releases will not be decreased until inflow drops below 20,000 cfs.
"Releases were scheduled to be reduced to 20,000 cfs by (Thursday) morning, but Gavins Point inflows, primarily from the Niobrara River, continue to match releases. Our office will continue monitoring runoff conditions throughout the Missouri River basin," John Remus, chief of the corps' Missouri River Water Management Division in Omaha, said in a news release.
Once Gavins Point releases are lowered to 20,000 cfs, the corps will maintain that rate as long as system conditions allow, the corps said.
You have free articles remaining.
The corps also delayed its resumption of water releases from the upstream dam at Fort Randall until Saturday. Fort Randall has been shut off for more than a week to keep waters from rising at Lewis and Clark Lake, which has little flood storage capacity. The corps had initially planned to resume Fort Randall releases at 4,000 cfs on Friday.
It takes about a day and a half for water to travel from Fort Randall, at Pickstown, South Dakota, to Gavins Point, near Yankton, South Dakota.
The Gavins Point pool elevation was at 1208.1 feet Friday, a drop of 0.3 feet from Thursday. The lake's elevation peaked at 1212.3 feet on March 15.
The corps began increasing Gavins Point releases March 13 to make room in Lewis and Clark Lake for runoff from heavy rainfall and rapid snowmelt on frozen, wet ground in the drainage area between Fort Randall and Gavins Point. Releases were increased from 17,000 cfs on March 13 to 100,000 cfs for a brief time March 14. The corps began decreasing releases on March 16.
The corps has established a webpage at http://go.usa.gov/xE6fC that can be saved to a mobile phone's home screen. The page provides links to up-to-date information, including runoff and release schedules, the National Weather Service and other corps websites and social media sites.
Copyright 2019 The Sioux City Journal. All rights reserved. This material may not be published, broadcast, rewritten or redistributed.