SIOUX CITY -- Anyone living in low-lying areas near Siouxland rivers should expect to see a lot of water from time to time in coming months.
Still recovering from flooding in March, the region saw a storm packing heavy snow and rain move into the area Wednesday, an event that will cause rivers to rise again.
And a three-month outlook calls for above average precipitation to fall on nearly saturated ground that can't hold much more moisture.
"We should expect episodic moderate flooding on the Missouri River halfway through the summer," Kevin Low, a hydrologist with the Missouri Basin River Forecast Center, said Wednesday after the U.S. Army Corps of Engineers hosted a Missouri River Basin water management meeting at Sioux City's Lewis & Clark Interpretive Center.
Low said residents along the James River in South Dakota and the Floyd and Big and Little Sioux rivers in Iowa should expect periodic flooding as well, and probably as early as this weekend, when rain and melting snow from this week's storm begins to flow from the heavier-hit regions in the north.
"We're going to see rising levels on the Little Sioux, Big Sioux and Floyd later this week," Low said.
The storm, expected to last into Friday, should not necessitate the release of increased amounts of water into the Missouri River from Gavins Point Dam near Yankton, South Dakota, corps officials said, although that could change.
"Right now, our plans indicate we can hold at 55,000 (cubic feet per second) at Gavins Point, but that depends on how this (storm) plays out," said Kevin Grode, team leader of the corps' Reservoir Regulation Division.
That was welcome news for many of the more than 100 people who packed the auditorium inside the Betty Strong Encounter Center. Many who asked questions of John Remus, the chief of the corps' Missouri River Water Management Division in Omaha, expressed frustration with what they consider the corps' failure to properly manage releases and water levels at the six reservoirs the corps operates on the Missouri River.
"Do you have the river under control or are you flying on a wing and a prayer right now?" one man asked from the audience.
You have free articles remaining.
"We have the river under control right now," Remus said.
Remus explained that March's flooding resulted from a combination of heavy rainfall on top of rapidly melting snow that had a high moisture content. To make matters worse, much of the region had a frost depth of 23 inches or more, acting like a concrete parking lot that was unable to absorb any of the runoff. Remus said inflows from the Niobrara River into Lewis and Clark Lake behind Gavins Point were so high, that had the lake been completely empty, runoff from the March storm would have filled it nearly twice.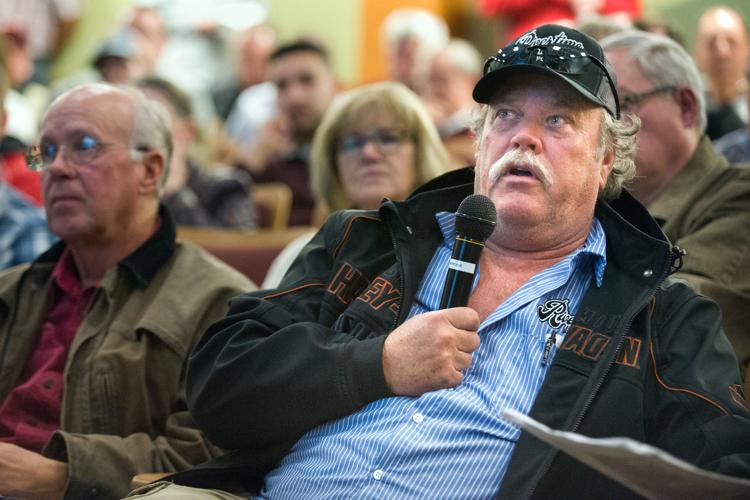 The corps had to take the rare action of raising the gates at Gavins Point Dam to create more flood storage capacity, and even that could not hold all the water entering the lake. The corps was forced to increase releases up to 100,000 cfs for a brief period, sending all that water downstream, where Missouri River tributaries such as the Platte River south of Omaha were already dumping record amounts of water into the Missouri.
March runoff into the Missouri River Basin above Sioux City was 11 million acre-feet, the highest since record-keeping began 120 years ago and nearly four times the March average of 2.9 MAF. The corps has forecast 2019 runoff at 38.2 MAF, 151 percent of normal. It would be the sixth-highest total in 120 years.
With recent years of high runoff raising the 30-year average, at least two people in the audience wondered why the corps didn't use more recent data when determining how much water should be stored in the reservoirs and when to begin releasing it so that flooding events like those in recent years might be curtailed.
"We've got to get this stopped," one man said.
Remus said the corps studied reservoir operations after the 2011 flood and determined that setting the reservoir pools at lower levels likely wouldn't have much impact on the amount of water released downstream. All water that flows into the reservoirs must flow out of them.
"It's a runoff-based system," Remus said. "Runoff drives what our purpose is. Since last March 15, our main purpose has been flood control."