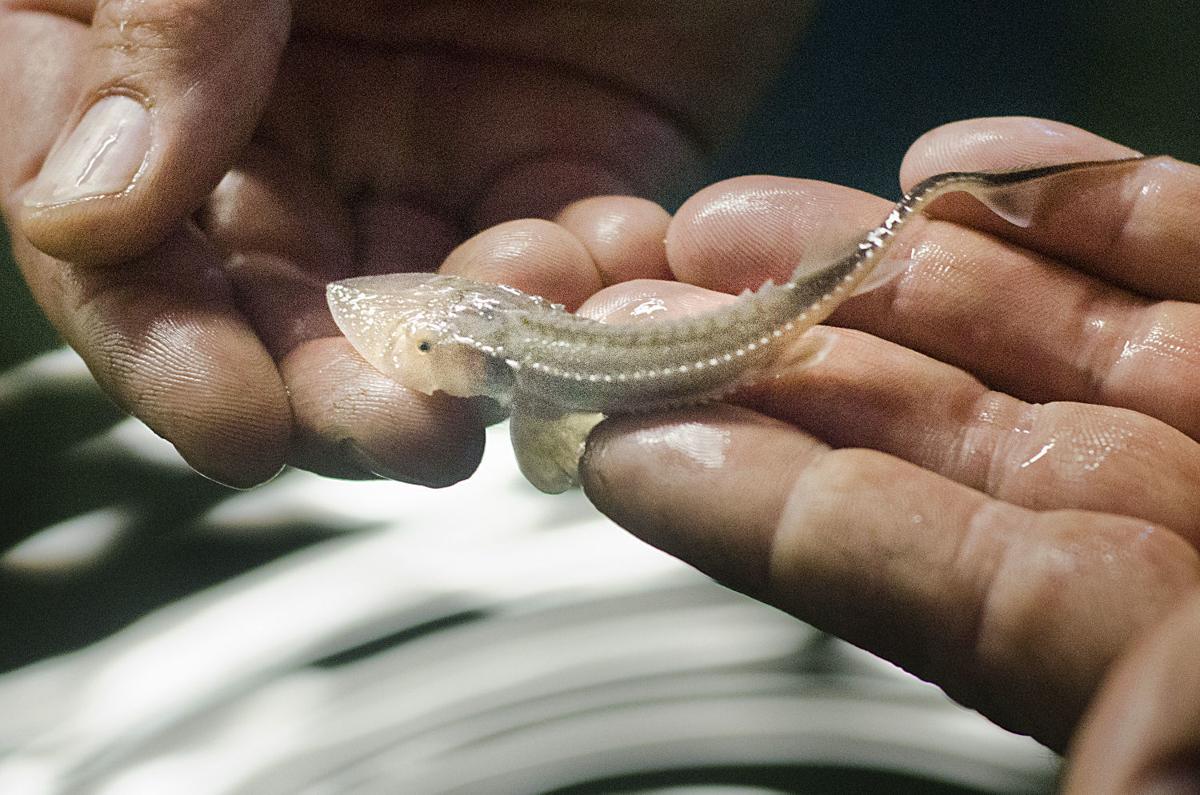 OMAHA -- The U.S. Army Corps of Engineers on Tuesday signed off on an environmental plan aimed at protecting the endangered pallid sturgeon and two bird species and helping their numbers increase.
Brig. Gen. D. Peter Helmlinger signed a Record of Decision for the Missouri River Recovery Management Plan and Environmental Impact Statement. The plan, developed during more than five years of study, does not include artificial spring or fall rises in river levels, but includes a possible one-time surge in reservoir releases to see if the sturgeon will use it as a spawning cue.
The plan also calls for building and refurbishing hundreds of acres of Missouri River habitat for the sturgeon, least tern and piping plover to aid in their recovery for the next 15 years and comply with the federal Endangered Species Act.
"Getting to this point reflects the tremendous efforts of a great team of partners and stakeholders who truly care about the future of the Missouri River. The amount of coordination required for something that involves such a cross-section of federal, state, local and tribal organizations can't be understated," Helmlinger said in a news release.
Developed by the corps in cooperation with the U.S. Fish and Wildlife Service, the plan calls for construction of sturgeon spawning reefs of rock and gravel from Gavins Point Dam near Yankton, South Dakota, to the Omaha area. The sturgeon continues to struggle to spawn and reproduce naturally in the river. Hundreds reared in hatcheries are released each year into the river.
You have free articles remaining.
The corps also will build 12 habitat areas below Kansas City, Missouri, designed to intercept sturgeon larva and give them a place to feed and grow in slower, shallower water before moving into the main river channel.
The plan also includes creation of sandbars in three stretches of the river -- Gavins Point Dam to Ponca, Nebraska, and in two reaches farther upriver in the Dakotas -- to provide tern and plover nesting habitat.
Other alternatives considered for the Environmental Impact Statement included doing nothing and a variety of manipulations of river flow to naturally create sandbars and encourage spawning.
The plan does not replace the Master Water Control Manual, which guides the corps' operation of the system of dams and reservoirs to balance the needs of the Missouri River system's authorized purposes of flood control, hydropower, recreation, irrigation, navigation, water supply, environmental preservation and water quality control.
Actions included in the preferred alternative would cost an estimated $44 million-$45 million annually for 15 years. Costs include habitat construction and refurbishment, land acquisition, channel widening, monitoring, evaluation, research, equipment and staff time.
Corps officials have said no budgets for the work have been finalized or have received approval from Congress. Implementation of the plan could begin next year.
Copyright 2018 The Sioux City Journal. All rights reserved. This material may not be published, broadcast, rewritten or redistributed.