SIOUX CITY -- Lindsay Landrum fears it's only a matter of time before the coronavirus strikes the local homeless population and then spreads like "wildfire."
Landrum, The Warming Shelter's manager, said 87 people spent the night Monday at the emergency shelter at 916 Nebraska St. At this point in the season, Landrum said, the shelter usually houses 60 people per night on average.
She only expects shelter occupancy to increase as the economic fallout from the closure of scores of businesses begins to impact Siouxlanders. The Warming Shelter, a nonprofit organization, is the only shelter in Sioux City that currently is accepting new residents, she said.
"We had someone the other night who had a very high fever and the shelter just kind of freaked out a little bit. Everyone was really scared, which is normal. We have no idea what this is going to look like," said Landrum, who said she recently sent four residents to a local hospital because of their flu-like symptoms. "We don't have the space to quarantine people, nor has the city worked out ways to quarantine individuals who don't have a home."
When the shelter opens daily at 5:30 p.m., Landrum said, residents line up outside to have their temperatures taken. Staff ask residents if they have a cough, trouble breathing or any pre-existing conditions. They also educate residents about proper hygiene. 
"We're giving out Lysol wipes every time they come in the shelter so they can wipe down their bunk. Within five days, I've gone through half of my wipe supply," Landrum said. "Of course, we're wiping down everything and spraying everything constantly. We're just going through a lot more resources than we normally would."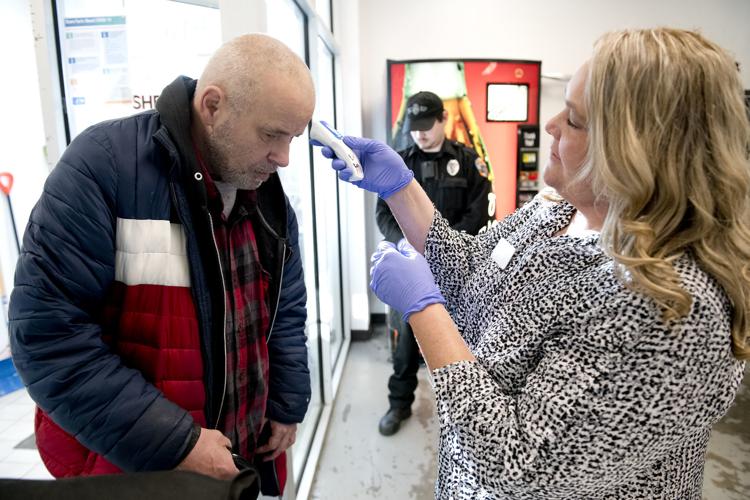 Individuals experiencing homelessness are extremely vulnerable during an outbreak of COVID-19 due to cramped conditions in shelters and a lack of access to hygiene and sanitary facilities in outdoor encampments. The number of chronic health problems that these individuals face also raises their risk of developing serious illness from coronavirus infection.
Sara Johnson, director of Hope Street of Siouxland, said some of the men residing at the 10-bed sober living house at 406 12th St. have medical conditions that would put them at increased risk for developing complications if they were to become infected with the virus. During the pandemic, residents are allowed to go to treatment, necessary doctor's appointments and the grocery store. Johnson said family members and sponsors can no longer visit, which has been a tough restriction for residents.
"They're really an important piece in recovery and so being able to limit those have been kind of a detriment to our guys. But, we're working on using technology -- FaceTime and Zoom -- to make sure they can call their families and physically see their faces," said Johnson, who said the men are participating in Alcoholics Anonymous and Narcotics Anonymous meetings via cellphone and computer. 
Landrum said The Warming Shelter's board has discussed setting up additional hand-washing stations and hanging tarps to separate bunk beds in effort to curb any potential spread of the virus. She said she has gloves for the shelter's eight staff members, but only a handful of masks. The shelter's cleaning supplies won't last another five weeks either, according to Landrum. 
"Our donations have completely dropped off. We used to get about three and four in-kind donations a day, so like clothing and cleaning supplies and food and things like that. We haven't had any in the last five days. We haven't had any monetary donations come in, as well," said Landrum, who noted that monetary donations can be made online and that supplies can be dropped off in a large orange bin stationed in the shelter's parking lot. "Obviously, that's the economy and people just not wanting to go outside."
Last week, the Siouxland Soup Kitchen, 717 W. Seventh St., suspended its dine-in meal program and transitioned to catering meals at The Warming Shelter each evening. To-go meals also can be picked up at the Soup Kitchen from 4:30 to 5:30 p.m. Although volunteer Kaylee Hall said the Soup Kitchen is running low on salad containers, she said it has adapted well to the change.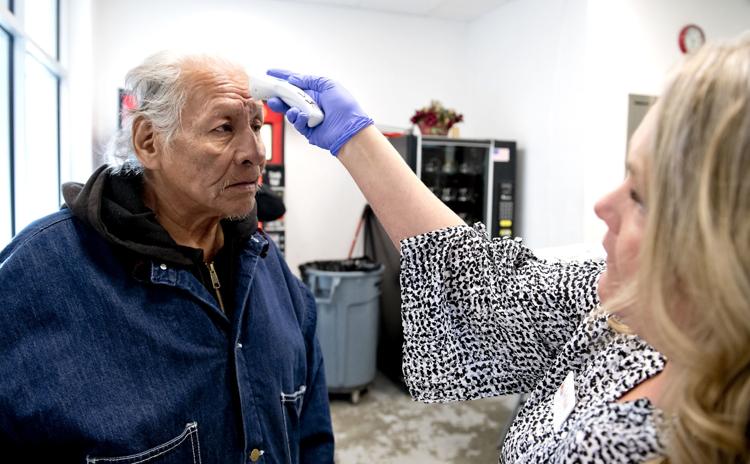 "I think we've been able to adjust pretty well. We've had a great response from the community," said Hall, who said local restaurants have donated produce, while community members have offered up fruit and bread. 
Kory Zimney, operations director for Street Medicine, a medical outreach program for the homeless and underserved that was founded by Sunnybrook Community Church members, said volunteers are no longer providing services at the Soup Kitchen and that its access to the Gospel Mission, which has a shelter, has been limited. 
"The Gospel Mission has closed just to its current residents, so we are not going there where we have a sign. We are able to come in on an as-needed basis or through telehealth if something were needed," he said. "We have given them extra thermometers and things like that." 
Jennifer Milby, the program's site coordinator, continues to visit The Warming Shelter on Tuesdays and Thursdays, Zimney said. He said other program volunteers have been "pulled back." 
"At this point, it's our intent to try to keep providing services as we're able to, but we know this situation is ever-so-fluid," he said. 
The Warming Shelter is scheduled to close for the season at the end of April, but Landrum said its board could decide to shutter it earlier, depending on what happens with the coronavirus crisis. As of Monday, she said the board hadn't really discussed what would happen if Gov. Kim Reynolds issues a "shelter in place" order, which would require people to stay in their homes as much as possible. Governors in at least eight states have issued such orders to help prevent the spread of the virus.
"It would probably just go to a board vote if they would just think about closing the shelter or staying open," she said. "We have had discussions with Siouxland District Health, Siouxland Community Health and Mercy about what the virus looks like in close quarters. They've said, because we're in a small space, that once it hits the shelter, that it's just going to spread like wildfire, so, is it better to keep them in the shelter or is it better to close the shelter?"
Landrum said she doesn't know if she and her staff would be considered "essential workers" if Reynolds would impose tighter restrictions to slow the spread of COVID-19.
"We're literally taking everything day by day right now," she said. "Obviously, we have an obligation to our residents and the community, but we also have to think about our staff and their health and their families, as well."
Johnson described herself as "the lifeline" for Hope Street's residents. She said one of the men has to go to the hospital every morning for care. 
"The resources we were using to get him there are no longer available, so I would be required to do that, because he has to get that treatment every morning," she said. "I guess it's really semantics, but I view it as I would be a critical piece."
Concerned about COVID-19?
Sign up now to get the most recent coronavirus headlines and other important local and national news sent to your email inbox daily.