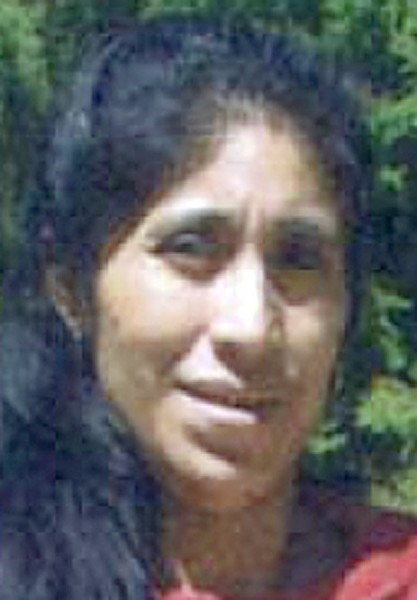 ORANGE CITY, Iowa - Authorities in Northwest Iowa are asking the public's help finding a Minnesota woman who vanished under suspicious circumstances while reportedly looking for work in Iowa.
Sioux County Sheriff Dan Altena said family and friends last heard from Lucia Chilel Perez, 41, of Worthington, when she was looking for work in Sioux County with a friend, Bernardo Ramirez‐Perez.
He said deputies haven't found any evidence of foul play, but are suspicious because Ramirez‐Perez also fled the area on Monday. At the time of his disappearance, the man allegedly told people that the police were after him, which Altena said was not the case.
"There was some thought that maybe (U.S. Immigration and Customs Enforcement) was looking for him, and they didn't know his name or have any information," Altena said. "Nobody at that point was pursuing him or looking for him."
There is also no record of Chilel Perez contacting potential employers in Sioux County, Altena said.
Investigators from Sioux County are working on the case with the Worthington Police Department.
Worthington Police Sgt. Kevin Flynn said investigators were told Chilel Perez was in Northwest Iowa, possibly in the Hull, Hospers or Sheldon areas, the day she was last heard from.
"She was reported missing on June 27 and, as of this time, we still haven't had contact with her," Flynn said Friday. "Her family hasn't had contact with her."
Chilel Perez is described as an approximately 5-foot 2-inch tall Hispanic woman with long black hair and brown eyes. She weighs approximately 120 to 140 pounds.
Sioux County authorities describe Ramirez-Perez as a short, dark-skinned Hispanic man with a full beard and long hair. He's believed to be 35 to 40 years old and from the Worthington area.
Anyone with information about Chilel Perez's disappearance or the whereabouts of Ramirez-Perez can call the Sioux County Sheriff's Office at (712) 737‐3307
Get local news delivered to your inbox!
Subscribe to our Daily Headlines newsletter.