LE MARS, Iowa -- An Akron, Iowa, woman who had been accused of fatally shooting her husband in 2017 has been charged with making a false report to authorities investigating the incident.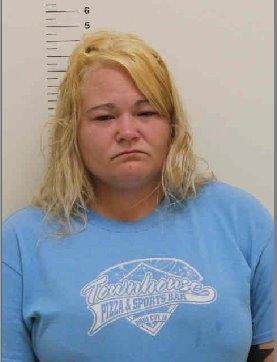 Becky Hebert, 35, was arrested June 12 on a misdemeanor charge of making a false report of an indictable offense to a public entity.
Hebert posted a $1,000 bond after her arrest and is scheduled to appear in July 15 in Plymouth County District Court.
Hebert had initially been charged with shooting Jeremy Hebert, 40, on Oct. 6, 2017, during an argument in their rural Akron home. A complaint containing the charge was later dismissed after Plymouth County Attorney Darin Raymond said more time was needed to investigate medical and lab reports and cell phone records.
An autopsy showed that Jeremy Hebert died of a single shotgun wound to the chest and abdomen, and his death was ruled a homicide.
On May 29, the Plymouth County Sheriff's Department filed a complaint with the new charge.
You have free articles remaining.
According to the complaint, Hebert told deputies the night of the shooting that she had shot her husband. But after six to eight hours, deputies learned about a recorded call that had gone to the Sioux County Communications Center.
"Information gathered from that recorded phone call confirmed to us that Becky Hebert was in fact not the shooter," the complaint said.
In that call, the complaint said, Hebert could be heard instructing an individual, "I did it. I did it. I did it."
"This false reporting of the facts to deputies in the early portion of the investigation led us away from the actual suspect for approximately six to eight hours," according to the complaint, which did not name the suspect.
Plymouth County Deputy Sheriff Jeff Tebrink on Wednesday said Hebert is the only person who has been arrested in connection with the shooting and no other suspect has been charged. He referred questions about the investigation to Raymond, who did not immediately return a message or email seeking comment.
Authorities had been called to the Hebert residence previously for domestic disputes, authorities said after the shooting.
A Plymouth County jury in September 2017 found Jeremy Hebert guilty of domestic abuse assault and other charges, but acquitted him of attempted murder. Hebert was out on bond awaiting sentencing. Two days before his death, a judge had issued a warrant for Hebert's arrest because of alleged violations of a no contact order with Becky Hebert.