STORM LAKE, Iowa -- An Aurelia, Iowa, man pleaded guilty Monday to fraudulently depositing checks electronically.
You have free articles remaining.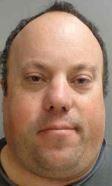 Jason Hastings, 39, entered his plea in Buena Vista County District Court to ongoing criminal conduct, second-degree theft and two counts of forgery. Sentencing was set for June 3.
Storm Lake police arrested Hastings in November. According to court documents, Hastings electronically deposited 13 checks totaling $3,826, knowing they had been previously deposited, drawn from United Bank of Iowa from July 30 through Sept. 19.
Copyright 2019 The Sioux City Journal. All rights reserved. This material may not be published, broadcast, rewritten or redistributed.