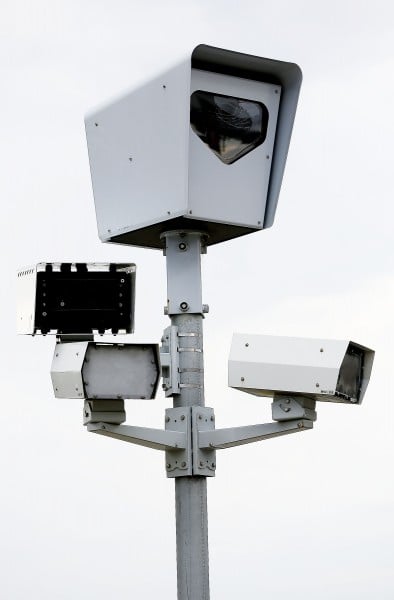 DES MOINES | A measure that would have authorized traffic cameras on state and local highways failed to survive this week's self-imposed legislative "funnel" deadline.
A House committee had passed the bill to allow the automatic traffic enforcement devices, require signs that alert drivers to the presence of cameras and establish a uniform fine system for red-light and speeding violations caught on camera.
However, the measure stalled due to lack of consensus and, in the meantime, the state Department of Transportation implemented regulations Feb. 12 for traffic enforcement cameras used to monitor red-light and speeding violations along state highways passing through Iowa cities or counties. City officials in Sioux City have challenged those DOT rules in court.
Sioux City has 11 red-light cameras at nine intersections and two speed cameras along Interstate 29. Under the new state rules, the city must provide documentation by May 1 showing the speed cameras and seven of the red-light cameras, which on are on state-run roads, improve safety.
The city filed a petition last week in Woodbury County District Court asking a judge to declare the rules null and void.
Other measures that died dealt with texting while driving, minimum wage increases, voting rights for convicted felons and abortion services delivered via telemedicine.
The funnel deadline requires nonmoney bills to be approved by one legislative chamber and a committee of the other house by Friday to remain eligible for consideration this session.
Other casualties included bills authorizing gun owners to possess "silencers," cracking down on wage theft by employers, revamping sentencing laws for juveniles convicted of murder and other Class A crimes, and banning minors from using tanning facilities.
Lawmakers remained on track to fashion legislation to address problems associated with harassment and bullying of students in schools, exempting military pay from state income taxes and providing other advantages to veterans, regulating government and private use of drones, expanding access to broadband, especially in rural areas, banning minors' access to electronic cigarettes and beefing up protections for elderly Iowans.
A bill seeking to legalize a number of fireworks products in Iowa was salvaged from the funnel scrap heap when Rep. Tom Sands, R-Wapello, pulled it under the umbrella of the House Ways and Means Committee he chairs.
Sands said a number of legislators and constituents favored the measure while others are "dead set" against it, but he felt it needed a fair debate to determine how much support exists for the change.
 Likewise, a proposed gas tax increase, an anti-bullying bill, and a measure to expand support services for refugee families were placed on the exempt appropriations track, while boosting school aid by 6 percent in 2016 and allowing voters to register online were amended to policy bills still eligible for debate.
Yet other bills dealing with sports fantasy games, blood alcohol tests for drunken boaters, and allowing all-terrain vehicles to operate on county roads and city streets survived by a procedural move to place them on the unfinished business calendars in both the House and Senate.
Rep. Josh Byrnes, R-Osage, chairman of the House Transportation Committee, said the texting bill arrived from the Senate too late to tackle a policy decision of that magnitude on short notice.
"We talked about it because I knew it was going to be coming over," he said. "There were a couple of people who had concerns that this is a pretty big policy bill to just shove through fast."
Rep. Matt Windschitl, R-Missouri Valley, that the Senate Judiciary Committee did not consider the gun "silencer" bill even though it passed the House 83-16 with broad bipartisan support in February.
Sen. Rob Hogg, D-Cedar Rapids, chairman of the Senate Judiciary Committee, did not take up any weapons-related bills this session, saying they were divisive and he preferred to concentrate on areas of consensus.
Likewise, Sen. Jack Whitver, R-Ankeny, expressed disappointment that the bill to ban telemedicine abortions stalled in the Senate. A group of GOP senators indicated they plan to mount an effort next week for a leadership bill or some other legislative vehicle to get it to the Senate floor for debate.
Sen. Herman Quirmbach, D-Ames, leader of the subcommittee assigned the telemedicine bill, said he did not take it up because the Iowa Board of Medicine already made the practice illegal – an administrative decision that currently is the subject of a court challenge and a judicial stay order.
For their part, legislative Democrats expressed dismay that efforts to expand educational opportunities and funding have stalled in the House.
"We hope that maybe the House will see the light yet, and I'm not sure how they will do it, but we certainly are asking them to reconsider killing bills that deeply affect our children," said Senate President Pam Jochum, D-Dubuque.