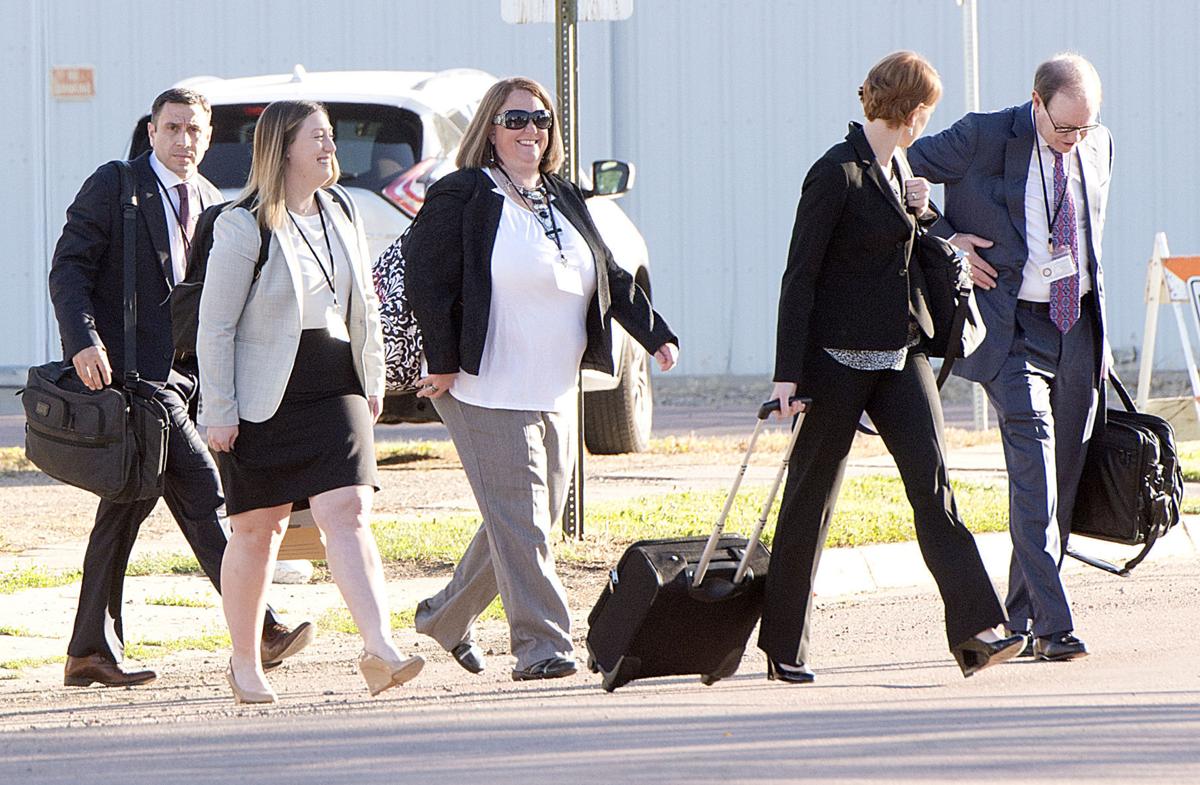 ELK POINT, S.D. | The sudden settlement of Beef Products Inc.'s $1.9 billion defamation lawsuit against ABC in the midst of the trial Wednesday caught many observers by surprise.
Not just because of the fact that the case had been settled, but because it happened when BPI lawyers were still presenting evidence and ABC had yet to call a single witness.
"What surprised me is that it was settled when it was," said Chuck Baldwin, journalist in residence at the University of South Dakota Media and Journalism Department.
For 17 days, BPI lawyers had called a series of witnesses in an attempt to prove that ABC and correspondent Jim Avila had knowingly used false information about BPI's Lean Finely Textured Beef product during a series of reports in March and April 2012. BPI said ABC and Avila's repeated use of the term "pink slime" to describe the product, which was blended with ground beef to reduce fat content, led consumers to believe LFTB was unsafe and low in nutritional value.
BPI sued ABC and Avila in Union County Circuit Court in September 2012, claiming the stories cost the company millions of dollars in lost sales and led to the closure of three of its four plants.
Circuit Judge Cheryle Gering on Tuesday sent the jury home within minutes of convening for the day, telling them a "major legal issue" had come up.
By Wednesday morning the case was settled.
Terms of the settlement agreement are confidential.
Erik Connolly, one of the attorneys representing BPI, said Thursday he couldn't comment about the circumstances surrounding how the agreement was reached, who approached whom with an offer or how long negotiations had been ongoing.
"When the subject was broached, the parties reached an agreement quickly, then we just had to complete the paperwork," Connolly said.
Connolly said it's not unusual for cases to be settled just before a trial starts, after the plaintiffs have finished presenting evidence or after both sides have presented their evidence. In this case, "the timing was a little bit different because we were still putting in our evidence."
BPI, co-founded by Eldon and Regina Roth in 1981, had sought $1.9 billion, a claim that could have been tripled to $5.7 billion under provisions of South Dakota's Agricultural Food Product Disparagement Act.
You have free articles remaining.
"The settlement agreement got the full support of the Roth family," he said. "The Roth family is clearly very happy with how the case was resolved."
ABC lawyers declined to comment Thursday about the settlement.
Observers shouldn't be quick to assume BPI received a hefty payment as part of the settlement, a prominent food safety lawyer who was once involved in the case said.
"I was surprised that the case settled, and who knows what the terms are. I look at it this way: both sides settled," said Bill Marler, managing partner of Marler Clark, a Seattle-based food safety law firm, and a food safety advocate. "You don't really know if ABC paid money, and the only thing I can see is ABC stories are still on the Internet and they weren't required to take them down."
Avila told reporters Wednesday that ABC had not retracted or apologized for its coverage.
Marler represented Carl Custer and Gerald Zirnstein, two former U.S. Department of Agriculture scientists whose criticisms of BPI and LFTB were quoted in ABC's reports. It was Zirnstein who first used the "pink slime" phrase in an internal email in 2002 to describe LFTB. Both men were initially included in BPI's lawsuit until the company dismissed them last August. BPI showed jurors their videotaped depositions at trial.
Marler said he continued to follow the case closely and read media reports from the trial. He and Baldwin said they could only speculate on why the sides agreed to settle when they did.
Perhaps, Baldwin said, ABC lawyers looked at BPI's case as it was being presented and thought they'd lose. Current negative public sentiments toward the media and the rise of accusations of "fake news" could have caused ABC's legal team to wonder if the network would get fair treatment.
"Certainly there's not a very good climate out there for the news media right now," Baldwin said.
Marler said the trial's location in Elk Point, a short drive from BPI's Dakota Dunes headquarters, meant a greater chance of choosing jurors sympathetic to agricultural interests. Given the trial's location and public attitudes toward the media, Marler said he thought the chances were better than 50-50 that jurors would have ruled in BPI's favor.
"I think BPI was a little ahead at the time (of the settlement), but that ABC had held its own. Had it gone forward, I think there would have been information that the defense presented ... that may have switched a few more jurors," Marler said.
A verdict and jury award in BPI's favor probably wouldn't have withstood further legal challenges, though. Marler said appellate judges would have weighed ABC's First Amendment rights more heavily than a jury.
"On appeal, I think whatever win BPI might have had would have been thrown out," he said.