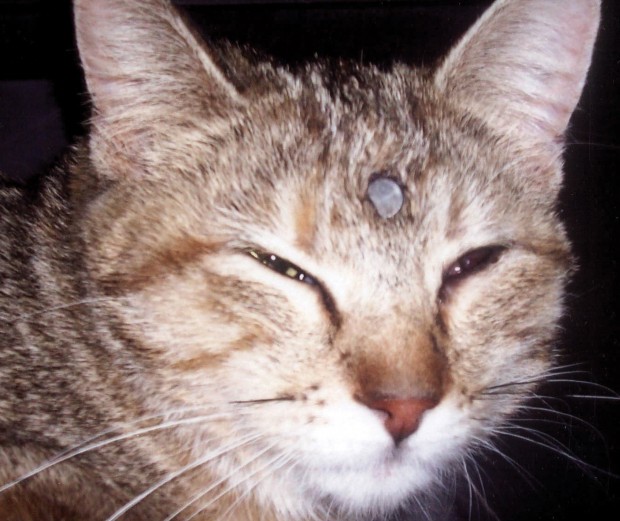 SIOUX CITY -- A cat that suffered a 3-inch nail driven into its forehead cleared another hurdle Friday when it survived a surgery.
Sioux City Animal Control Owner Cindy Rarrat said doctors at Siouxland Animal Hospital were able to pull the flat-head nail from the gray female cat, which has been named Amazing Grace.
The cat was still recovering Friday afternoon at the Sioux City animal hospital. Rarrat said officials at Siouxland Animal Hospital told her Amazing Grace was up, eating and doing good.
However, she said there's a chance the cat could lose sight in her left eye. The nail didn't go through the eyeball, but Rarrat said doctors believe it may have damaged surrounding nerves.
"They're hoping (sight to) that eye will return," she said.
Amazing Grace came to Animal Control on Wednesday afternoon, after a local resident reported an injured cat roaming the 500 block of Center Street. Officials believe the cat had been lying under a vehicle for a few days, Rarrat said.
She couldn't believe the cat had survived such an injury.
"I've never seen anything like it," Rarrat said.
Media attention to the cat's plight has already spawned five offers to adopt it, Rarrat said, including one from an Omaha area resident.
Animal Control officials believe the cat's injury is probably the result someone shooting her in the head with a nail gun. Rarrat does not believe it was an accident.
"To me, that's scary," she said. "If I had somebody like that in my neighborhood, I'd be scared to death."
The Sioux City Police Department continues to investigate the case.
Anyone with information about the cat can call Crime Stoppers at (712) 258-TIPS.