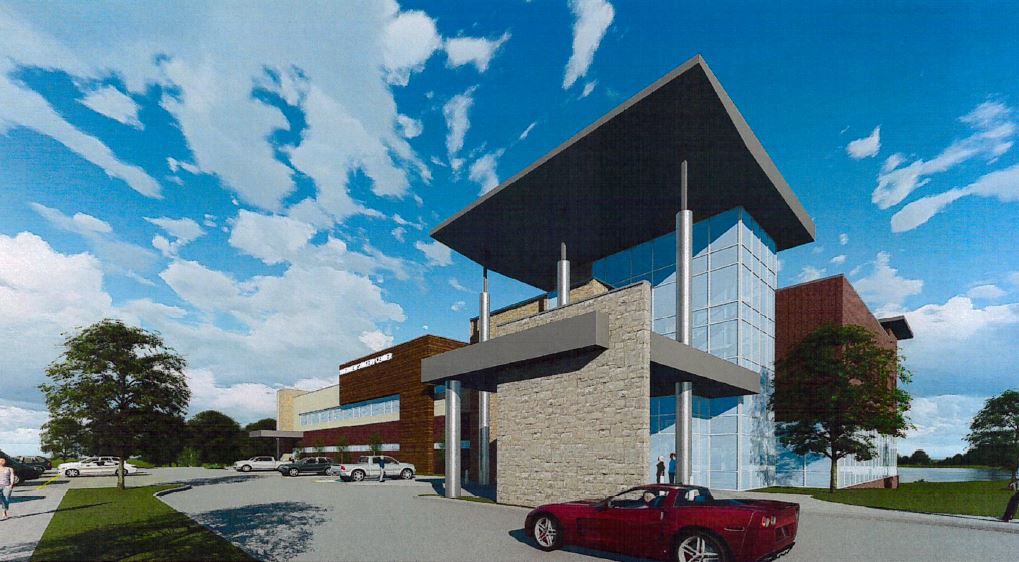 SIOUX CITY | The alleged involvement of a physicians group and four of its doctors with the development of a South Sioux City riverfront outpatient surgery center clearly violate non-compete agreements the doctors had with Pierce Street Same Day Surgery, a lawyer for the Sioux City center told an Iowa judge Thursday.
A lawyer for Tri-State Specialists and six doctors being sued by Pierce Street contends that the physicians have not invested in the South Sioux City project and do not plan to have ownership, management or employment roles in it.
Pierce Street's non-competition agreements also do not contain many of the provisions that Pierce Street accuses the doctors of violating, said Stan Thompson, a Des Moines attorney representing Tri-State Specialists, its CEO and the six doctors.
"We view Pierce Street as trying to block fair competition within the market. I think the defendants have complied with the letter of the agreement," Thompson said Thursday during a hearing on Pierce Street's request for an injunction to enforce non-compete agreements with Drs. Adam Smith, William Samuelson, Kevin Liudahl and Joseph Morris and preventing them from owning, operating, investing in, managing, promoting or being employed by the Riverview Surgical Center, which is under construction along the Missouri River in South Sioux City.
The injunction also seeks to prevent Drs. Terry Monk and Duane Nelson, both former Pierce Street members, as well as Tri-State Specialists and its CEO Lee Hilka, from cooperating with those four physicians in the development and promotion of Riverview.
Iowa District Judge Duane Hoffmeyer said he would rule on the injunction as soon as possible once lawyers submit all final documents and responses by Wednesday afternoon.
"I will get out a decision as soon as I can," Hoffmeyer said.
Since plans for the two-story, 50,000-square-foot Riverview Surgical Center became public last year, Tri-State has promoted its ownership of the center and its involvement in the development, said Bridget Penick, the Des Moines attorney representing Pierce Street.
Smith, Samuelson, Liudahl and Morris all are members and owners of Tri-State, Penick said, and contentions that they haven't been involved in planning or designing the center are false. Smith has personally recruited other doctors to invest in the project, Penick said.
You have free articles remaining.
"Tri-State owners and physicians have been intimately involved in this project since day one," Penick said. "It's represented without exception as a Tri-State project."
Pierce Street claims in its lawsuit, filed last month in Woodbury County District Court, that the doctors' non-compete provisions in individual operating agreements they signed with Pierce Street prohibit them from being involved with a competing hospital or surgery center within 30 miles of Pierce Street while they hold an interest in Pierce Street and for one year after leaving the company.
Located at 2730 Pierce St., across the street from UnityPoint Health -- St. Luke's, Pierce Street is less than four miles from the Riverview site.
Ground was broken for the $37 million Riverview Surgical Center next to the Delta Hotels by Marriot at 385 E. Fourth St. in November. The center, expected to open in 2019, will contain operating rooms, medical offices and patient suites. Patients and families will have the option of staying in the adjacent Delta Hotels by Marriott. The center will offer many of the same surgical services as Pierce Street.
Pierce Street's lawsuit includes claims for breach of contract, intentional interference with a contract and with prospective business advantage, breach of duty of loyalty and conspiracy. It's asking that an injunction be in place for the duration of the litigation.
Thompson said the non-compete agreements apply only toward involvement in existing surgery centers. It does not prevent the doctors from being involved in the creation of a new one. Even so, Smith, Morris, Liudahl and Samuelson all provided sworn affidavits in which they said they do not and will not have direct or indirect ownership in Riverview Surgical Center, nor do they have arrangements in place to consult with or be hired by Riverview once it opens.
Pierce Street terminated their memberships on Dec. 20, Thompson said in court filings.
Former members of Pierce Street, both Nelson and Monk's non-compete agreements have expired. Hilka, who served as the Pierce Street CEO from March 2008-April 2015, also has no further obligations to Pierce Street, Thompson said in court filings. All three are members of Riverview's board.
Pierce Street contends that plans for Riverview were being discussed as early as 2015 by the six physicians, Hilka and Tri-State, which is located at 2730 Pierce St. in the same building as Pierce Street Same Day Surgery. Those discussions would have taken place when all six physicians named in the lawsuit had signed operating agreements containing the non-compete provisions in place with Pierce Street.
In the lawsuit, Pierce Street said it could lose 60 percent of its patient volume referred to it by Tri-State physicians, many of whom could begin sending patients to the new Riverview facility.