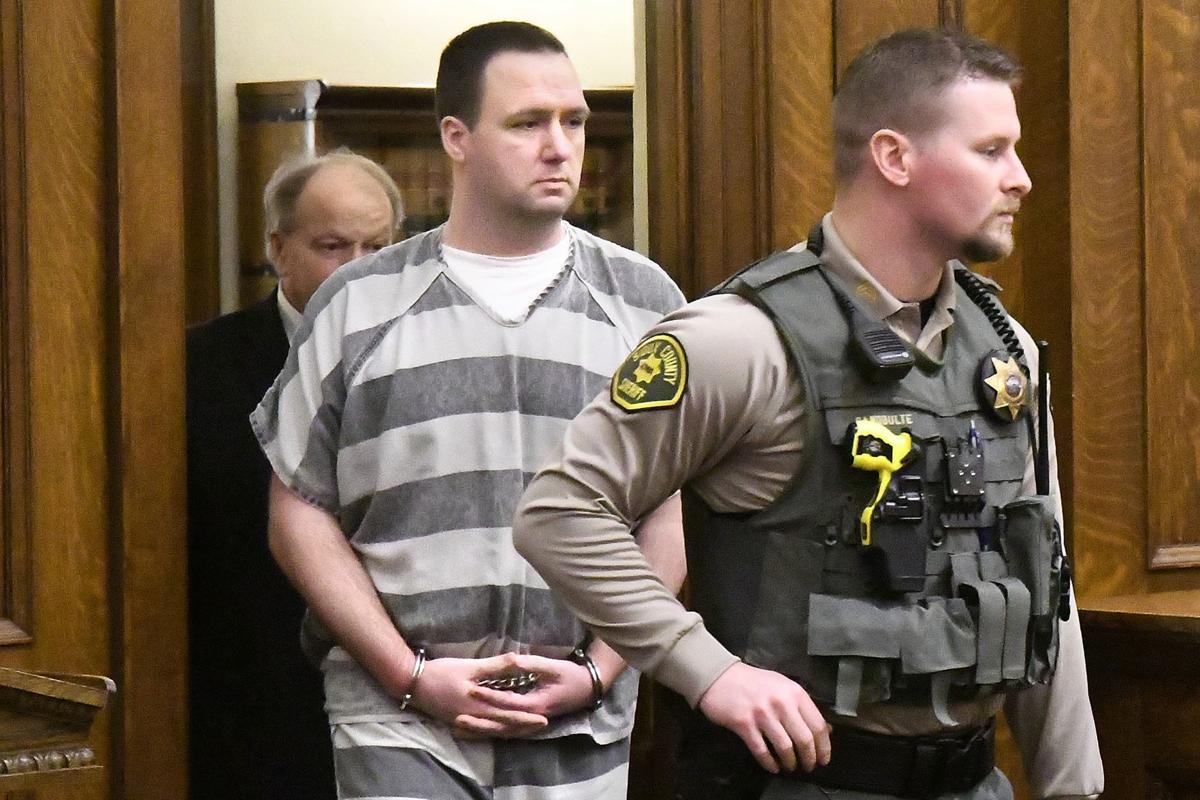 ORANGE CITY, Iowa -- Many nights, a mother told the judge, she holds her son, helping him get his breathing under control when he has a panic attack caused by the sexual abuse he suffered at the hands of his former elementary teacher.
"I tell him it's going to be OK," she said.
Her son will live with the memories of the abuse committed by Curtis Van Dam, the mother said, and she, too, will suffer from feelings that she couldn't protect her son.
"How does a mom reconcile the guilt of knowing that day after day she handed her son over to the hands of a monster?" the woman said before asking District Judge Steven Andreasen Friday to sentence Van Dam, a former fifth-grade teacher at Sioux Center Christian School, to the maximum sentence allowable.
Andreasen did nearly that, sentencing Van Dam, 37, to 60 years in prison for sexually abusing 15 male students during a four-year period. Andreasen then added the sentence to a 15-year federal prison sentence Van Dam received in September for another sex crime for a total of 75 years. Van Dam must serve at least 32.5 years before he'll be eligible for parole.
Van Dam had faced up to 80 years in prison alone on the state charges.
"There is no sentence that this court can impose that will undo what has been done," Andreasen said before announcing his decision near the conclusion of the three-hour hearing in which the judge heard impassioned pleas from the victims and their families.
Van Dam pleaded guilty in November in Sioux County District Court to one count of second-degree sexual abuse, five counts of third-degree sexual abuse and one count of sexual exploitation by a school employee.
Sioux County Attorney Thomas Kunstle said Van Dam's behavior, which included coercing boys to show him their penises, allow him to touch them, masturbate in front of him and touch his penis, dated back to August 2013 and ended on Oct. 23, 2017, when he was arrested after the parents of an 11-year-old boy reported that Van Dam had had sexual contact with their son.
Van Dam pleaded guilty last year in federal court to one count of sexual exploitation of a child for taking video of seven other boys in a locker room shower.
For more than two hours Friday, Van Dam was forced to listen to the victim impact statements of 19 parents and boys -- none of whom were identified by name in court. All told him of the damage his actions had done to them and their families.
"How could you look at their precious faces and rob them of their innocence?" one mother asked. "You are not the person I thought you were. You are a monster. You are evil. You are a sick, sick human. You are a pedophile."
One father said Van Dam coerced his students to "fulfill his own sick pleasures daily."
"You even threatened his grades," another mother said to Van Dam. "You said his grades would go down if he didn't continue to see you."
Parents said they worry their sons may someday contemplate committing suicide because of the guilt and shame they feel. One mother said she and her husband were preparing to board an airplane when they received a phone call from their son's school telling them he had drawn a picture of himself holding a gun to his head.
You have free articles remaining.
"This is what you made him draw," the mother said to Van Dam, holding up the picture in the courtroom.
Throughout all the statements, Van Dam, wearing shackles and a black-and-white striped jail jumpsuit, sat up in his chair and showed no emotion as he looked at those speaking.
Many parents said they and their sons have trouble sleeping and suffer anxiety attacks. Their trust in authority and others has been destroyed.
"Whenever I hear my son say something about suicide, I worry he's going to do it. I'm mad at the whole school. I just don't trust anybody anymore," one father said.
One of the victims said in a statement, read in court by a guardian ad litem, that he can't leave behind the pain of what happened to him.
"It will forever hurt me to say I was a part of this," the boy said in his statement.
When given his chance to speak before he was sentenced, Van Dam declined. He showed no emotion when Andreasen announced his sentence.
His attorney, Edward Bjornstad, of Spirit Lake, Iowa, submitted no evidence but simply asked that all prison sentences be ordered to be served concurrently, or at the same time. Kunstle had requested that all sentences be served consecutively.
Andreasen said his sentence will provide Van Dam a chance to be rehabilitated and will protect the community from future offenses.
"The court believes Mr. Van Dam has expressed little or no remorse for his actions. It is my hope this sentence will bring some closure, at least on the legal side, to what you have been dealing with," Andreasen said to the more than 100 people who had filled the courtroom.
Van Dam had faced 146 charges, 103 of them felonies, related to his contact with the boys. The remaining charges were dismissed as part of a plea agreement.
After the first victim came forward, at least 14 more boys reported incidents involving Van Dam to authorities. Court documents showed that some or all of the children were under age 12 or 13, and the incidents took place at various locations, including at school. Van Dam, who also was a coach and a youth leader at the church that many of the victims attended, was fired from his teaching post after charges mounted against him.
The fallout from the case has affected Sioux Center, the Christian school and the church, parents said.
"We trusted you to teach our kids about God and this world and you took advantage of them," one mother said to Van Dam.
Many parents said their sons will continue to undergo therapy to cope with anxiety, and they worry how the abuse will affect their sons' ability to have future relationships with women and their own children.
One mother, however, defiantly told Van Dam that the evil he brought upon her son will not win.
"The story doesn't end here," she said. "My son will be forever impacted by this, but he will not let it define him."
Copyright 2018 The Sioux City Journal. All rights reserved. This material may not be published, broadcast, rewritten or redistributed.