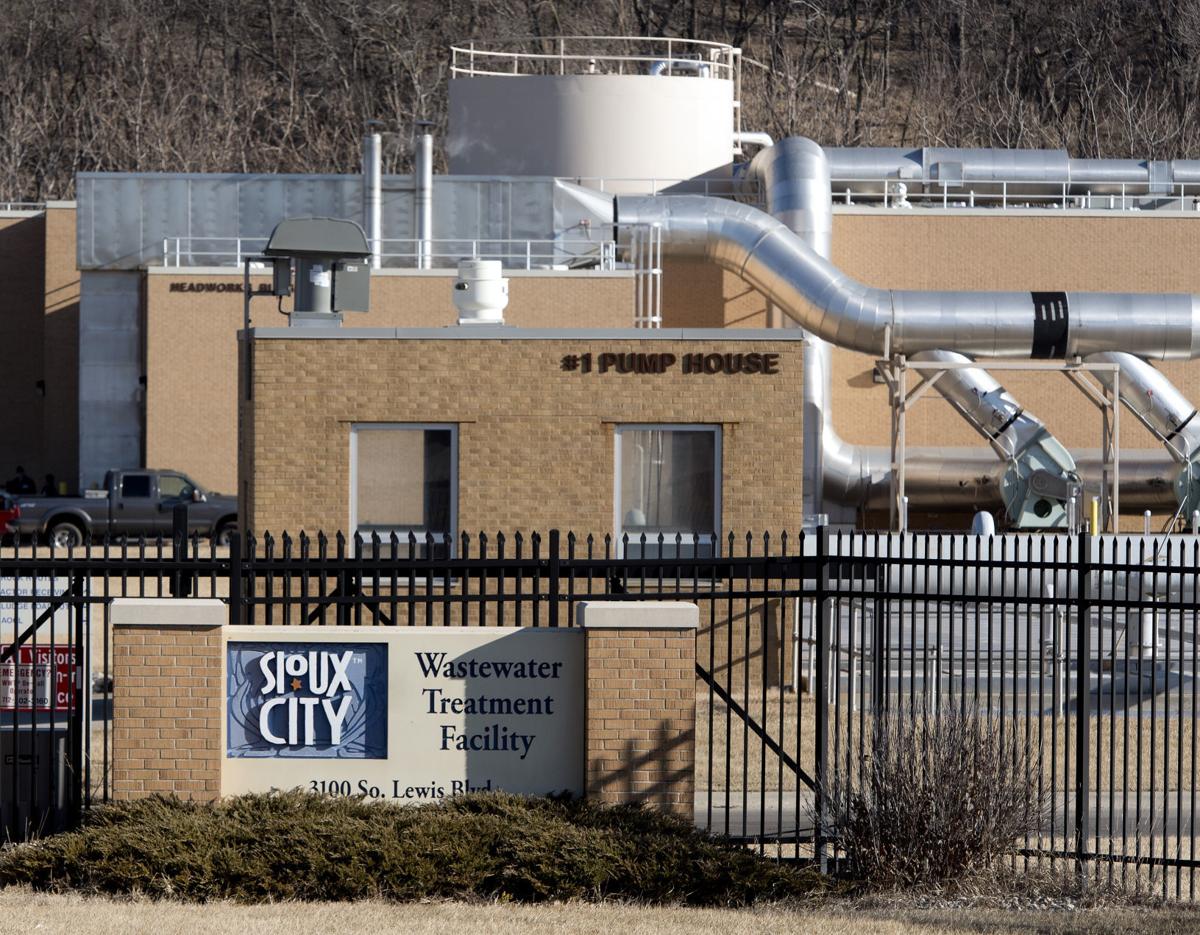 SIOUX CITY -- A former supervisor at Sioux City's wastewater treatment plant intends to plead guilty to federal criminal charges alleging he conspired with others to manipulate water sample test results to make it appear that discharges from the plant into the Missouri River met federal guidelines.
Patrick Schwarte's attorney on Monday filed a notice that Schwarte plans to plead guilty to charges of conspiracy to defraud the United States and falsifying or providing inaccurate information from 2012 through June 2015. He is scheduled to appear before Chief Magistrate Judge Kelly Mahoney on Jan. 23 in U.S. District Court in Sioux City.
No other individuals had been charged as of Monday, though an information document filed last week by the U.S. Attorney's Office said other plant operators -- some who were known to prosecutors and others who were unknown -- were involved in a process in which they were instructed by Schwarte, who was a shift supervisor, and the plant superintendent to raise chlorine levels added to wastewater on days that E. coli samples were taken.
The elevated chlorine level would produce test samples showing plant discharges met federal limits for levels of fecal coliform and E. coli. Once the samples were taken, chlorine added to the city's wastewater was reduced to minimal levels unlikely to disinfect discharged water enough to meet federal standards, court documents said.
"It was part of a conspiracy that the co-conspirators did employ a fraudulent testing procedure which ensured that the city would always pass its effluent tests for fecal coliform, E. coli and (total residual chlorine)," the information document said.
Those fraudulent testing and reporting procedures violated and concealed violations of the city's National Pollutant Discharge Elimination System permits and the federal Clean Water Act and deceived the Iowa Department of Natural Resources, which administers the city's permits, and the U.S. Environmental Protection Agency, the U.S. Attorney's Office alleged.
Schwarte's notice of intent to plead guilty is not proof of wrongdoing by other city employees or officials, nor does it mean that the city could be subject to civil penalties handed down by the EPA, said Guy Cook, a Des Moines attorney representing the city, mayor, city council and city staff.
The city's wastewater treatment practices came under scrutiny in April 2015, when the DNR was tipped off that plant supervisors were manipulating chemical levels used to treat sewage, resulting in legally permitted discharges into the Missouri River containing high levels of E. coli bacteria and potentially endangering public health. Improper chlorine releases also can endanger fish and water organisms.
The city dismissed Schwarte and plant superintendent Jay Niday in June 2015 after the DNR began an investigation. DNR reports have said that at least four other city employees were involved, though none were identified. Niday told state investigators the city saved at least $100,000 in one year when workers administered the smaller levels of chlorine. He and Schwarte both agreed to surrender their state wastewater licenses when they were fired.
Schwarte's attorney, Pat Parry, of Sioux City, did not immediately return a message left for him Monday.
Niday was not named in Schwarte's court documents, and it is not known if he or others will be charged. Because of the ongoing federal government shutdown, the U.S. Attorney's Office is not providing public comment on media inquiries because it is not deemed an essential function of the U.S. Justice Department. Justice employees are to perform only essential functions during the shutdown, according to information provided by the U.S. Attorney's Office.
The Federal Bureau of Investigation in December 2016 served a search warrant on city offices and collected computer data. Of the information agents collected, the city helped investigators identify documents pertaining to the wastewater treatment plant. The city has "bent over backwards" to voluntarily cooperate with the federal investigations, Cook said.
"As a follow-up to the search warrant, as the city we have cooperated and provided additional documents related to the operation of the wastewater treatment plant," he said.
An EPA spokesman could not be reached Monday because, according to the recorded greeting on his voicemail, he has been furloughed for the duration of the government shutdown.
In June 2016, the Iowa Environmental Protection Commission referred the DNR's case against the city to Iowa Attorney General Tom Miller for consideration of civil penalties higher than the DNR, whose penalties are capped by state law at $10,000. The attorney general's office also could file criminal charges.
Spokesman Linn Hicks said Monday that the attorney general's office is reviewing the federal charges filed against Schwarte and the information contained in them. The state's case is currently stayed while the federal investigation proceeds, he said, and state and federal authorities will continue to consult with each other.
"We'll see what comes next in considering what we do," Hicks said.
Built in 1961, Sioux City's wastewater treatment plant, located at 3100 S. Lewis Blvd., near the intersection of Interstate 29 and U.S. Highway 20, accepts industrial, commercial and residential wastewater from Sioux City. The city also has agreements to accept wastewater from Sergeant Bluff, South Sioux City, North Sioux City and Dakota Dunes. Once treated, the water is discharged into the Missouri River in accordance with state and federal regulations, including the Clean Water Act.
Copyright 2018 The Sioux City Journal. All rights reserved. This material may not be published, broadcast, rewritten or redistributed.
Sign up for our Crime & Courts newsletter
Get the latest in local public safety news with this weekly email.