SIOUX CITY -- Two people accused of robbing a Le Mars, Iowa, bank in December now face federal charges.
Karen Merrick, 35, and Phillip White, 32, both of Sioux City, appeared in U.S. District Court in Sioux City Monday, and Chief U.S. Magistrate Judge Kelly Mahoney ordered them to remain in custody. Mahoney scheduled preliminary and detention hearings for both on Feb. 20.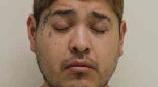 You have free articles remaining.
A federal complaint filed Jan. 29 charges each with bank robbery for the Dec. 12 robbery of Iowa State Bank, 301 Plymouth St. NW. Federal prosecutors have 30 days to present the case to a grand jury, which will determine whether to indict the two.
According to the complaint, White told police after his arrest that he had driven around the bank several times before parking in an alley. After visiting with a bank worker about opening an account, White approached a teller, told her he wanted a bag of money and said he had a weapon.
The teller handed White $16,190 in currency, and White exited through a side door. Witnesses saw him get into a U-Haul van, in which Merrick was waiting for him, the complaint said. Merrick led law enforcement officers on a pursuit out of Le Mars and onto county roads before officers were able to flatten the van's tires and bring it to a stop. The stolen money was recovered from the van.
According to the complaint, White told authorities that he did not have a weapon and denied threatening the bank teller. He told investigators that he had robbed the bank because he needed to provide another person with $5,000 or a pound of methamphetamine that day, though he denied owing money or drugs to anyone. Merrick told authorities she was unaware of White needing cash or meth.
Merrick and White both had pleaded not guilty to state robbery, theft and conspiracy charges in Plymouth County District Court. Those cases both were dismissed once the federal complaint was filed.
Copyright 2019 The Sioux City Journal. All rights reserved. This material may not be published, broadcast, rewritten or redistributed.