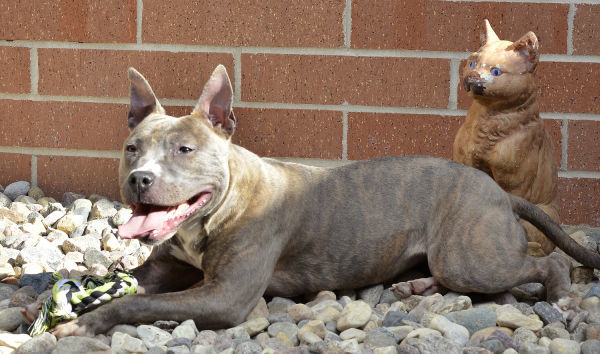 SIOUX CITY -- A federal judge has dismissed a lawsuit challenging Sioux City's pit bull ordinance, saying that the woman who brought the suit has no standing to bring a claim.
Because Kali Myers no longer lives in Sioux City and doesn't currently own a dog, she is under no immediate threat that the ordinance will be enforced against her, U.S. District Judge Linda Reade ruled.
"Myers' contention that she will someday get a dog, take that dog into Sioux City and potentially have the ordinance enforced against her is simply a hypothetical scenario divorced from the reality of her current situation," Reade wrote in her seven-page dismissal order, filed Monday in U.S. District Court in Sioux City.
In their suit, the three women said the city, Padmore and Rarrat had violated their constitutional rights to due process and equal protection through the ordinance.
You have free articles remaining.
Passed in 2008, the ordinance bans residents within city limits from owning dogs that are at least 51 percent pit pull, described in the ordinance as an American pit bull terrier, American Staffordshire terrier, Staffordshire bull terrier or any dog that looks like or has characteristics of being one of those breeds.
In November, Frost and Doe were dismissed from the suit because both had moved outside of Sioux City.
In 2012 and in 2016, Myers had mixed-breed dogs that escaped and were subsequently picked up by animal control officers. Animal control determined that each dog was subject to the ordinance, and neither was returned to Myers, who found a home for one of them outside of Sioux City.
In December 2016, Myers moved to Moville, Iowa, about 15 miles east of Sioux City. She continued with her lawsuit, seeking to have Sioux City's pit bull ban declared unconstitutional and and an injunction issued to prevent the city from enforcing it.
Reade said that Myers' move to Moville was not disclosed to the court until motions were filed in February, more than a year after Myers had relocated.
Myers has not shown "a credible threat of future prosecution under the ordinance" because she no longer lives in Sioux City or owns a dog, Reade said.
"The court finds that Myers does not have standing to bring her claim," Reade said in her ruling.