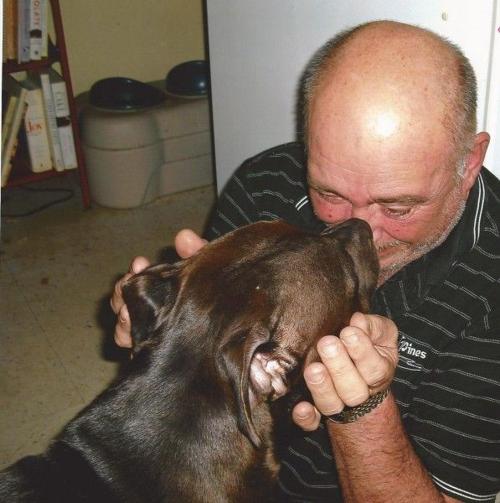 SIOUX CITY -- Snickers can come home.
That was the ruling of U.S. District Judge Mark W. Bennett, who on Wednesday ruled in favor of James Sak and Peggy Leifer, a couple who were seeking an injunction against an Aurelia, Iowa, ordinance that banned pit bulls.
Sak and Leifer argued that Snickers, a 3-year-old pit bull, acts as a service animal for Sak, a retired Chicago police officer disabled since a 2008 stroke. They argued they should be exempt from the city pit bull ban.
In granting the injunction, Bennett said lawyers for the city hadn't shown that Aurelia would suffer "substainable harm" by Snickers. The dog has been housed at a Cherokee, Iowa, veterinarian kennel since Dec. 15.
After paying a $1 bond, Sak and Leifer will be allowed to have Snickers in their home.
The city may appeal the ruling, taking the case to the 8th Circuit Court of Appeals.  Aurelia officials and George Wittgraf, an attorney for the city, did not return messages left Wednesday.
Bennett said there was sufficient evidence that both Sak and Leifer will suffer "sustainable harm" without Snickers, a pit bull, black Lab and boxer mix that is a registered certified service animal.
The dog is trained to help Sak if he falls, Leifer said.
"Snickers can nudge him towards a wall and Jim can use the dog as a support," she said.
The ruling applies only to Snickers; the city's ban on pit bulls is still in effect.
After the hearing, Sak said he has missed having Snickers around.
"As soon as I see him, I'm gonna let him kiss me on the face," Sak said.
---
CORRECTION: An earlier version of this story incorrectly described the possible appeal process for the city of Aurelia in the pit bull case. This version has been corrected.
Sign up for our Crime & Courts newsletter
Get the latest in local public safety news with this weekly email.