SIOUX CITY -- A man has claimed that the Mapleton, Iowa, police chief used excessive force by releasing his police dog without warning during a 2017 traffic stop.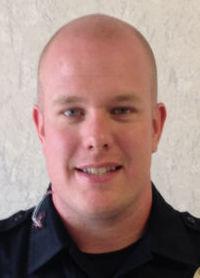 Darrell Bowen, of Danbury, Iowa, said in a lawsuit that he was "viciously bitten" and required medical attention after Jared Clausen released the K9 unit from his cruiser while Bowen was trying to put down the kickstand of his motorcycle.
"This force was unnecessary under the circumstances," Bowen said in a lawsuit filed Friday in U.S. District Court against Clausen and the City of Mapleton.
You have free articles remaining.
Bowen is suing Clausen and the city for excessive force, assault and battery, and negligence. He said the city had not implemented effective policies or adequately trained Clausen, causing Clausen to violate his constitutional right for freedom from excessive force.
Clausen, who was hired by the city in October 2014, declined to comment on the allegations. The city's attorney, Michael Schmiedt, of South Sioux City, did not return a call seeking comment.
According to the lawsuit, Clausen stopped Bowen on Iowa Highway 175 on June 12, 2017. Bowen said he pulled over to the side of the highway, got off his motorcycle and was putting down the kickstand when Clausen exited his cruiser and released his police dog without warning.
"(Clausen) demonstrated a deliberate indifference to and/or reckless disregard of (Bowen's) civil and constitutional rights by maliciously and sadistically employing his police dog or K9 under the circumstances," the lawsuit said.
Bowen is seeking an unspecified amount of compensatory damages for loss of income and earning capacity and for humiliation, degradation, public ridicule, loss of reputation and emotional distress. Bowen also is seeking punitive damages.
Copyright 2019 The Sioux City Journal. All rights reserved. This material may not be published, broadcast, rewritten or redistributed.