DAKOTA CITY | A Wakefield, Nebraska, teenager whom prosecutors believe was an accomplice to the fatal shooting and dismemberment last fall of an Emerson, Nebraska, man entered a plea on Tuesday to a reduced charge that will allow him to avoid the possibility of spending the rest of his life in prison.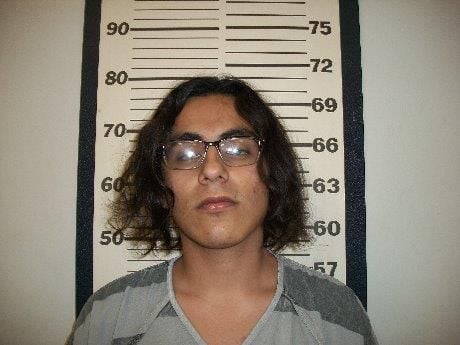 Brayan Galvan-Hernandez, 19, pleaded no contest in Dakota County District Court to a reduced charge of attempted second-degree murder and pleaded guilty to accessory to a felony. The prosecution and defense agreed to a sentencing range of 50-70 years in prison.
"This is a favorable plea agreement for Brayan. A term of years is a better sentence than life (in prison)," Galvan-Hernandez's attorney, Stuart Mills, of Pender, Nebraska, said after the hearing.
District Judge Paul Vaughan will determine Galvan-Hernandez's sentence at a Dec. 12 hearing.
Galvan-Hernandez had been scheduled to stand trial next Monday on charges of first-degree murder, accessory to a felony, use of a firearm to commit a felony and abandoning human skeletal remains or burial goods. Prosecutors agreed to reduce the first-degree murder charge to attempted second-degree murder in exchange for Galvan-Hernandez's plea. In addition to the charge reduction, the firearm and abandonment charges were dismissed.
"Brayan has accepted responsibility for his part in this horrific crime," Mills said. "This is a favorable plea agreement for Brayan."
Galvan-Hernandez was charged with Andres Surber, 26, also of Wakefield, for the Nov. 1 shooting death of Kraig Kubik, 42, at his rural Emerson home and the dismemberment of his body.
Assistant Nebraska Attorney General Corey O'Brien, who was appointed special prosecutor in the case, said during Tuesday's hearing that Surber shot Kubik in the back of the head and Galvan-Hernandez either knew that Surber planned to shoot Kubik or helped him plan the shooting.
"The state would contend that Mr. Galvan-Hernandez was an aider and abetter in the homicide of Kraig Kubik," O'Brien said.
O'Brien said Galvan-Hernandez also removed or destroyed evidence linked to the crime.

O'Brien said Surber and Kubik apparently had a disagreement about the sale of a Dodge Charger. Video from surveillance cameras at Kubik's home showed both Surber and Galvan-Hernandez meeting with Kubik on Nov. 1. Shortly after the three were seen walking out of the house, prosecutors believe Surber shot Kubik. Galvan-Hernandez and Surber were later seen dragging what was believed to be Kubik's body across the yard.
Investigators responding to Kubik's disappearance on Nov. 2 found a pool of blood near his car and his glasses in his driveway. They were later called to an abandoned Dixon County farmhouse owned by Surber's family about 24 miles away from Kubik's home after receiving reports of music coming from the property. There, investigators found a Chevrolet Impala with blood on the trunk and rear bumper, O'Brien said. Kubik's severed right arm and right leg were found inside the trunk. Surveillance camera footage from a Wakefield convenience store showed Galvan-Hernandez driving the car the night Kubik was shot.
The rest of Kubik's remains were found three days later in a culvert about four miles from the farmhouse. Autopsy results showed that Kubik died of a single gunshot wound to the back of the head.
A bloody knife found at the farmhouse was tested and contained Kubik's DNA, O'Brien said. Surber's fingerprint also was found on the knife.
O'Brien said Kubik's watch and house keys were found in Surber's vehicle. A spot of blood found inside was tested, and the DNA matched Kubik's. A pair of pants believed to have been worn by Galvan-Hernandez also contained blood stains that were linked by DNA testing to Kubik.
Surber has pleaded not guilty to first-degree murder, use of a firearm to commit a felony and possession of a firearm by a prohibited person. In April, Vaughan found Surber mentally incompetent to stand trial, and Surber is currently receiving psychiatric treatment to determine if his competency can be restored to stand trial.
In August, Vaughan ordered Surber to cooperate with psychiatrists who were treating him after prosecutors contended that he was not complying with his treatment.