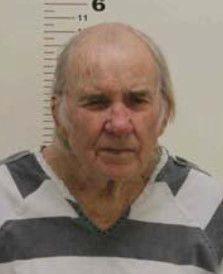 In a complaint and affidavit filed Thursday in Plymouth County District Court, authorities say that Thomas Knapp told investigators responding to the shooting of 51-year-old Kevin Juzek that "I shot the son of a bitch."
Knapp, 81, was served with an arrest warrant at the Plymouth County Jail, where he is being held after previously pleading not guilty of willful injury causing bodily injury, domestic abuse assault while using or displaying a dangerous weapon, and two counts of first-offense domestic abuse assault for striking his wife in the head with a stick and breaking bones in her hand during the May 11 disturbance at the home in the 20000 block of Echo Road in rural Merrill.
Authorities responded to a 911 call from a woman stating that Knapp, her husband, was assaulting her and her son with a stick and also pointed the shotgun at her. While sheriff's deputies were responding to the call, the caller told a dispatcher that Juzek, who also lived in the home, had just been shot, then reported that he had been shot a second time.
According to the complaint, deputies found Juzek lying in the living room. Evidence showed that Knapp had fired a 20-gauge shotgun through a bedroom door, striking Juzek in the abdomen. Juzek staggered into the living room and collapsed. Knapp then entered the room, nudged him in the foot and then said "oh, you're not dead yet." Knapp then shot Juzek a second time in the chest, the complaint said.
An autopsy ruled Juzek's death a homicide caused by the shotgun blasts.
Knapp is currently scheduled to stand trial in October on the willful injury and domestic abuse charges. His attorney, Jared Weber, of Orange City, Iowa, on Tuesday filed a motion to suspend the case so Knapp can be examined to determine if he's mentally competent to stand trial.
Weber said that through his meetings with Knapp, he believes his client "is unable to comprehend the nature of the proceedings and assist counsel in his defense."
Plymouth County Attorney Darin Raymond has filed a resistance to Weber's motion and requested a hearing on the matter. No hearing date has been set.
Sign up for our Crime & Courts newsletter
Get the latest in local public safety news with this weekly email.