SIOUX CITY -- A Sioux City man was arrested Saturday on felony drug charges after investigators found a large number of THC products in a barn on his mother's property.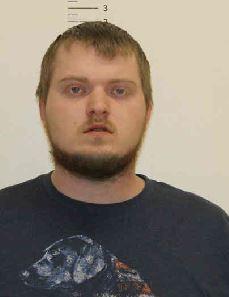 Brady Joseph Burkhart, 25, is charged with controlled substance violation and failure to affix a drug tax stamp.
According to a criminal complaint filed in Plymouth County District Court, at 8:45 p.m. Saturday, Plymouth County Sheriff's deputies responded to the 30,000 block of West Loop Road, after receiving a 911 call from his mother, the owner of the property. The women reported that she found a large amount of THC in a barn on her property and believed her son, Burkhart, was somewhat involved.
You have free articles remaining.
In the barn's upstairs attic area, the complaint said deputies saw a large sack between garbage barrels that contained liquid THC cartridges, which appeared to look as if they had been purchased from a Colorado dispensary. The sack also contained two digital scales and other drug paraphernalia, along with empty zip-close bags.
A statement from the sheriff's office said more than 450 THC oil cartridges and other various THC concentrates were seized. The items are believed to have a retail value of more than $20,000. The criminal complaint said the liquid THC was later determined to be 391.7 grams.
Burkhart's mother also told deputies her son had been the only person in the barn that night, according to the criminal complaint. When questioned about the sack by investigators, Burkhart denied any knowledge of the THC and gave them consent to search his phone, which contained a text from an individual named "Steve" who was asking to buy THC cartridges and/or wax.