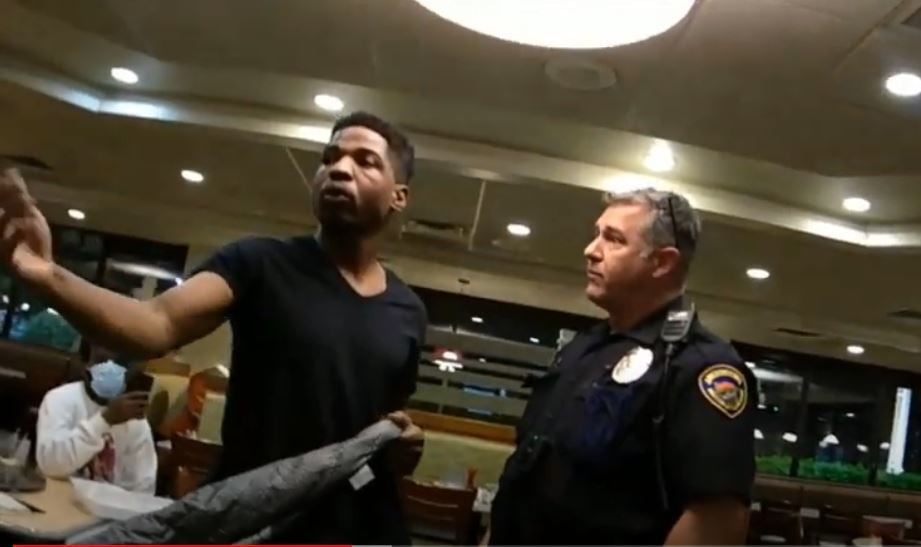 SIOUX CITY -- Officers involved in the April arrest of a 29-year-old Black man at the Gordon Drive Perkins "acted within policy," the Sioux City Police Department said Friday in a statement. 
Bystander video of the April 29 incident, in which police officers, John E. Wright Jr., and various onlookers engaged in a loud confrontation, circulated widely on social media. The department also released three body camera videos of the incident. 
Wright, of Sioux City, was charged with interference with official acts, a simple misdemeanor, which he pleaded guilty to on April 29. He has since appealed his plea, according to court documents. 
"The review into the arrest of John Wright on April 29 has been completed and the officers involved were found to have acted within policy," Sioux City Community Policing Sgt. Jeremy McClure said in the statement. 
According to the statement, it is the department's policy to review any time an officer uses force or uses a show of force.
"Supervisors, watch commanders, bureau commanders, and the chief review the officers reports, available camera footage, and available witness statements. These reviews ensure that officers act within department policy and also within the values and standards of the department and the community we serve," McClure wrote. "These reviews are not only to correct officers when needed but to also provide valuable feedback to help officers improve their performance. These reviews also occur when officers have exchanges with the public that may raise citizen concerns."
According to a criminal complaint and affidavit filed in Woodbury County District Court, Wright was asked and then told to leave the restaurant several times by a uniformed police officer under direction of the restaurant manager, due to his obscene language. The complaint states that Wright failed to comply with the repeated commands to leave. He was told he was under arrest and physically resisted officers Thad Boyer and Sean Mendlik by "tensing up, pulling away, twisting his body."
"The defendant repeatedly refused lawful verbal orders given by police officers in order to effect the arrest. The defendant's physical resistance to arrest resulted in tables and chairs being overturned and the disruption of business to Perkins Family Restaurant," the complaint states. 
The body camera videos of the incident provided by the department show a commotion inside the restaurant, with an officer telling Wright that he must either leave or face arrest. Wright tells the officers "I'm leaving" as an officer begins wrestling with him. 
Wright in the footage maintains he did nothing wrong, and onlookers can be heard agreeing with him and arguing with officers. A struggle ensues, with tables and chairs in the restaurant getting knocked over and glassware being broken.
At least one officer pointed a Taser at Wright after he was pushed into a booth, and Wright and some of the onlookers appear to shout at the officers not to shoot or tase him, although at one point Wright appears to say something like, "Shoot me in my face." In police body camera footage, Wright can be heard asking what he is under arrest for and saying "this is dangerous."
McClure wrote that commanding officers and professional standards develop training plans for individual officers and the department as a whole, based on these internal reviews.
"I do not have any details on what training these officers may be provided as a result of this internal review at this time. The data and information collected from these reviews are analyzed to determine if training should be focused on the individual officer or the department as whole," he wrote. "These reviews and the implementation of body-worn cameras has helped the department improve training provided to officers. This in turn improves officer performance and the quality of service we provide as a department."