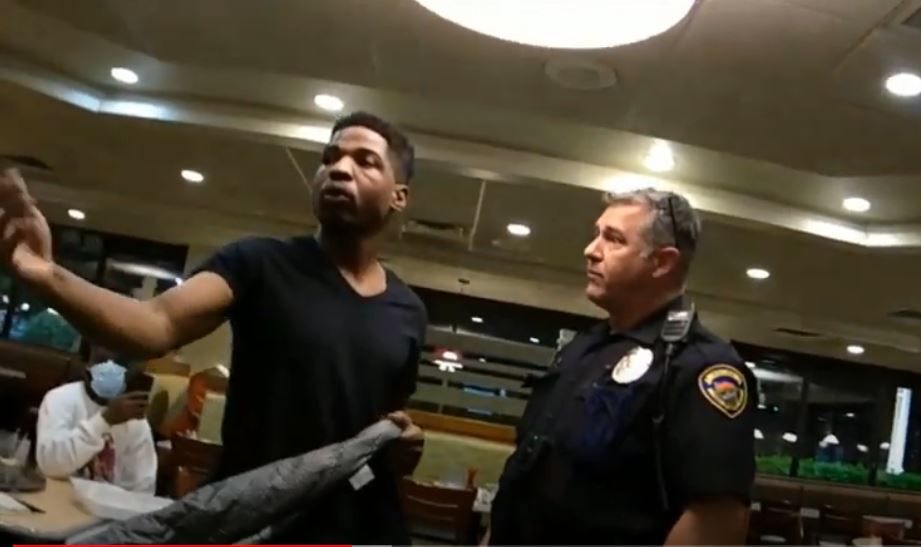 SIOUX CITY -- Sioux City Police Department leadership is reviewing an incident that transpired in the early hours Thursday morning at the Perkins restaurant at 501 Gordon Dr. 
Bystander video of the incident, in which police officers, an Black man at the restaurant and various onlookers get into a loud confrontation, circulated widely on social media in recent days. 
At around 2:13 a.m. Thursday, Sioux City police officers were dispatched to Perkins for a complaint involving an intoxicated female attempting to fight other customers, according to a press release from the police department. 
As officers spoke with the complainant, a man later identified as 29-year-old John E. Wright Jr. of Sioux City "interjected himself into the situation and disrupts the conversation officers were having with the complainant and staff," according to the release. 
The original complainant and an employee of the restaurant intervened and took Wright away from the officers, who then located the intoxicated female and ordered her to leave. She complied and left without incident. 
While attempting to collect additional information for a report on the incident, an officer "was concerned with the way Wright was treating staff" and requested that he be "nice" to them. Wright then became agitated, according to the release, "and started being more provocative in his conduct." 
Wright was asked to stop or else be told to leave the restaurant but "continued to be loud and disruptive." The manager then requested Wright be ordered to leave. Wright refused and resisted arrest, according to the release. 
Three body camera videos of the incident provided by the Sioux City Police Department and containing explicit language, show a commotion inside the restaurant, with an officer telling Wright that he must either leave or face arrest. Wright tells the officers "I'm leaving" as an officer begins wrestling with him; it isn't quite clear what prompted the officer to grab him. 
(Additional police body camera videos can be seen here and here. Please note that these videos contain strong language.) 
Wright in the footage maintains he did nothing wrong, and onlookers can be heard agreeing with him and arguing with officers. A struggle ensues, with tables and chairs in the restaurant getting knocked over and glassware being broken. 
At least one officer pointed a taser at Wright after he was pushed into a booth, and Wright and some of the onlookers appear to shout at the officers not to shoot or tase him, although at one point Wright appears to say something like, "shoot me in my face." In police body camera footage, Wright can be heard asking what he is under arrest for and saying "this is dangerous." 
Bystander footage taken outside the restaurant shows loud, occasionally profane shouting between the onlookers and the police as they attempt to get Wright, by then in handcuffs, into a squad car. 
One officer injured his shoulder "trying to prevent Wright from falling when he tripped or threw himself down while being walked out of the restaurant," according to the press release. A police officer in the body camera footage can be heard telling Wright, "you fell to the ground like an idiot" during an argument on the way to a squad car. Wright responds, "you grabbed me like an idiot." 
It appears that there were no injuries besides the shoulder injury suffered by the officer. 
The names of the officers involved have not been released. 
Wright was charged with trespass, interference with official acts and failure to comply with orders of a peace officer. According to the press release, "he was suspected of being intoxicated but was not charged for that."