SOUTH SIOUX CITY -- A federal class action lawsuit against Big Ox Energy is unlikely to impact 15 other lawsuits previously filed against the company in Dakota County, an attorney involved with the most recent suit said.
The class action suit, filed in January in U.S. District Court in Omaha, accuses Big Ox of negligence and causing a nuisance because of odors released from the plant, which converts industrial and agricultural waste into methane gas. The odors have interfered with local residents' ability to enjoy their life and property and has damaged property values, the suit said.
"It would be more of a general nuisance, the dissemination of noxious gas over an area as a whole," said Robert Stahle, a South Sioux City attorney, who along with a Detroit law firm specializing in class action cases, is representing Gary Johnson and Sara Blum, the two South Sioux City homeowners who filed the lawsuit.
The actions contained in the class action suit concern a different set of circumstances than the 15 lawsuits filed by homeowners who live near the plant, Stahle said.
Those lawsuits, all filed in 2017 and 2018 in Dakota County District Court, claimed that toxic gases from Big Ox backed up into their homes through the city's sewer system and have caused health problems and property damage.
"Those are separate and distinct lawsuits based on a different type of conduct," Stahle said.
The proposed class in the class action suit would include more than 2,000 households within a 2-mile radius of the Big Ox plant, located in the Roth Business Park on the city's south side. Compensatory and punitive damages being sought could exceed $5 million.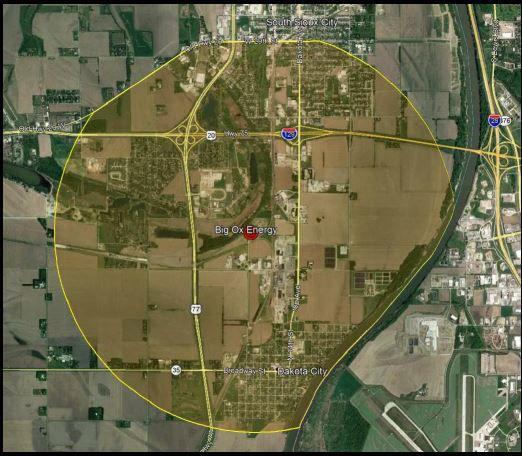 A judge must yet certify the case as a class action. If certified, the court will order that the class of affected people must be notified of the lawsuit. In most cases, people deemed to be in the class are automatically included as plaintiffs unless they choose to opt out of the suit.
The suit says that noxious odors from Big Ox have "caused an unreasonable invasion of plaintiff's interest in the use and enjoyment of their property." Johnson and Blum claim that Big Ox was negligent in the design, construction and maintenance of its facility, causing the odors that have led to numerous complaints from residents living near it.
Big Ox has until Feb. 19 to file a response. Company officials did not immediately return messages from the Journal seeking comment on Wednesday.
The 15 homeowner lawsuits, which also name the city of South Sioux City as a defendant, are seeking about $7.4 million in damages, a total that could increase if homes must be rebuilt because they can not be repaired.
Those lawsuits allege that Big Ox and the city failed to maintain, operate and modify wastewater treatment facilities and sewer systems to handle waste from the plant and prevent the release of toxic gases through manholes and into homes. Many of the homeowners have complained of health problems, including respiratory illnesses, headaches, nausea, anxiety and emotional distress.
The Denmark, Wisconsin-based company has denied the allegations.
Big Ox also has been sued by Carol Baker, who claims that Big Ox is partially responsible for her husband's death and that odors and gases from the plant ruined their home, making it uninhabitable. Robert Baker Sr., 74, died Dec. 29, 2016, two months after he and Carol Baker left their home at 3826 G St. They were staying in a hotel when Baker was injured in a fall, leading to complications that caused his death, the lawsuit said.
Initially filed in Dakota County, Baker's lawsuit has been removed to U.S. District Court in Omaha at Big Ox's request.
The city and Big Ox have paid hundreds of thousands of dollars to reimburse homeowners for living expenses since they were displaced. The city has also spent $1.5 million for sewer upgrades and modifications.
The lawsuits are among a long list of troubles Big Ox has experienced since beginning operations in September 2016.
Big Ox has been cited by state regulators at least three times for failing to control hydrogen sulfide emissions, properly operate and maintain anaerobic digesters, control dust from leaving the property and submit proper notifications.
The city of Sioux City has fined Big Ox on numerous occasions since June for exceeding its discharge limits into the city's regional wastewater plant and failing to report all of its daily flows into the plant.