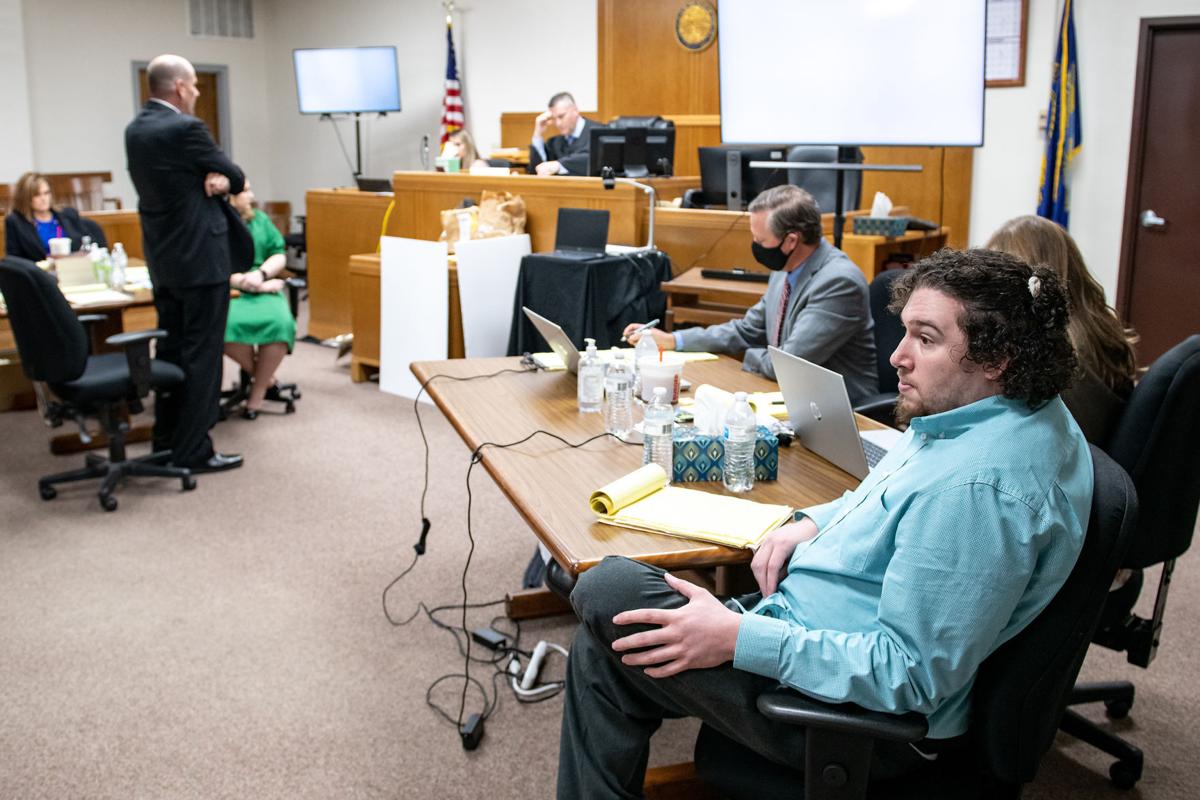 DAKOTA CITY -- The first five hours of Andres Surber's murder trial on Wednesday proceeded routinely.
Then Surber took the witness stand to testify in his own defense.
Over the course of an hour and a half, Surber said he killed Kraig Kubik in self-defense, dismembered the body to conceal his actions, but then left an arm and a leg in the trunk of his car so he'd get caught.
"Just because I went over there in the beginning doesn't mean I wanted it to happen," Surber said during the fifth day of testimony in his trial.
When questioned by the prosecution, Surber insisted his actions were manslaughter, not murder, and frequently became argumentative when he didn't like the questions he was asked, accusing Corey O'Brien of lying about witness testimony just to get a conviction.
"You're going to say whatever you can to find me guilty," Surber said to O'Brien, an assistant Nebraska Attorney General appointed as a special deputy Dakota County Attorney.
Surber, 29, of Wakefield, Nebraska, has pleaded not guilty in Dakota County District Court to first-degree murder, use of a firearm to commit a felony and possession of a firearm by a prohibited person. He is accused of shooting Kubik on Nov. 1, 2016, and cutting up the body. Kubik's right arm and leg were found in the trunk of Surber's Impala several miles away the following morning. The rest of his remains were found in a culvert three days later.
O'Brien rested his case after a morning of testimony in which a state forensic scientist said a fingerprint on a bloody knife found near the Impala matched Surber's right thumb.
Surber didn't deny the print was his. He said he used both knives recovered by investigators to dismember Kubik's body, an action he took because he didn't know what else to do.
"I was scared to get into trouble and I wanted to hide (the body)," Surber told his attorney, Todd Lancaster, of the Nebraska Commission on Public Advocacy.
Surber said he and Brayan Galvan-Hernandez, who had been at Kubik's trailer with Surber at the time of the shooting, drove around for hours with Kubik's body, winding up several miles away at a vacant Surber family farm.
"The sun came up, we took him out and I cut him up," Surber said.
He dumped the torso, intestines and an arm and leg in a culvert a few miles away, but after doing so, Surber said, "I kind of had a guilty feeling." He decided to leave an arm and a leg in the trunk of his car, he said, so that authorities would find them.
Surber had arrived at Kubik's rural Emerson trailer at around 10:45 p.m. the night before to resolve an ongoing dispute he had about Kubik's purchase of Surber's broken-down Dodge Charger. Surber said he went to Kubik's home to air up a flat tire so he could come the next morning with a trailer to repossess it.
"When he pulled out a gun, that all changed," Surber said.
In surveillance camera footage from Kubik's home shown to the jury, Kubik, Surber and Galvan-Hernandez, who is serving 50-60 years in prison after pleading to attempted second-degree murder and accessory to a felony, could be seen walking out Kubik's front door and into the dark front yard.
As they were walking to the car to fix the tire, Surber said Kubik reached into his waistband and pulled out a gun. Surber said he rushed Kubik and, after a brief scuffle, was able to get the gun from Kubik, point it at him and fire a shot.
"I wasn't intending to kill him. I was just reacting to the situation," said Surber, whose mental competency to stand trial has been an issue throughout the case. Diagnosed with schizophrenia and biopolar symptoms, Surber was twice ruled incompetent to stand trial. Through medication, his competency was restored.
A medical examiner testified that Kubik, 42, died from a single gunshot behind his left ear. Surber said he did not know where the bullet hit Kubik and thought he was still alive. He said he and Galvan-Hernandez returned to Wakefield to get his Impala to take Kubik to the hospital because the SUV he was driving was full of boxes and there was no room for Kubik.
They returned more than an hour later, surveillance video showed, and could be seen dragging Kubik's body to the Impala. Surber said he put plastic on the front seat and placed Kubik inside. Previous evidence showed only a small smudge of blood determined to be Kubik's on the floor and on a piece of paper found inside the car. Surber said he later burned the plastic and his clothes. He said he took the gun and threw it over a bridge into a creek near Wakefield.
O'Brien obviously found Surber's testimony hard to believe. Why go to Kubik's home at 10:40 p.m., without a trailer, to get a car that didn't run, he asked.
"What are we doing here? I already said what happened," Surber said.
"I'm trying to expose your lies," O'Brien said.
"And I'm trying to expose your lies," Surber responded.
If he had changed his mind about concealing Kubik's body and wanted to get caught, O'Brien asked Surber, why didn't he just call police and turn himself in for the death of someone he hadn't meant to kill?
"Did it bother you at all?" O'Brien asked.
"You ever taken someone's life?" Surber replied.
At the conclusion of Surber's testimony, Lancaster rested his case. Both sides will give their closing statements Thursday before the case is submitted to the jury.