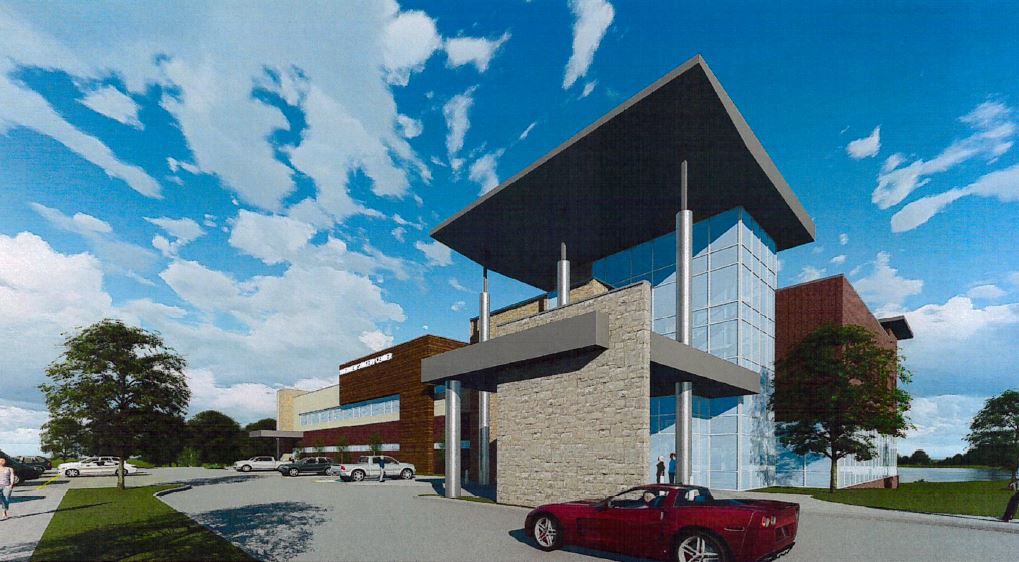 SIOUX CITY | A Sioux City outpatient surgery center has sued a physicians group and several doctors for their involvement in the development of a competing center across the Missouri River in Nebraska, claiming those involved are violating non-compete clauses.
Pierce Street Same Day Surgery, 2730 Pierce St., is seeking a temporary injunction to enforce those non-competition provisions and prevent Drs. Adam Smith, William Samuelson, Kevin Liudahl and Joseph Morris from owning, operating, investing in, managing, promoting or being employed by the Riverview Surgical Center, which is under construction along South Sioux City's riverfront.
The injunction also seeks to prevent Drs. Terry Monk and Duane Nelson, as well as Tri-State Specialists and its CEO Lee Hilka, from cooperating with those four physicians in the development and promotion of Riverview.
Pierce Street is asking that the injunction be in place for the duration of the litigation of its lawsuit.
A hearing has been scheduled for Jan. 10 in Woodbury County District Court.
Ground was broken for the $37 million Riverview Surgical Center next to the Delta Hotels by Marriot at 385 E. Fourth St. in November. The proposed two-story structure, which would be owned by Tri-State Specialists and offer orthopedic, gastrointestinal, plastic surgery, some OB-GYN and ear, nose and throat surgical services, will include nearly 50,000 square feet of space for operating rooms, medical offices and patient suites and is expected to open in 2019. Patients and families also will have the option of staying in the adjacent Delta Hotels by Marriott, formerly known as the Marina Inn.
Pierce Street, which offers many of the same services planned by Riverview, said in its lawsuit that the doctors, some of whom are or were members of Pierce Street, have non-compete provisions in individual operating agreements they signed with Pierce Street that prohibit them from being involved with a competing hospital or surgery center within 30 miles of Pierce Street while they hold an interest in Pierce Street and for one year after leaving the company.
Located at 2730 Pierce St., across the street from UnityPoint Health -- St. Luke's, Pierce Street is less than four miles from the Riverview site. Pierce Street said that the doctors, even while still members of the Sioux City center, have been recruiting other physicians, including other Pierce Street members, to work at or invest in Riverview. The recruitment "is tantamount to siphoning patients away" from Pierce Street because physicians typically select the surgery center where a patient's procedure will be performed. In the lawsuit, Pierce Street said it could lose 60 percent of its patient volume referred to it by Tri-State physicians, many of whom could begin sending patients to the new Riverview facility.
The lawsuit includes claims for breach of contract, intentional interference with a contract and with prospective business advantage, breach of duty of loyalty and conspiracy.
Tri-State, which is based on the the UnityPoint Health campus, disputes the allegations.
You have free articles remaining.
"We believe the filing of the lawsuit was unfortunate and the allegations to be meritless, and we look forward to challenging the lawsuit in the appropriate setting," the company said in a news release.
Tri-State intends to move forward with the Riverview project, the news release said. Site preparation work has taken place, and construction is expected to begin in the spring.
Bridget Penick, a Des Moines attorney representing Pierce Street, declined to comment on the lawsuit.
In the lawsuit, Pierce Street said it had suspected that Tri-State, Hilka and some of the physicians had been working on a competing surgery center for some time. Those suspicions were confirmed when plans were made public and Hilka, Monk and Nelson identified themselves as members of Riverview board at the ground-breaking, at which Liudahl and Samuelson also were present, the lawsuit said.
According to the lawsuit, Pierce Street is owned by UnityPoint Health -- St. Luke's and individual community physicians, including Smith, Samuelson, Liudahl and Morris. Monk and Nelson were formerly members of Pierce Street, the lawsuit said. Hilka served as the Pierce Street CEO from March 2008-April 2015. He voluntarily resigned after Pierce Street became aware he was providing services to Tri-State during a portion of the same time period, the lawsuit said.
Pierce Street said it became aware that as early as 2015, plans to develop Riverview were being discussed by the physicians, Hilka and Tri-State, which is located at 2730 Pierce St. in the same building as Pierce Street Same Day Surgery. Those discussions would have taken place when all six physicians named in the lawsuit had signed operating agreements containing the non-compete provisions in place with Pierce Street.
In addition to violating their non-compete provisions, Pierce Street said, Hilka and some of the physicians had access to confidential information and Pierce Street's business strategies in developing plans for Riverview. Hilka and some of the physicians continue to recruit physicians and investors and hand out Riverview-branded folders, mugs and pens to patients and staff members, making it difficult for Pierce Street to attract new physician investors, the lawsuit said.
Pierce Street said it has had meetings with Tri-State and some of the doctors to discuss the Riverview development, but those meetings were not fruitful, leading to filing of the lawsuit.
Unlike Iowa, Nebraska does not require surgical facilities to undergo a regularly review process known as a Certificate of Need prior to construction. That's one factor Tri-State has cited for choosing to build in South Sioux City. Another is the proximity of the site to Delta Hotels by Marriott. Hilka has said it would be the first such hotel recovery program in Siouxland, with the next closest located in the Twin Cities.
"We were looking for comfort suites for an overnight stay," Hilka told the Journal last month. "So we had to find basically a vacant lot for sale next to a hotel that we think is a prestigious hotel."