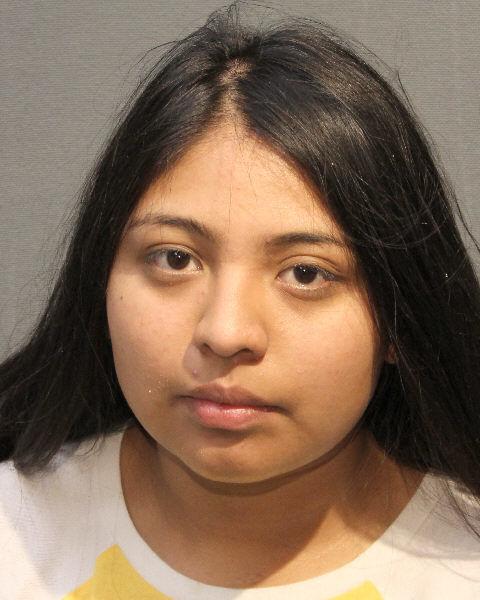 Maria Gonzalez-Diego told Sioux City police that Antonia Lopez De Ramirez was on the windshield of her white Hyundai Elantra when she looked up. Gonzalez-Diego then said she became scared and took off, a police affidavit filed in Dakota County Court said.
Police later used debris at the scene to link Gonzalez-Diego's car to the incident.
Gonzalez-Diego, 19, is charged in Dakota County with motor vehicle homicide and failure to stop at the scene of an accident resulting in death. She is accused of striking Lopez De Ramirez Monday evening in the intersection of East 15th and B streets. Lopez De Ramirez, 62, died later at a hospital. No court appearances have been scheduled.
Gonzalez-Diego was stopped by police in Sioux City about 10 minutes after the hit and run and ultimately charged in Woodbury County with second-offense operating while intoxicated. She is being held in the Woodbury County Jail on a $511,500 bond.
Sioux City police were unaware of the hit and run when they responded to reports of a white Hyundai Elantra swerving all over the 1300 block of Summit Street and nearly hitting other vehicles. Gonzalez-Diego had exited the vehicle when police found her and was barely able to stand, court documents said. She fell off of a chair during an interview at the jail and nearly fell again while failing field sobriety tests. A preliminary breath test showed her blood alcohol content at .292 percent, more than three times above the legal limit of 0.08 percent.
She was charged with second-offense operating intoxicated, public intoxication and operating without an interlock device because her car was not equipped with one as had been required under a previous conviction.
After Gonzalez-Diego's arrest, Sioux City police Officer Brice Talbott had returned to his patrol duties when he noticed a story on the internet about the South Sioux City hit and run and recalled seeing fresh front-end damage on Gonzalez-Diego's car. He contacted South Sioux City police, who told him the suspect vehicle was a small white car.
Talbott went to Gonzalez-Diego's home and noted damage to her car's hood, front right quarter panel and passenger side window. A fog light cover also was missing.
South Sioux City police had recovered a fog light cover marked Hyundai at the crime scene and traced it to Gonzalez-Diego's 2013 Hyundai Elantra. Investigators examined the car and recovered what appeared to be hair and skin tissue from the windshield.
Confronted with the findings, Gonzalez-Diego admitted that she had been drinking tequila and was on her phone when Lopez De Ramirez was struck, the police affidavit said.
At the time, Gonzalez-Diego was out on bond after being arrested in Sioux City a week earlier for second-offense operating while intoxicated and driving while her license was revoked. She had been arrested after she swerved her car at an oncoming police officer in the 1200 block of Grandview Boulevard, court documents said.
Gonzalez-Diego on Thursday entered a written plea of not guilty to the charges. A pretrial conference was scheduled for July 25 in Woodbury County District Court. She has yet to enter a plea to the most recent OWI charge.
She pleaded guilty in February to another OWI charge and possession of marijuana and was sentenced to two days in jail.