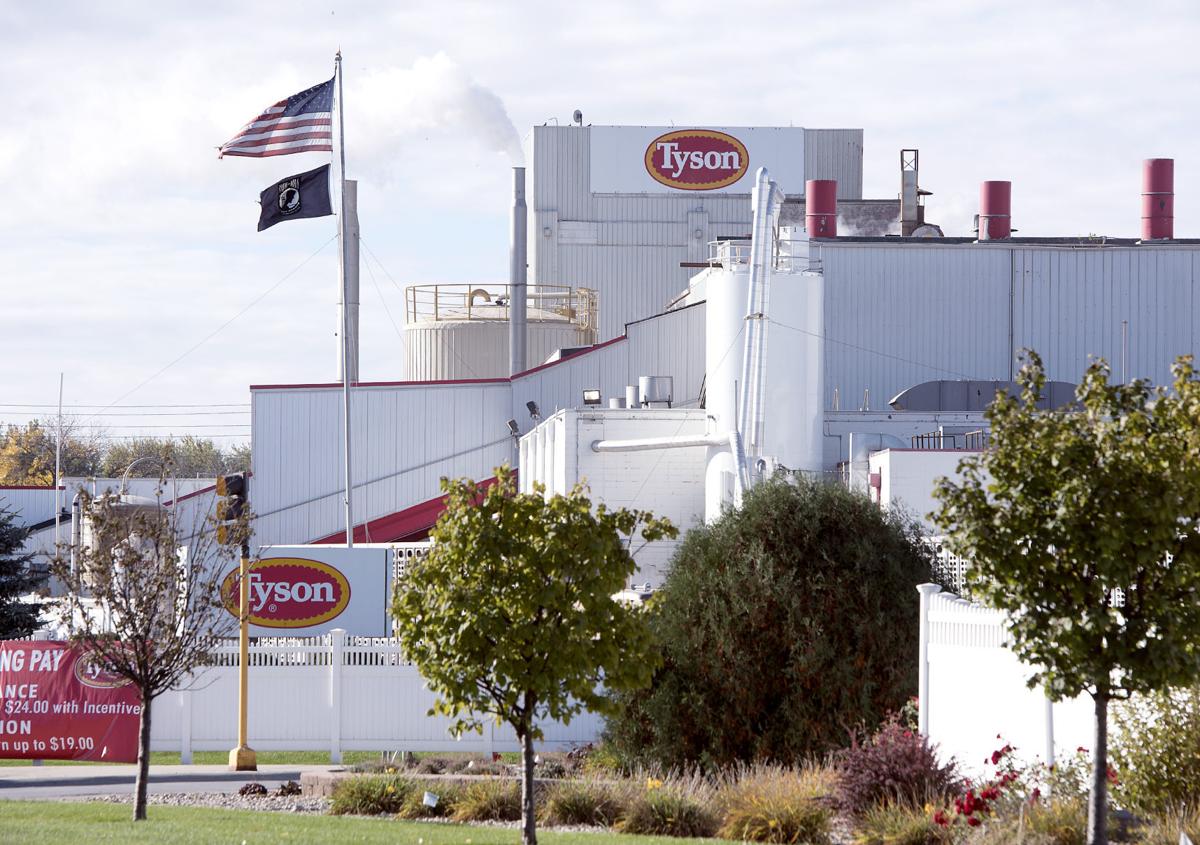 SIOUX CITY -- Tyson Foods claims a federal meat inspector lied about inspecting thousands of hogs at its Storm Lake, Iowa, plant, forcing the company to destroy 8,000 carcasses and resulting in $2.4 million in losses and expenses.
Tyson Foods and Tyson Fresh Meats Inc. claim that meat inspector Yolanda Thompson, who is employed by the U.S. Department of Agriculture's Food Safety Inspection Service, signed certificates indicating she inspected slaughtered hogs at the plant on March 26, 2018. Video footage later showed that Thompson never entered the plant and signed the inspection cards while sitting in her vehicle.
The Springdale, Arkansas, meat processor says in a negligence lawsuit filed against the United States Tuesday in U.S. District Court in Sioux City that USDA and FSIS employees were aware of deficiencies in Thompson's inspection practices, as well as physical limitations, and should not have been assigned to the pork processing plant.
"The United States should have recognized Thompson's unfitness to perform the inspections that were necessary for the protection of Tyson's property. However, the United States failed to so recognize, resulting in the destruction of approximately 8,000 hog carcasses, causing injury to Tyson," the company said in the lawsuit.
USDA officials did not immediately return messages seeking comment. Tyson officials declined to comment on the lawsuit.
You have free articles remaining.
Inspectors are required to visually inspect all hogs slaughtered at the plant to determine whether they have health conditions making them unfit for human consumption. On March 26, 2018, Tyson slaughtered approximately 4,622 hogs at the Storm Lake plant, and Thompson provided signed inspection cards to plant management.
Plant officials were informed by FSIS personnel the following day that Thompson had not performed the inspections, the lawsuit said. By that time, the uninspected carcasses had been mixed with other carcasses.
The USDA concluded on March 30, 2018, that it was not possible to identify whether the hogs that had not been inspected were subject to any health conditions that would have led to condemnation of the carcasses. Tyson had no choice but to destroy approximately 8,000 carcasses -- those that had not been inspected, as well as those they had been mixed with, the lawsuit said.
Though some of the meat was rendered into nonedible products, Tyson claimed a loss of $1.85 million for the destroyed carcasses, in addition to nearly $315,000 in cancelled sales, $213,000 from reduction of normal processing activities while diverting resources to respond to the situation, $50,000 in freight and storage fees, and $51,000 in overtime hours worked to resolve the situation.
Tyson said in the lawsuit that a USDA-FSIS employee had mentioned to Tyson workers during the investigation that Thompson "had bad habits" in her inspection practices. USDA-FSIS personnel also were aware that Thompson had difficulties walking, Tyson claims, and her normal inspection site was Tyson's Storm Lake turkey processing plant, which is smaller than the pork plant. Inspectors at the pork plant also must walk through holding pens to inspect the animals, the suit said.
Tyson said it's believed that other USDA and FSIS employees knew of Thompson's mobility and performance issues, and the agencies were negligent in not addressing those issues.
The USDA in November denied Tyson's claim for damages, leaving Tyson with the option of filing the lawsuit.
Copyright 2019 The Sioux City Journal. All rights reserved. This material may not be published, broadcast, rewritten or redistributed.